Sometimes the best soups come out of an empty kitchen. I made this one on a whim one night when there wasn't much in the house and all. A yuca root abandoned on the counter…some carrots, peppers, green onion and cilantro barely holding on in the crisper…a couple limes…some monterey jack cheese…canned tomatoes and black beans…stale tortilla chips…and the shining star: one perfectly ripe avocado. So I went with it, and go figure that it would lead me to such an incredible soup!
This soup works so nicely because, unlike most tortilla soups, it's not super heavy. Instead of a thick bean & cheese base, I did a refreshing tomato/veggie and lime based broth with lots of fresh cilantro. The fresh and tangy broth is the perfect complement to the nutty yucca and avocado flavor.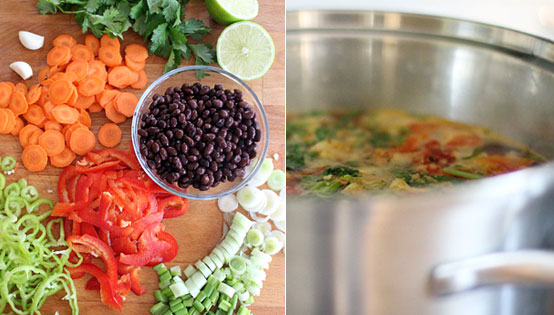 I was so pumped on this new recipe that I decided to share it at a recent soup swap party hosted at my house. (Kind of like a cookie swap, but with soup instead. Everyone brings a pot of soup to split up amongst each other so that each person/couple gets a variety of soups to take home and freeze.) It was a pretty big hit, receiving 4.5 out of 5 kiwis (stars) on the rating scale developed by one VERY enthusiastic participant.
A little on yuca…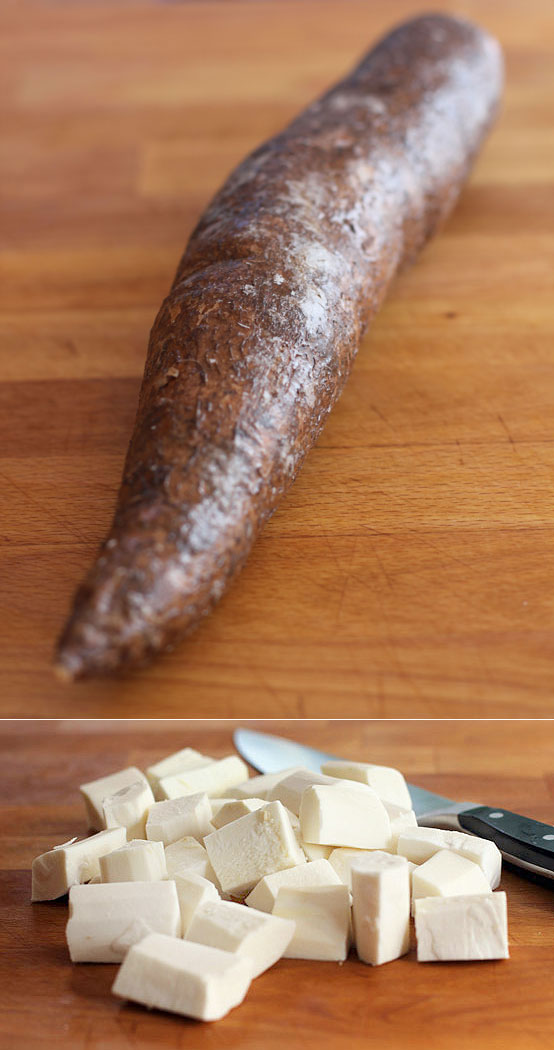 Okay, so it's not the prettiest, but yuca happens to be one of my favorites. Beneath it's thick brown and often waxed skin, is a nutty, sweet and creamy starch like no other. It's no wonder that it's the basis for tapioca!
Some of you may have seen it spelled yucca instead of yuca before, so just to clarify:
Yuca = yummy edible tuber grown from the cassava shrub.
Yucca = mostly ornamental plant (looks like an agave plant) with some edible seeds and flowers, but rarely roots.
Yuca root is as essential a food to people who live in the tropical lowlands of South America and parts of Africa, as corn is to the people of Central America and Mexico. Despite this, when we come across the strange looking tuber in the grocery store most of us don't know where to begin. I'll tell you where.
First thing you need to do is remove its barky skin. There are actually a couple layers (the top brown, a pinkish and then a white layer) that need to be peeled before cooking. I just use a sharp, handheld vegetable peeler and peel it from tip to tip like you would a carrot. The only difference here is that you'll need to peel like 3 layers down until you reach the chalkly white part of the yuca.
From there it's no different than cooking a potato. It can be boiled, baked or fried. Yuca is also great mashed! In this case I just threw it in with the soup and let it boil until soft. The yuca should be cooked until it's gooey on the outside and soft through the inside, and at that point, the soup is done. I topped each bowl off with some fresh cilantro, tortilla chips, cheese and cold avocado slices just before serving.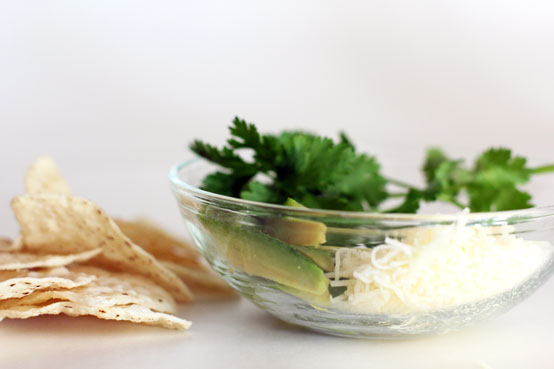 And it just gets better with every bite as the cheese becomes incorporated with the broth and the tortilla chips soak it all up!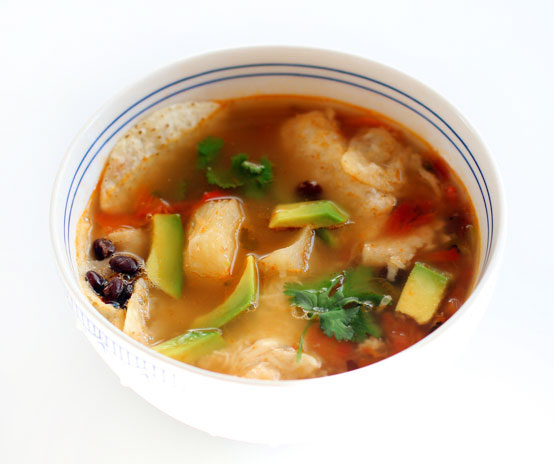 If you decide to make a bunch, it freezes really well. Just leave the cheese, chips and avocado slices out and put those on once you reheat.
p.s. All of the above is even better with a little hot sauce!
Print Recipe
Back to Top
Recipe
Prep time: 20 minutes. Cook time: About 45 minutes or until yuca is gooey on the outside and very soft through the center. This recipe uses canned black beans, so if you're using fresh black beans just be sure to soak them first and add some extra water to the recipe to account for what the beans will absorb. Makes 4-6 bowls.
You need:
2-3 cloves garlic
1 veggie bouillon cube
1 can stewed tomatoes, fire roasted if possible
2 big handfuls fresh cilantro, roughly chopped
2-3 green onions, sliced thin
1 tablespoon sugar
Salt to taste
Cracked black pepper to taste
Juice from 2 limes
6-8 cups water
Drizzle olive oil
1 green cubanelle pepper, very thinly sliced
1 red cubanelle or bell pepper, very thinly sliced
2 carrots, peeled and sliced into thin disks
1 can black beans, rinsed and drained
1 large yuca root, peeled and cut into disks
Ripe avocado slices
Corn tortilla chips
Shredded monterey jack cheese
Directions
Heat olive oil in pot and add garlic, onions, carrots, a good sprinkle of salt and half your cilantro. Sauté on medium heat until onions start to become soft. Add red and green peppers, the canned tomatoes and beans, some cracked black pepper and about a teaspoon more of salt. Stir and cook for a few minutes. Then add water, sugar, lime juice and the veggie bouillon cube and increase heat to bring to a boil.
Add yuca once pot is just before the boiling point. Let boil, partially covered for several minutes and then reduce heat to medium low and continue cooking until yuca is cooked through. Yuca should be gooey on the outside and soft through the center. Once it's done, stir in the remaining cilantro.
To serve, fill bowls half way with soup. Sprinkle a couple spoonfuls of cheese over top, add a few tortilla chips and avocado slices. Oh yea, hot sauce makes it even better!
HonestFare.com