Bet you thought you'd never hear from me again, huh? It's been six, seven weeks since my last recipe (sorry)…but the important thing is that I'm here now and I've got a great one for you! But before we get into that, I should probably tell you where the hell I've been.
It's been a hectic, hectic couple of months. The food truck is keeping us busier than either of us could have imagined. Here's a super quick rundown of the last couple days just to give you an idea. I'll spare you all the messy details…
Yesterday: Up at 8am to shop for produce. Stop at mechanic to see if he can fix the tail lights this week. Then straight to the kitchen to cook from 11-6:30 with a 30 min break for lunch (kind of). Load up and drive to location. Set up and sell food until midnight. Yes, midnight. Drive back to the kitchen to unload and clean up. Get home at 12:45. Asleep at 2 a.m.
Today: Wake up at 8:30. Skip breakfast to get to kitchen on time. Clean the truck until it shines because we have the health inspection today. Make some empanadas. Load up and drive to location by 11 a.m. Set up for lunch shift while nervously awaiting inspector. We pass, of course. Head back to the kitchen at 2:30 to grab our cars and go our separate ways for a quick 2-hour break (during which I can hopefully finish this blog post and put on some makeup). Head back to truck at 5 where we'll be until 10 tonight.
Repeat. Repeat. Repeat.
So yea, it's a lot. Sometimes we want to drop to the floor and cry. And sometimes we do. But we always remind each other that we wouldn't want it to be going any other way. We're SO thankful to be making this actually happen and that the customers keep coming back! (Even if it is killing us.)
Right now we've got one employee helping us in the kitchen so we just need to find someone who can be on the truck a couple nights a week so we actually alternate some nights off! The 'help wanted' sign is going up next week so let's keep our fingers crossed. Hiring someone to work on the truck was a tough call to make from a financial standpoint, but the idea is that if we can get some rest we can apply ourselves to growing the business in other ways. And enjoying life a little more.
It's our first time at all this so it's all trial and error. Any suggestions? Anyone looking for a job? Ha. Anyone else working their fingers to the bone in the food industry? Anyone else wake up with sore feet? That's the worst part I think.
Everyone likes to ask us if we ever take days off. Those will come, I'm sure. But for now, we don't generally work Friday or Saturday nights unless it's a special event and we aim for either Sundays or Mondays off. Sometimes we get at least one day. And it ends up being laundry day. But hey, in the midst of all the food truck madness, we've managed to sneak off for both Thanksgiving and Christmas to spend some days with family – that's one perk of being your own boss!
So there you have it. That's why I've been somewhat absent from the blog the last few weeks. This blog has always been my happy place and I intend to keep it that way, which is exactly why I haven't been too hard on myself when I can't find the time to post a new recipe for a couple (or a few) weeks. I'm trying to remind myself that that's okay to focus on the business right now, and that it's better to update the blog when my mind is clear and free so that I can enjoy the process of sharing something with you all. So that's what I'm doing! And thanks to a little break over Christmas, I was able to dedicate some time to a few recipes that I can't wait to share in the coming weeks! Here's the first of them…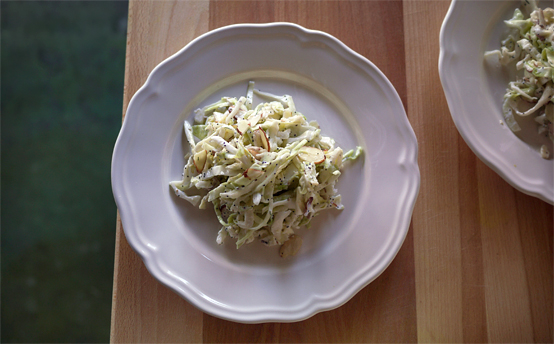 This slaw is for all of you that like crunch. Cabbage, fennel and almonds. Crunch, crunch and crunch. It's light and refreshing and healthy cause we use yogurt instead of mayo or cream! We've been serving this on the truck for a few weeks and people have been loving it. Even had a few customers say it's the best slaw they've ever had. And why would they lie? Makes the 60-hour workweek worth it.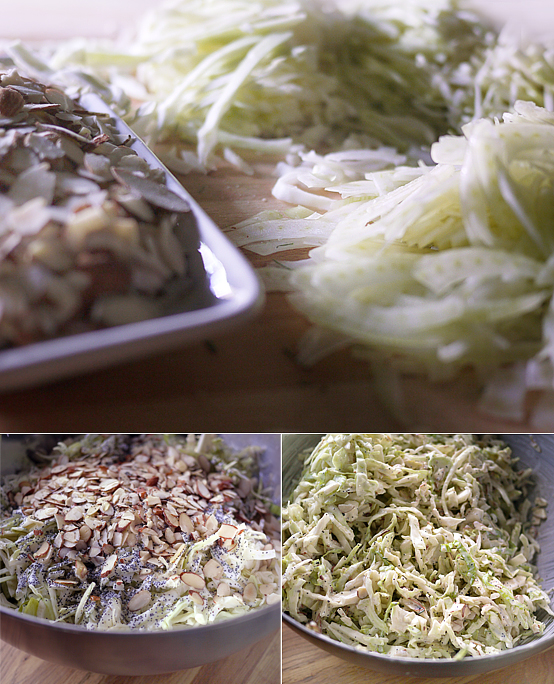 I use a handheld mandolin to shave the fennel and cabbage nice and thin. The almonds give it the just the right amount of healthy fat (instead of the fat you'd get from the mayo), which also balances the tanginess of the lemon yogurt dressing. I sweeten with honey or agave, but that's up to you. The poppy seeds don't add too, too much flavor wise to the slaw, but they're a nice touch and so pretty!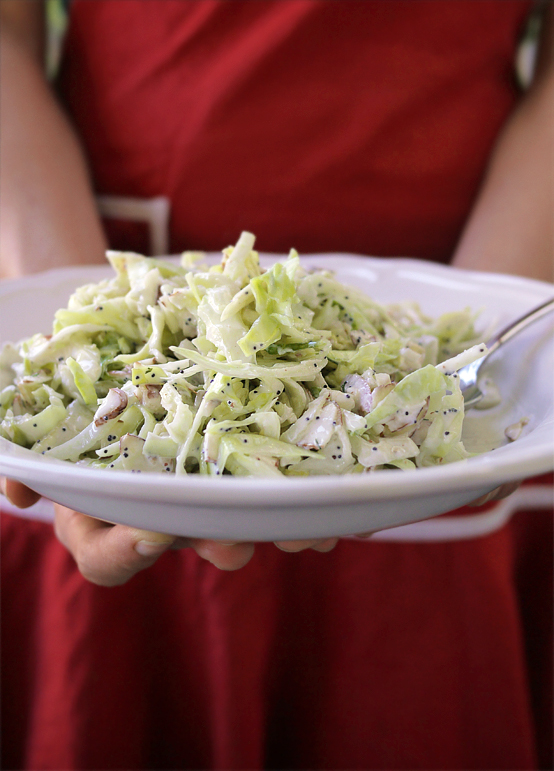 I can't tell you how happy it makes me to be able to complete this post for you! Absence does make the heart grow fonder. But seriously, as we get into a groove with the truck and get our employee thing figured out, it'll be back to regular programming here on Honest Fare. Promise.
Thanks for sticking around. xoxo, gabi
Print Recipe
Back to Top
Recipe
Prep time: 20 minutes. Serves 6. Sweeten with honey, agave or sugar depending on preference.
You need:
1/2 head of green cabbage
1 fennel bulb
3/4 cup slivered almonds
3/4 cup greek yogurt
Juice from 1 lemon
1/3 tsp garlic powder
1/2 tsp kosher salt (or to taste)
1 Tbs agave or honey (or to taste)
Cracked black pepper to taste
1 tsp poppy seeds
Splash of water
Splash of white vinegar
Directions
Cut fennel bulb in half and cut into thin strips. Quarter head of cabbage and cut 2 quarters into thin strips (reserve rest for other use). Toss in large bowl.
Place yogurt, salt, garlic powder, agave/honey, lemon juice, vinegar, cracked black pepper and tiny splash of water in bowl and whisk well. Pour dressing over cabbage and fennel. Toss. Add in almonds and toss evenly. Add in poppy seeds and toss again. Add any additional salt or pepper to taste.
HonestFare.com