Luckily, I don't have a giant sweet tooth…unless of course something sweet is around. Then I eat it all. Which is why I don't bake much. Plus I generally find the science of baking exhausting to follow. Nevertheless, I always keep my eye out for healthier baked goods that have easy to follow recipes. Found one.
I wouldn't call these Banana Oat Muffins just healthier either, they're straight up nutritious. No butter. No refined flour. Barely any sugar or oil. Lots of protein AND fiber, fiber, fiber. I realize that doesn't sound all that tasty…but these muffins are of the delicious kind. Plus you get to use a pretty cool technique to make them.
You're going to turn rolled oats into oat flour by pulsing them in the food processor until you get a consistency that's similar to uncooked grits.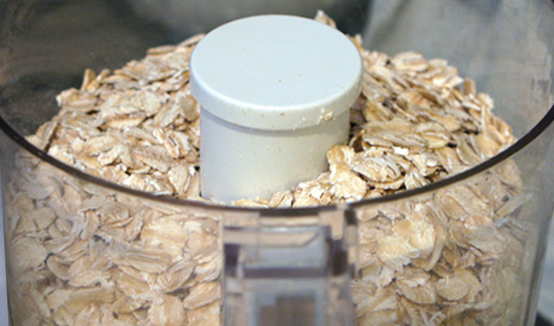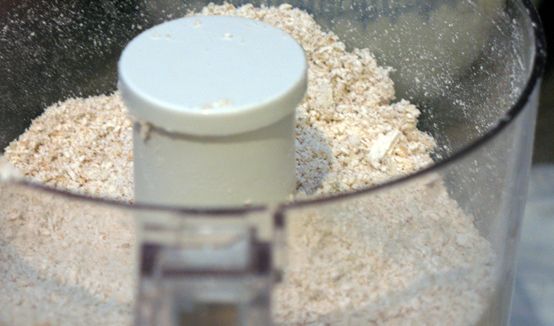 This is what you'll use instead of pastry flour. About 2 cups of rolled oats should yield all the oat flour you'll need. It only takes a few seconds to do.
The rest of the recipe is super easy and quick (about 10 minutes before they're in the oven). I only bake them for about 15 minutes cause I prefer banana goods on the moist side. But take it up to 18 – 20 minutes if you like.
And remember, the more ripe your bananas are the better!
P.S. I made the muffins again since writing this. I tried adding chocolate chips a batch and they were great as a slightly less healthy option!
Print Recipe
Back to Top
Recipe
Coop/prep time: 30 mins. Makes 12 muffins. Oat flour is just regular old oatmeal in powder form, which you will do by food processing. 2 cups rolled oats yields 1 ½ cup oat flour (refer to step #3 in directions below for details on that). I also have made these with chocolate chips and they're great!
You need:
1 ¼ cup rolled oats
1 ½ cup oat flour (refer to #3)
1/2 cup plain, low fat yogurt
1/2 cup low fat milk or soy milk
1/2 cup brown sugar
1/3 cup sunflower oil
2 large, really ripe bananas mashed
2 teaspoons baking powder
1 teaspoon baking soda
1 lightly beaten egg
1/2 teaspoon nutmeg
1/4 cup raisins, walnuts or both
1/2 teaspoon salt
1 teaspoon cinnamon
Directions
Preheat oven to 400°
Mix rolled oats, yogurt and milk together in a bowl. Let stand for 10 minutes.
It will require about 2 cups of rolled oats to make the 1 1/2 cups or oat flour you need. Just pulse the 2 cups rolled oats in the food processor until they turn to a powdery consistency (like dry grits).
Now, combine oat flour, salt, sugar, spices, baking powder and baking soda in a separate bowl.
Add mashed banana, egg and oil to the rolled oat mixture and mix well.
Now add dry oat flour mixture to rolled oat mixture and mix together well. Add in nuts and/or raisins if desired and incorporate evenly. Chocolate chips are great too!
Fill greased or lined muffin cups 2/3 of the way. Bake for approximately 16-20 minutes.
HonestFare.com