We all have a soft spot for at least one meal or recipe. These are the dishes we'll never get tired of and the ones we carry with us throughout the years to share with the special people in our lives. Could be cornbread, could be eggplant parm. And sure, we love and repeat these dishes because they're that good, but maybe it's also about the time period in our lives or the season they represent. And in some golden cases, it might even be for the person they remind us of.
My soft spot is for Tortilla Española. I grew up eating my yaya's (grandmother in Catalan) traditional Spanish version of the omelet, so sharing this recipe feels like a tribute to her and her influence on me. Yaya could knock out a tortilla like it was nothing and I remember always being so fascinated by the way she'd effortlessly flip that thing right in the pan, cooking it perfectly on both sides.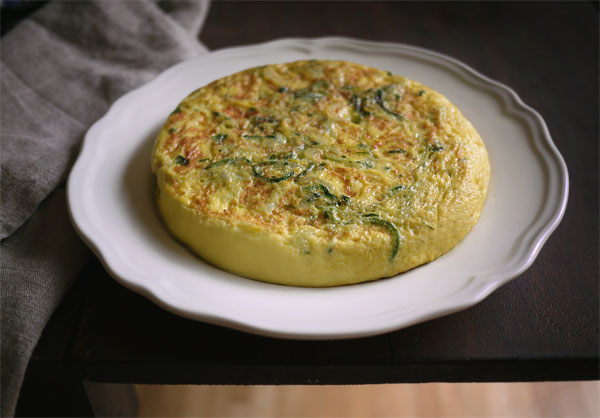 Yaya's tortilla Española is being featured over at Food52 as part of their new and lovely Heirloom Column where they've picked some of their favorite food bloggers to give tribute to their grandmother's recipes. I think it's such a sweet concept so make sure you check it out – there are a ton of old world favorites being posted every Monday.
I couldn't tell you how many times I've eaten tortilla Española in my life – hundreds, and very happily. My grandmother, or yaya as I called her, was from the Catalan region of Spain and tortilla Española was her pride and joy to share. Yaya fled Catalonia with my avi (grandfather) at the start of the Franco dictatorship in the 1930s and they transplanted in Venezuela where they made a life for themselves and held on to their Catalan traditions. Tortilla reigned high on that list and it was always on the table whenever I'd visit or they'd come stateside.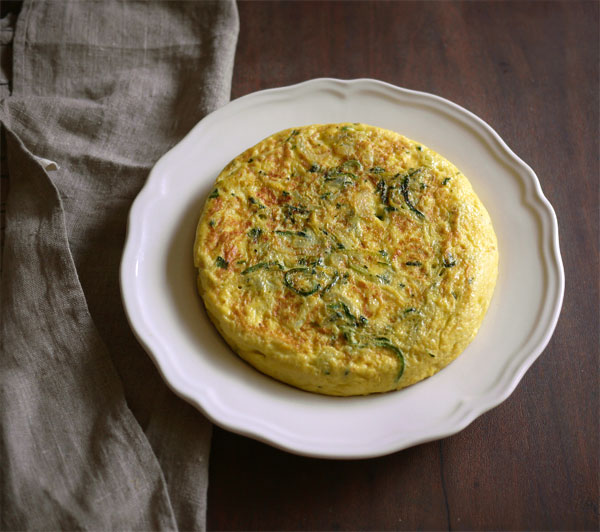 Tortilla Española, or Spanish omelet, is hands down the most commonly served dish in Spain. The quintessential tortilla contains potatoes and onions, but there are lots of variations of it and people tend to get creative with the combos (red peppers and onions, mixed veggies, peas and even some containing ham or tuna fish). Tortilla will more than likely be the first thing you're served on a visit to Spain. It's something you order along with your tapas at the bar, and bars that don't serve tapas, will at the very least have tortilla. It's a staple in all classes of restaurants and homes, eaten at all times of the day and at all temperatures. It's even popular as a sandwich between a sliced baguette! It wasn't until my yaya passed away and I was living in Spain after college, that I started making tortilla for myself. Every time I make one now I think of her.
The one I've made here contains 10 heavily beaten eggs with milk, summer squash, onions, parsley and garlic. I decided to slice the squash into ribbons using a mandolin, but little half moons or squares work just as good if that's easier.

I crushed the garlic into almost paste form with a mortar and pestle, something I remember my yaya doing a lot to get a consistent texture and prevent her hands from getting stinky.
(Thanks to RedEnvelope for sending me this lovely mortar and pestle set gift.)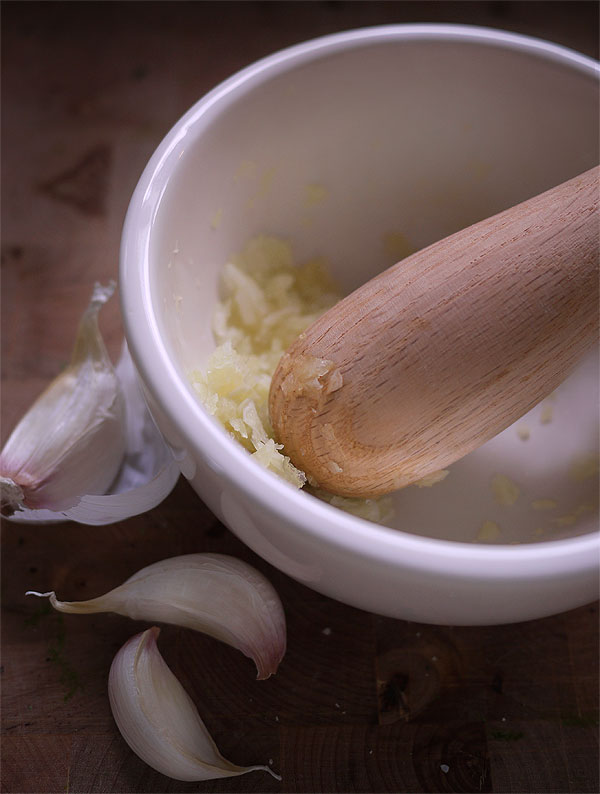 A tortilla is very different that an omelet, which I'm sure you can tell just by looking at it. It's more like a quiche (but without the crust) or a frittata that can be sliced and shared. Now, what really sets the tortilla apart from the frittata is what I like to call "the flip". The flip is the act of doing just that – flipping your tortilla over to cook the other side. See, with frittatas you'd simply place your loaded pan directly in the oven to cook the surface and bottom simultaneously, but the Spanish like to get fancy with it, so they flip. Ole!
The flip is an art form that you can absolutely master and hopefully I can help you quickly get the hang of it here…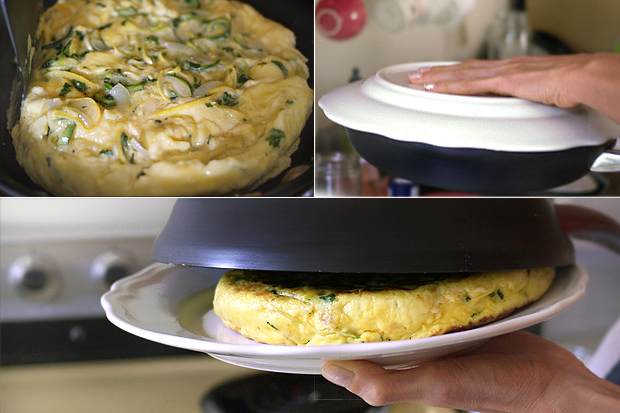 The trick is to coat your pan with enough olive oil (thanks to Carbonell for the sending me the quality Spanish produced olive oil used in this recipe) to sauté your fillings without anything sticking. You don't want any bits sticking to the pan or your tortilla could also stick and fall apart during the infamous flip. That's why it's best to use a nonstick pan, and I used a 9″. Once the eggs are added, you'll cook on medium low heat until it seems about 80% cooked through (like the photo). It helps to continuously press your plastic spatula or wooden spoon against the perimeter of your tortilla and even fold over the edges a little while tilting your pan to release more raw egg into the pan. Next, you'll firmly place a large plate against the top of the pan, hold on tight and flip in one quick motion! Now you've got the cooked side up and raw side down on the plate, so you can just slide the tortilla right back into the pan to finish cooking that partially raw side. Cook for another two minutes and repeat the flip of your beautiful finished product onto a clean plate for serving.
Tortillas are great at room temperature so they're perfect for potlucks and dinner parties. Or keep one in the fridge for up to 4 days and slice off a piece here and there. And they really do make for the perfect Sunday brunch table!

Please be sure to head over to Food52's Heirloom Column for more heartwarming meals and treats from grandmothers across the world.
Print Recipe
Back to Top
Recipe
Serves 4-6 people, depending on portion size. Recipe is for use with a 9" nonstick pan.
You need:
8-10 eggs
½ cup milk
1 yellow and 1 green summer squash
½ a medium yellow onion
Handful of fresh parsley
Kosher sea salt
Black pepper
2 cloves garlic
Olive oil
Directions
Heavily whisk eggs and milk with about 1/3 tsp salt and a little pepper in a large bowl until very fluffy. Set aside.
Slice summer squash into ribbons, small cubes or half moons. Thinly slice onion. Roughly chop parsley. Smash garlic with mortar and pestle or finely dice. Coat pan in olive oil and sauté these ingredients with salt and pepper on medium heat until wilted.
Add eggs. Let cook for a couple minutes and then start working your plastic spatula or wooden spoon around the perimeter of the tortilla, folding it over a little and tilting the pan to let more raw egg mixture run into your pan. Repeat this and cook until tortilla is about 80% done.
Time for the flip. Firmly place a large plate against the top of the pan, hold on tight and flip! Now just slide the tortilla right back into the pan to finish cooking the partially raw side you flipped onto the plate. Cook for another 2 minutes and repeat the flip of your beautiful finished product onto a clean plate for serving.
HonestFare.com