When we got home from scalloping last weekend, I immediately set aside about a cup of the scallops we'd collected from Homosassa Bay before freezing the rest. I wanted to eat some while they were as fresh as possible. But then I got weird. I just stood there with this guilty look on my face thinking, "Oh no, how dare I cook them? How DARE I pluck them directly from the open water and subject them to a hot pan of oil, butter or sauce?" I'm probably way too sensitive, but I felt bad. And it seemed like nothing I could do would make them better then they already were in their raw state.
Ceviche was pretty much the only thing I could think of that wouldn't countermand their sweet, sweet purity. Plus, with all this hot weather blasting us in Florida, it sounded a hell of a lot better than scampi anyway.
Every time we make ceviche at the house, we do it a little differently. This time we happened to have a massive watermelon in the fridge that we'd been trying to go through all week so I decided to incorporate it. Such a good call. The sweet and crisp watermelon went so nicely with the buttery and supple scallops.
I actually used the light pinkish white bottom portion of the watermelon (closest to the rind) because I figured it would have a crunchier texture and hold together better than the sweeter middle part of the watermelon. The pink rind provides just enough watermelon flavor without being too overpowering.
So just cut your watermelon into slices like you typically would and then cut out a strip (an inch or so thick) of the light pink/transparent white portion that sits about ¼ an inch above the green rind.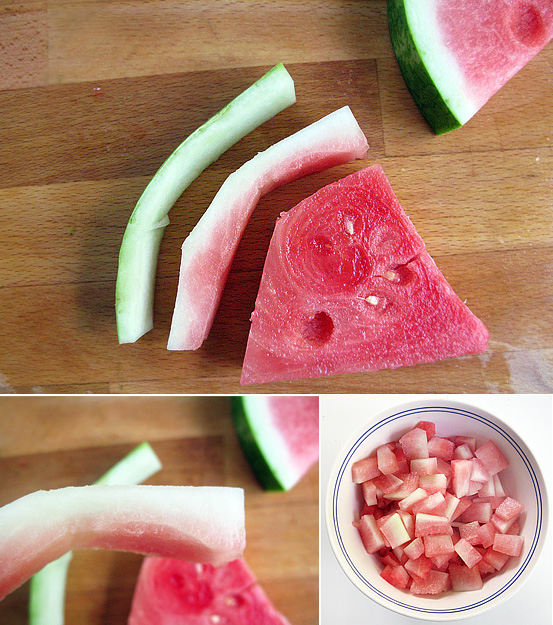 In addition to the watermelon, for veggies I used a green cubanelle pepper, grape tomatoes, shallots, some onion, cilantro and scallions. Very thinly sliced.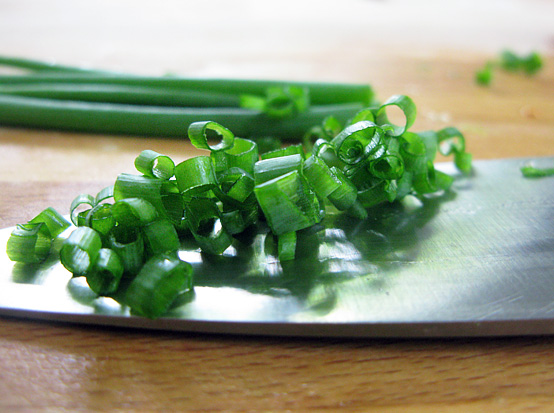 I often find that ceviches can end up too acidic because of the citrus based marinade (lemon or lime juice) that actually cooks the fish. I add some rice vinegar and a little sugar to take that edge off.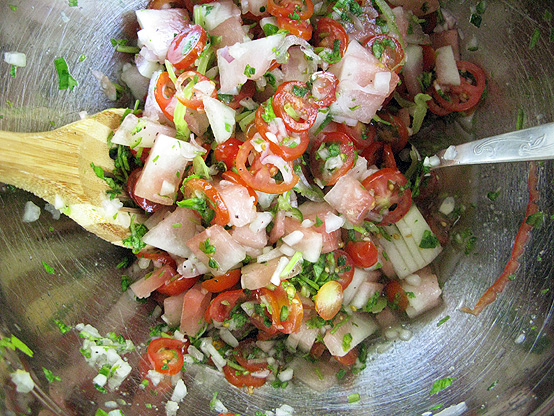 I used scallops and shrimp, but if you aren't into shellfish or would prefer to use a more delicate white fish, go for it. A delicate white fish will definitely cook through faster than scallops, which take about 2 hours. The shrimp are actually flash steamed until just pink prior to adding to marinade.
This ceviche is extremely balanced and refreshing. I'd say it's perfect for summer.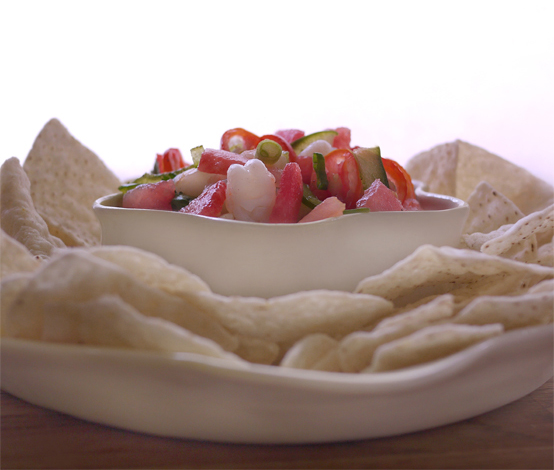 Print Recipe
Back to Top
Recipe
Prep time: 30 minutes. Cook time: about 2 hours marinating. Serves 4. Substitute with a soft fish of your liking if you prefer. Be sure to marinate protein until opaque and 'cooked through' from the citrus. If using shrimp, it's important to flash steam them until just pink before marinating.
You need:
1 cup bay scallops
1 cup lightly steamed and chopped shrimp
2 green cubanelle peppers sliced paper thin
1 1/2 cup grape or cherry tomatoes sliced paper thin
1 1/4 cup watermelon sliced in 1/4 inch think pieces close to rind
1 shallot finely diced
1/4 cup scallions diced
1/4 cup chopped cilantro
Diced jalepeño to taste
Juice from 5 limes and 1 lemon
3 tablespoons rice vinegar
1 teaspoon salt
1 tablespoon sugar
1/2 teaspoon garlic powder
1/4 teaspoon black pepper
Directions
Chop cubanelle pepper,tomatoes, jalepeño, shallots and scallion paper thin. Roughly chop cilantro. Combine in large bowl and set aside.
Cut some watermelon into slices like you typically would and then cut away the sweet bright pink portion and reserve for some other use. Cut a strip (an inch or so thick) of the light pink/transparent white portion that sits about ¼ an inch above the green rind. Refer to image in post. Chop your light pink watermelon rind into pieces about 1/4 inch thick. Add 1/2 cup rind to bowl of veggies and set rest of rind aside.
Clean and steam the shrimp until just pink. Remove from heat and run under cold water. Chop into bite-sized pieces and set aside. Rinse bay scallops and set aside.
Juice limes and lemon into a bowl. Add rice vinegar sugar and salt. Stir to disolve. Toss in scallops and shrimp. Add to bowl of veggies. Also add garlic powder and black pepper. Toss well.
Make sure all fish is submerged in juices, cover and allow to marinate in fridge for about 2 hours or until scallops are cooked through. Give it a toss every 45 minutes or so. (If substituting scallops with a more delicate fish, less marinating will probably be required to cook through.)
Once cooked through, add remaining crisp watermelon rind, toss and enjoy!
HonestFare.com