I do mental inventories of what's in the fridge while I'm in yoga. Irreverent and totally against every yoga sutra, I know. But I like to consider it part of my relaxation and mediation. Is it so wrong that thinking about what I'm going to make for dinner puts me at ease? Helps me focus.
So it was during one such sanctimonious yoga practice that I remembered the red potatoes in the back of the refrigerator. Poor things had been patiently waiting since Christmas. Then I thought of the carrots. And the pearl onions. And the about-to-turn mushrooms. And the fresh bag of arugula in the crisper. And the goat cheese! And voila—this winter salad was born.
I really love to combine warm ingredients like roasted veggies with fresh ones like this salad does.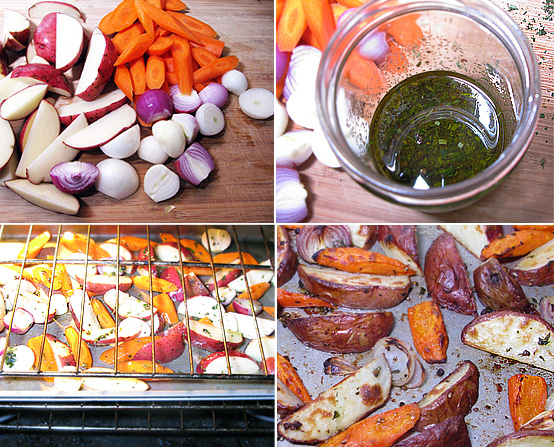 I roasted everything together in a concoction of rosemary, pepper balls, salt, pepper, honey and olive oil.
Then I sautéed the mushrooms in a little olive oil, garlic, salt, pepper and balsamic vinegar and tossed the arugula in them first before adding the roasted veggies.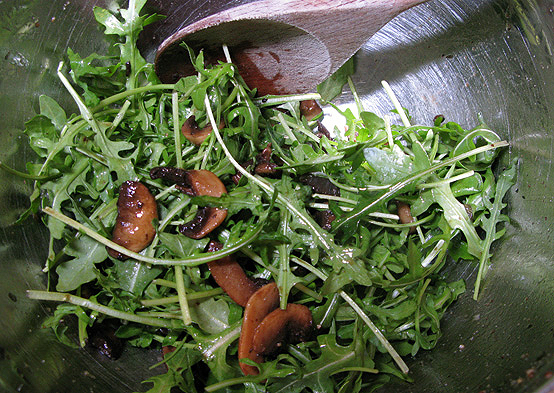 It all worked wonderfully together and the creamy goat cheese got all melty under the heat of the veggies and was just perfect.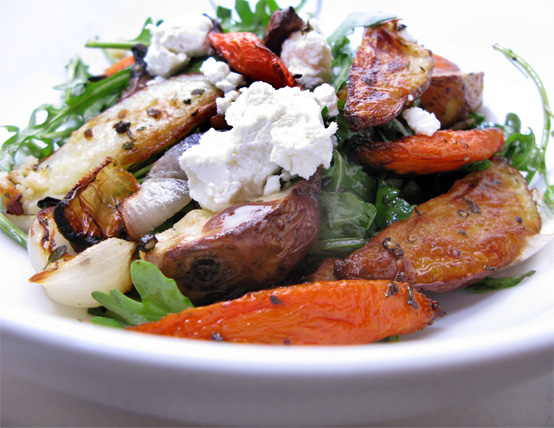 Spoon mushroom pan over arugula and toss well. Place into bowls. Add roasted veggies and top with goat cheese.
Print Recipe
Back to Top
Recipe
Serves 2-3
You need:
Olive oil (about ¼ a cup)
2 Tablespoons balsamic vinegar
4 small-med sized red potatoes
4 carrots
Few small, assorted sweet onions
1 cup sliced mushrooms
Arugula
Goat cheese
1 Tablespoon chopped fresh rosemary
1 teaspoon pepperballs
Salt to taste
Black pepper to taste
1 Tablespoon of honey
1 clove garlic
Directions
Preheat oven to 350°
Preparing the marinade: combine ¼ cup olive oil, pepper balls, honey, salt (about ½ teaspoon), pepper to taste and finely chopped fresh rosemary. Beat with fork and set aside.
Cut potatoes into wedges (leave skin on). Peel and cut carrots on the bias (an angle) at about ½ inch thickness. Cut onions in half and remove outer skin.
Toss all veggies (except the mushrooms) in the marinade. Spread evenly on baking sheet. Cover with aluminum foil. Bake for 20-25 minutes, until they begin to soften and bottoms brown a little. Flip the veggies and remove aluminum foil. Turn oven setting up to 400° and broil veggies for a few more minutes (uncovered) until crispy and golden brown.
Preparing the mushrooms: Cut mushrooms in ¼ inch slices and dice a garlic clove. Sauté mushrooms and garlic in a drizzle of olive oil and sprinkle of salt and pepper until just soft. Add balsamic vinegar and cover. Cook 2 minutes and remove from heat. Let cool a couple minutes.
Spoon mushroom pan over arugula and toss well. Place into bowls. Add roasted veggies and top with goat cheese.
HonestFare.com