Watermelon is such a treat in the summer. Nature's cotton candy. Luckily it's in season too, so it's cheap, cheap, cheap. (Can't say no to the old two for $5 special!)
I like my watermelon best with a squirt of lemon to add another layer of refreshing flavor. Or sometimes I go chili powder, salt and lime. Sounds funny, but try it. The last couple years I've been pairing watermelon with a lot more savory elements and proteins. (See last year's Watermelon Ceviche. And this summer we have a refreshing gazpacho.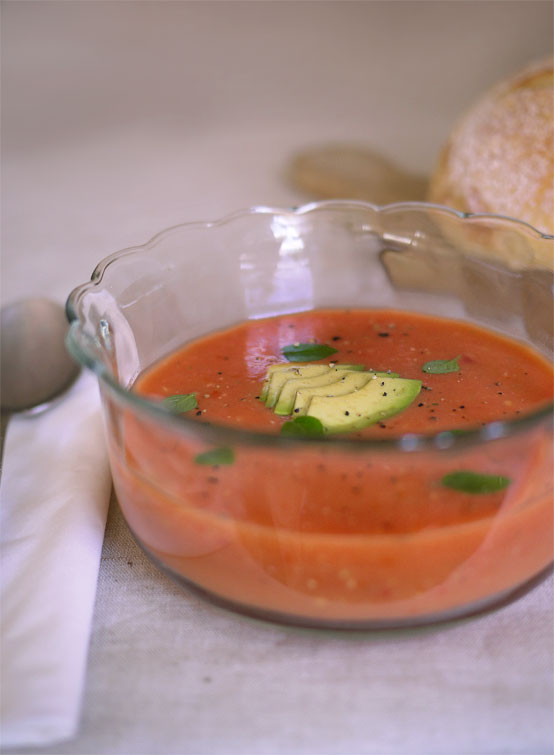 Now, I have to admit, I don't generally go for gazpacho. So if you don't either, maybe just hear me out on this one. It's not so much the cold soup thing that I have an issue with – it's the tomato thing. Most gazpachos just taste like watery salsa, and as much as I love salsa, I don't necessarily want to eat it with a spoon. Just doesn't settle well. Traditionally gazpacho is tomato-based, but I see no reason to stick to tradition if it makes your stomach feel like a balloon filled with soda water. Anyway, I don't order gazpacho when I'm out, but I do like to make it at home. And when I do, I go easy on the tomato.
Watermelon gazpacho is pretty awesome. I didn't invent it or anything so I can say that. There are actually tomatoes in it, but the sweetness of the watermelon juice curbs the acid from the tomato, and then I blend avocado in there too, which smoothes it all out. Gives it a nice velvety texture.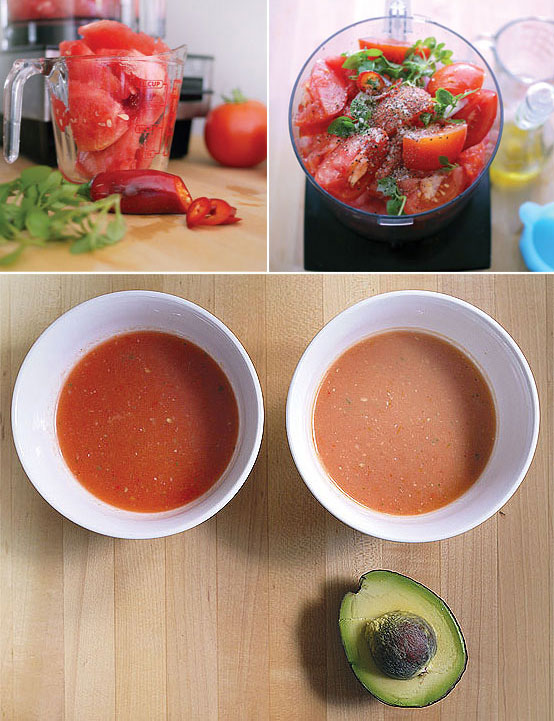 Aside from that, there's lemon juice, garlic, shallots, cucumber and a good amount of fresh box basil (like basil, but smaller and more delicate in texture and flavor) and a nip off of one of these mature jalapeño peppers that turned red because I neglected to pick them for so long (super spicy though).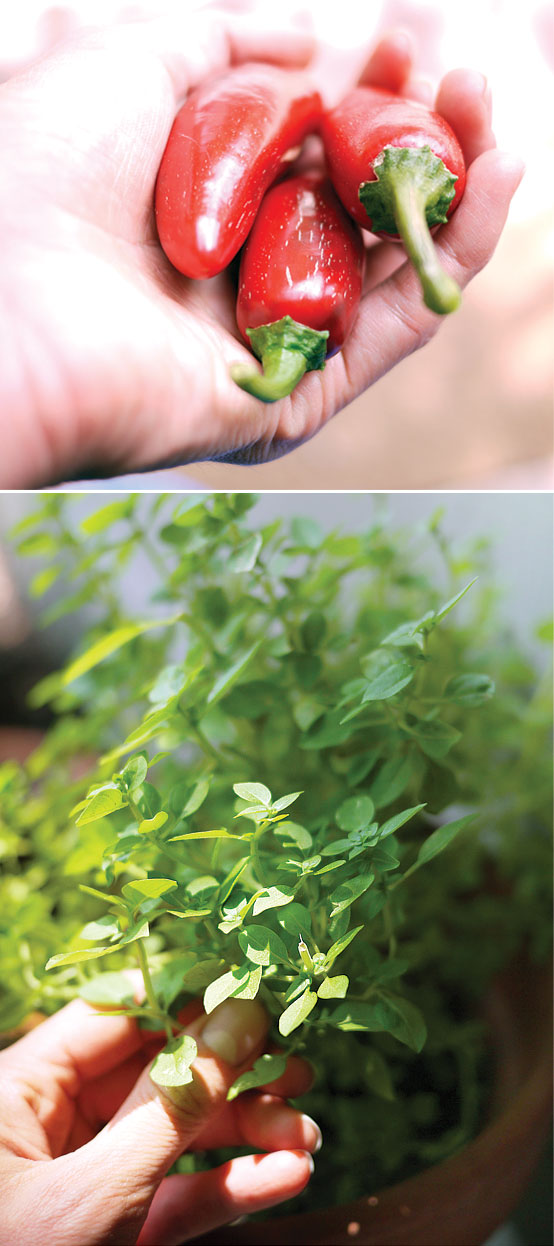 It's totally raw and only takes a few minutes to whip up. I do put it in the fridge or about an hour though to get it really cold and allow the flavors to set.
So good with some sourdough bread!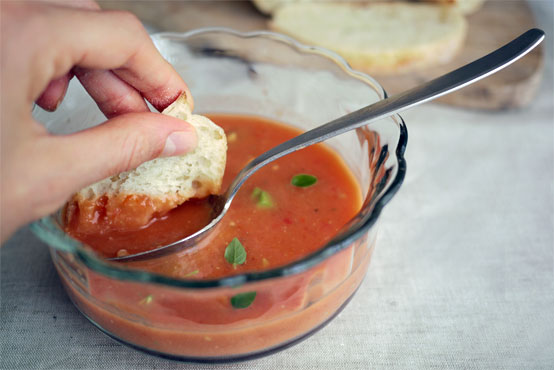 P.S. Lasts four days in the fridge.
Print Recipe
Back to Top
Recipe
Prep time: 20 minutes (plus 1 hour to chill) Serves 4. If your watermelon isn't as sweet as you'd like, you can add a little sugar.
You need:
1/2 garlic clove
1/2 a shallot
2 cups worth cut seedless watermelon
1 1/2 cups worth cut tomatoes
1-2 peeled kirby cucumbers
Small piece of jalapeño pepper
1 avocado
Juice from 2 lemons
Handful of box basil or a few leaves of regular basil
3 tablespoons olive oil
3/4 teaspoon salt (or to taste)
Cracked black pepper to taste
Splash of water
Directions
Place everything but the avocado in the food processor or blender (you might have to do this in a couple batches if it doesn't all fit at once) and whiz until desired consistency. Now add 1/2 – 3/4 of the avocado and whiz until incorporated and gazpacho turns a lighter shade of pink.
Let sit in fridge for an hour to chill and so flavors can set. Serve cold with sliced avocado on top!
HonestFare.com