It's too cold and it won't stop. Chili kind of helps though.
Our cold snaps in Florida don't usually last more than a few days (tops) so this whole 27° thing for over a week now is really getting to me. I'm a total wimp, I know. But come on! Frost on the windshield every morning? Wearing socks to bed and waking up and feeling like a piece of beef jerky from sleeping with the heat on? Dead plants?!? So over it.
Like I was saying though, the only remedy for the cold is hearty, spicy, thick and delicious good ole vegetarian chili.
This is a tomato juice based chili with red beans and chickpeas for the protein and yellow squash, zucchini, onion and red and yellow peppers and a tiny bit of jalapeño pepper for the veg. To season I used garlic, salt, black and cayenne pepper, maple syrup, paprika, chili powder, cumin and a teeny bit of clove and cinnamon.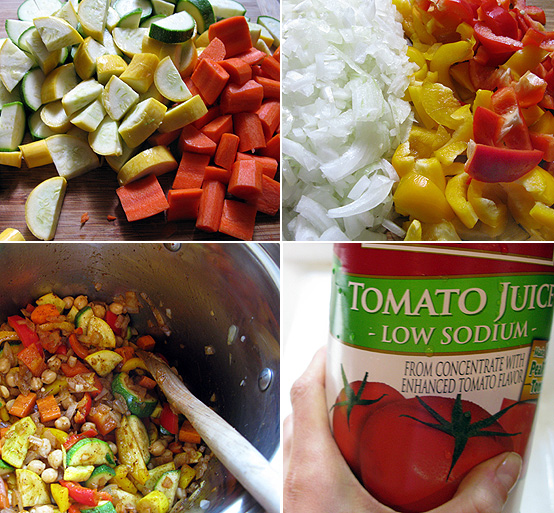 After sautéing the vegetables, I let it simmer for several hours just because I wasn't going to eat it until much later. But really you only need to cook it for an hour if you want to eat it right away. Of course, the leftovers the next day will be much better because the flavors will have had a chance to stew longer.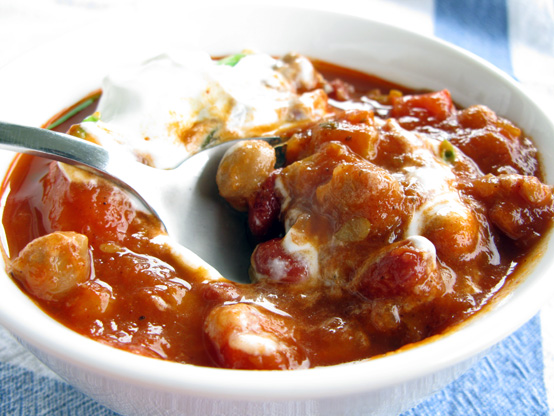 So great over a little rice and with sour cream, cheese and chives.
Print Recipe
Back to Top
Recipe
Freezes really well. Serve with rice, crackers or bread and topped with sour cream, cheddar cheese and chives!
You need:
5 cups tomato juice
1 ½ cup chick peas
1 ½ cup red beans
1 cup chopped zucchini
1 cup chopped yellow squash
1 ½ cup chopped yellow+red peppers
1 cup chopped carrot
¾ cup chopped white onion
½ teaspoon chopped jalapeño
Olive oil
1 large clove diced garlic
Handful of fresh oregano diced
Salt, blk or Cayenne pepper to taste
½ teaspoon cinnamon powder
¼ teaspoon ground clove
1 Tablespoon paprika
1½ Tablespoon chili powder
2 tablespoons maple syrup
Parsley
Directions
Chop veggies. Sauté garlic, onion, peppers, squash and zuc in a large pot with about 3 tablespoons of olive oil on med high heat for a couple minutes. Add a teaspoon of salt, the beans, the paprika, chili powder, clove, cinnamon, oregano and some black pepper. Saute uncovered (mixing occasionally) until veggies become tender but not soft.
Add tomato juice, carrots and maple syrup. Bring to a simmer and reduce heat to low. Stir in about 1/6 teaspoon of cayenne pepper and another dash of salt. Cover and continue cooking on low until carrots are soft. Taste and add more salt and/or cayenne pepper if needed.
Partially uncover and continue cooking until chili thickens. The longer you cook it the better it'll be. Serve topped with sour cream, cheddar cheese and chives.
HonestFare.com