Spring is here! And I'm making soup? Yep, because it's that good!
This is my kind of tomato bisque – coconut milk instead of cream and squash to tame the acidity of the tomatoes. New favorite. I saw a soup similar to this one on a menu in Savannah a couple months ago and it really caught my eye, mainly because it sounded like it was going to be awesome or totally horrible and I had to find out. Luckily it was fantastic! So fantastic that I had to recreate for you!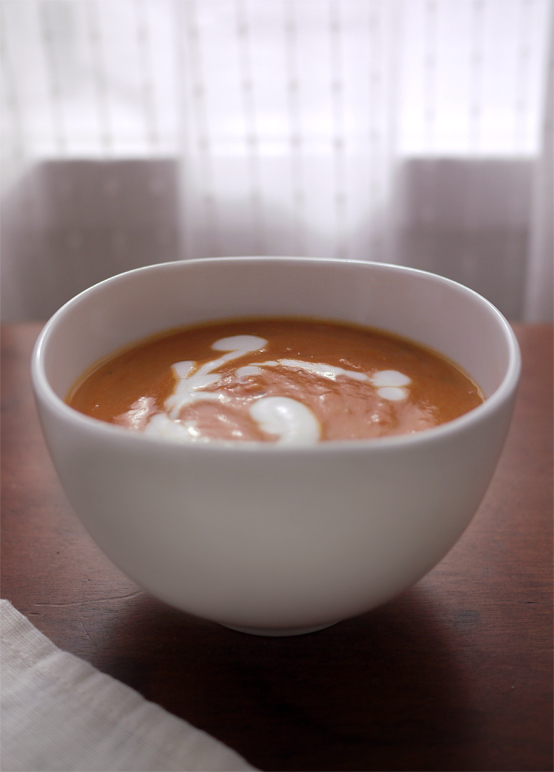 I don't generally love tomato soup because half the time it's to acidic and tomatoey and just tastes like sauce to me. And bisque is another one I stay away from at restaurants because it's usually way too rich with the cream base. But in this case, the squash really takes the edge off the tomatoes and the coconut milk makes it super silky with a hint of sweetness.
You can probably use any kind of squash for this, but I really like the pairing of acorn and butternut. Just roast your squash until tender with a little olive oil, garlic, salt and pepper. Super simple.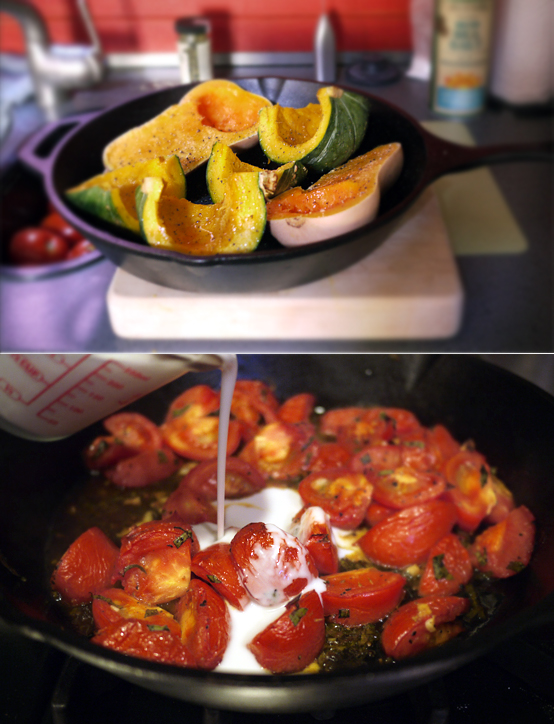 And same goes for the tomatoes – roast them the same way with the addition of some basil and red pepper flakes. Once the tomatoes are soft and bubbling, you pour the coconut milk over them to deglaze the pan. The milk will loosen up all those good bits that get stuck to the pan during roasting. (Side note: If you're pressed for time you can take the short road and either boil the squash and/or use a can of fire-roasted tomatoes instead of roasting everything). Once it cools some, just blend it all up, adding water and additional coconut milk until you get to your desired consistency. I like to add the little drizzle of coconut milk on top as well cause it's pretty.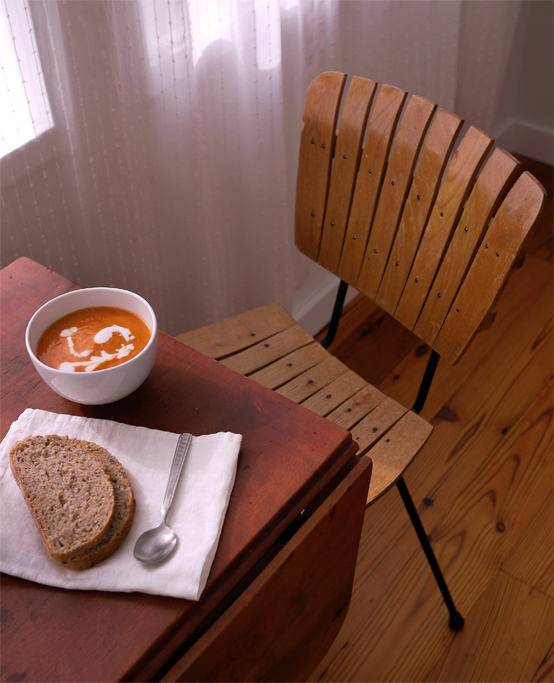 We've served this soup on the food truck with great success. And it was funny to watch a lot of our customers order it reluctantly and then end up being really into it!
Print Recipe
Back to Top
Recipe
Total cook time: 1 hour Serves 6. Freezes great! I recommend butternut and/or acorn squash, but use your favorite. If you're pressed for time you can take the short road and either boil the squash and/or use a 12 oz. can of fire-roasted tomatoes instead of roasting everything.
You need:
13 oz. can coconut milk, well shaken
10 roma tomatoes
3 cups worth of butternut and/or acorn squash
1 Tbs agave syrup
1 Tbs chopped garlic
Kosher salt to taste
Pinch of cayenne pepper or red pepper flakes (optional)
Cracked black pepper to taste
1/2 tsp onion powder
Olive oil
Handful fresh basil chopped
1 cup water or veg broth
Directions
Preheat oven to 375°
Cut squash in half, remove seeds. Brush with olive oil; sprinkle good amount of salt, pepper and onion powder to taste; drizzle agave syrup and roast partially covered until very tender. (If boiling instead, cut into cubes and boil in salted water). Peel skin while still warm.
Half tomatoes and toss in olive oil, salt, pepper and minced garlic. Roast in a separate dish until bubbling and starting to brown. Once cooked, pour 1 cup of coconut milk into hot roasting pan to deglaze. The pan will sizzle some. Stir everything up and scrape across the bottom of roasting pan until tomatoes and coconut milk are well combined.
Now combine squash and tomatoes with pinch or red pepper flakes and a good amount of chopped basil. Allow to cool some before blending. Thin with warm water or veg broth until silky smooth. Add any additional salt and cracked black pepper to taste. Finish with a drizzle of coconut milk.
HonestFare.com