I'm no lobster roll expert (I am a Floridian, after all). I do love them though. The heaps of sweet, sweet meat spilling over the brim of that soft, soft bread. Lobster meat in your face. So good. Maybe you're like me, and all you're really after is the lobster and you end up tossing away half the bread? That tends to me my modus operandi, which is precisely what inspired this recipe for a lobster unroll. It's like a bunch of mini open-faced lobster rolls with very little bread. And very much lobster meat!
Last week while up visiting family in New York, my aunt mentions that lobster is in season – that's all I needed to hear. We decided to pick up a few to have out at the beach over the weekend. And by a few, I mean 10 live Maine lobsters for $65, which basically blew my mind. $6.50 a piece???
Back porch lobster chow.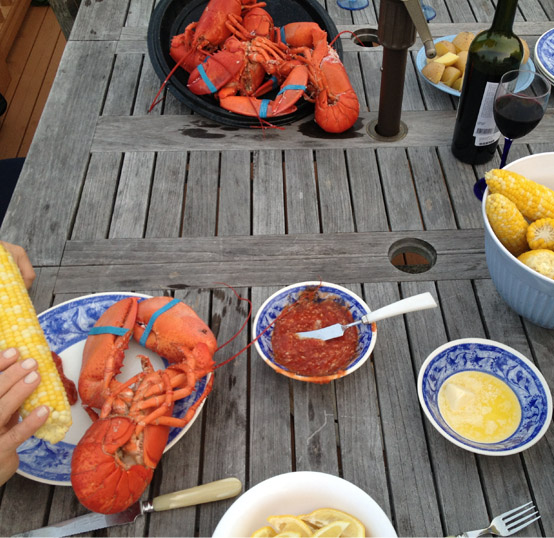 You'd think that two lobsters per adult would be plenty (excessive even), right? Apparently I was wrong because I had to basically beg my family members to "donate" lobster meat from their plates so that I'd have enough to make this recipe the next day. They reluctantly did so. Lucky for all of us!
Very jealous dog.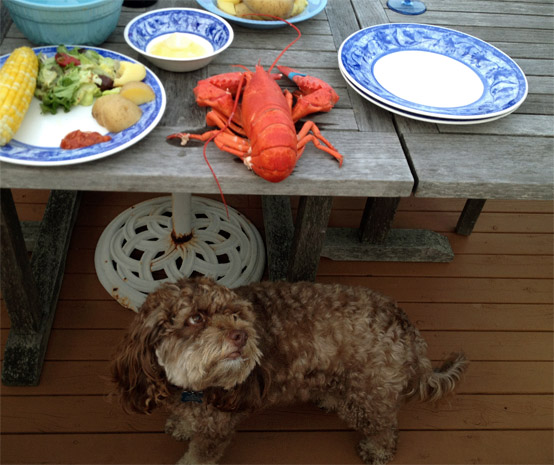 Now, this is not your classic lobster roll by any means so don't you Mainers be jumping down my throat. It happens to be a very nice take on one though.
The sauce and the bread are key here…
And the sauce is pretty simple. You'll just roast or pan sauté a few garlic cloves on low heat until soft enough to easily mash with the back of a fork. Then you'll whisk together some Dijon mustard, mayonnaise and honey or agave. And combine it with the garlic and some salt, cracked black pepper and fresh chives. The larger the chunks of lobster meat the better.

I wasn't really feeling a traditional white hoagie roll for this so I went with a nice loaf of braided challah bread. It was prefect for tearing apart and each wavy piece created the perfect little bread boat for the lobster meat. If you can get your hands on a fresh loaf of challah for this I'd definitely recommend it because the slight sweetness from the egg bread really compliments the lobster salad perfectly.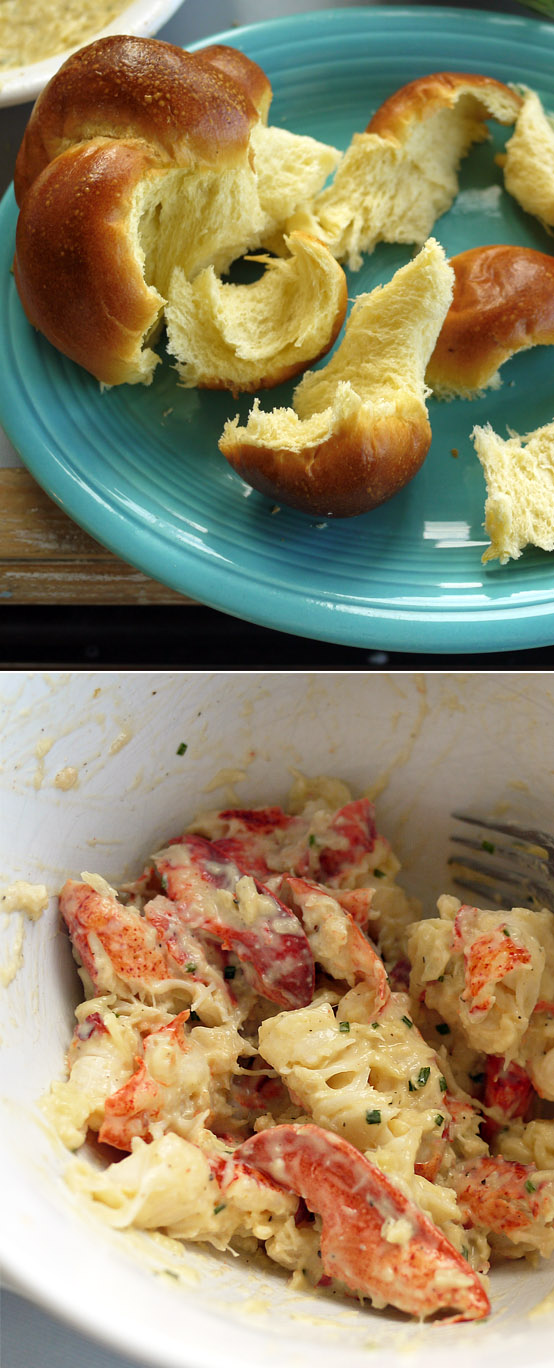 The unroll is best served on a platter with some lemon wedges so everyone can just grab at it. I sprinkled a little shaved celery and celery leaves for crunch and that extra element of freshness!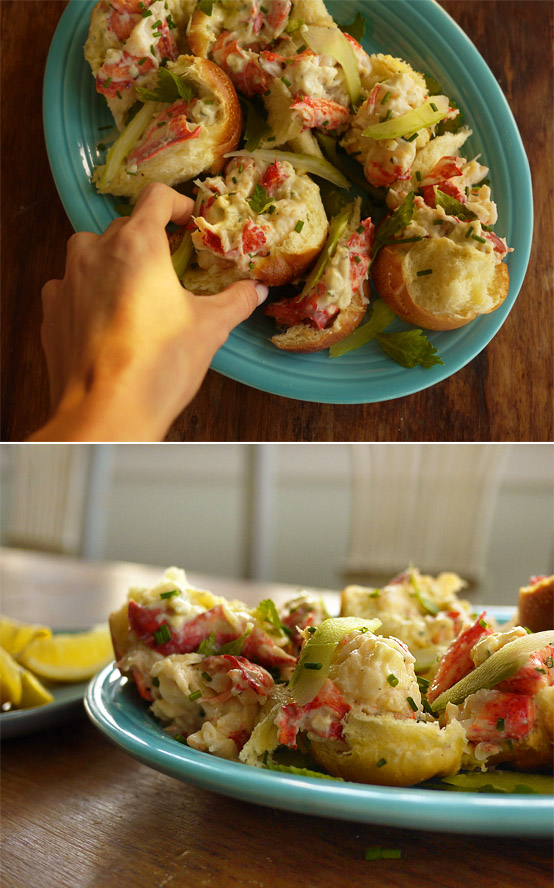 Print Recipe
Back to Top
Recipe
Prep + cook time: 30 minutes. I recommend 2 lobsters for this, but you can make a small batch with whatever lobster meat you have or increase the recipe to make much more! Use nice large chunks of lobster meat rather than shredded. The challah bread is a great choice here, but go for whatever soft bread you prefer.
You need:
1.5 lbs. steamed lobster meat (approximately 2-3 lobsters)
3 Tbs mayo
1 Tbs Dijon mustard
1 Tbs honey or agave
1 tsp roasted garlic (approximately 3 cloves)
1 Tbs finely diced chives plus some for topping
1/2 teaspoon old bay seasoning
salt and cracked black pepper to taste
1/2 loaf braided challah bread, or other soft loaf of choice
1/3 cup thinly sliced celery
1 lemon cut into wedges
Directions
Pan or oven roast garlic (med-low heat so it doesn't burn) in olive oil until soft enough to mash with a fork. Let cool and then mash with a fork to create a paste.
Remove cooked and chilled lobster from shell and pull apart into bite-sized pieces, leaving some large pieces (don't shred). Sprinkle with a pinch of kosher salt and squirt of lemon juice.
Whisk mayo, Dijon, honey, old bay, pepper and garlic mash together until sliky. Fold in chives. Spoon over lobster meat and combine well.
Tear apart bread into pieces large enough to cradle a nice heap of lobster meat and arrange evenly on a platter. Cut celery stalk and some leaves into thin slivers. Cut lemon into wedges.
Spoon lobster meat into bread boats. Sprinkle with celery and additional chives and serve with lemon wedges.
HonestFare.com