If I could be any vegetable, I'd be a pea. A little burst of sweetness. Yep, a pea I would be.
I cook with peas a lot. I think they provide the perfect hit of nectar-like moisture, which makes them an easy way to sort of sugar coat the average pasta or rice dish. But for this salad the peas take center stage.
First you sauté peas, golden raisins and red onions. Then you toss the ingredients (right from the pan) with fresh spinach and feta crumbles until the spinach slightly wilts and the cheese softens from the heat.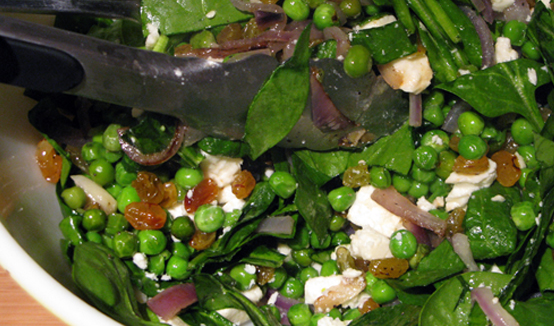 It's a really balanced salad with a lot of nice texture going on. Crunch from the onions (almost caramelized). Chewy from the raisins. And pop from the peas. You'll like it.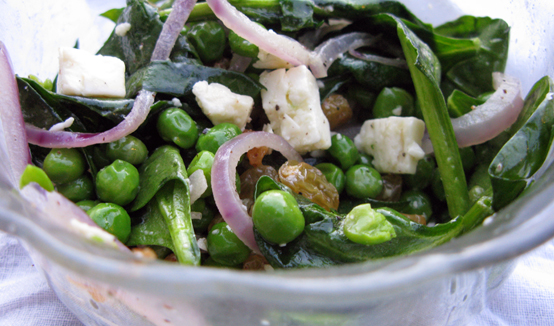 Oh, one last thing about peas. Yes they are wonderful, but on the flip side, there is nothing worse than mushy peas. Pukey. So just keep that in mind and make sure you don't overcook them.
Print Recipe
Back to Top
Recipe
Coop/prep time: 10 mins. Serves 2. You can sub lemon juice with 2 Tbs. red or white vinegar.
You need:
3 tablespoons olive oil
1/4 teaspoon black or white pepper
1/2 teaspoon salt
About 4 ounces feta cheese
1/2 red onion
1 garlic clove
1 garlic clove
Juice from about 1/2 a lemon
2 cups frozen peas/li>
1/3 bag fresh spinach leaves
1/3 cup golden raisins
Directions
Run your knife through the spinach a few times to make it a little more manageable for tossing. Put in large bowl and set aside.
Thinly slice onions. Add olive oil to pan. Sauté onion and garlic on med high heat for about 3 minutes or until onions get tender. Add raisins and peas and salt and pepper. Sauté until peas are cooked through, raisins are nice and soft/juicy and onions are on the verge of being caramelized.
Pour contents of the pan (still piping hot) directly onto the spinach leaves. Immediately toss thoroughly until spinach leaves are all coated in juices from pan and begin to wilt a little.
Add feta (If it's a block, cut it into cubes and crumble it over the salad) and toss together one more time. Squeeze a little lemon juice (optional) for some extra acidity over top and give one last toss. Enjoy at room temp right away.
HonestFare.com