Ready for this? Cauliflower sandwiches. No, not weird. Delicious.
A lot of people aren't into cauliflower, which is a shame cause there's so much you can do with it. Sure, it can be kinda eh when just steamed or on its own, but its mild flavor takes to seasoning really well. There's a lot of potential there…think of it like chicken or potatoes. Roast it. Fry it. Broil it. Boil it. Bake it. Sauté it. Anyway, cauliflower pretty much rules….
Perhaps you're wondering what kind of stroke of genius inspired the cauliflower sandwich in the first place. Well, I had this roommate in college….
The always barefoot kind. A chic that ate only to live, and didn't think twice about it. Often, I'd find her standing in the kitchen, eating pancakes straight off the spatula and drinking chocolate soy milk out of the carton for dinner. This one time, I came home to find her smashing some kind of cauliflower and Parmesan cheese mess together in a pot. I watched (with an "are you serious?" look on my face) as she slopped the mixture atop toasted white bread and then strolled away to enjoy it under a tree somewhere in the backyard…barefoot of course (stoned, probably).
So she was the genius? Well, kinda. Her cauliflower sandwich: not so great. However, the Cauliflower Sandwich concept: brilliant!
The version I've got for you here is a bit different. Actually, it's really, really drastically different. More dynamic and much tastier. (Sorry, Jamie. But thanks for the inspiration!)
Share this with your favorite meat eater—it'll change their life.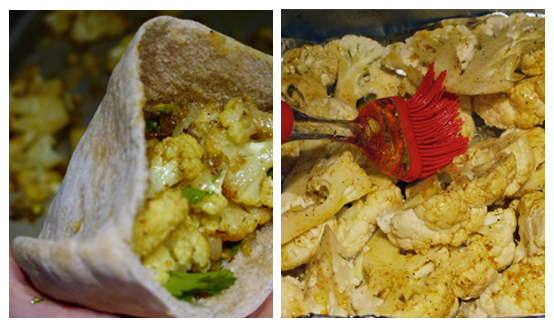 Brush on curry sauce and bake. Cut top 1/4 of pita off and pop open to stuff.
Print Recipe
Back to Top
Recipe
Coop+prep time: 40 mins. Serves 4
You need:
1 Head cauliflower
Half red onion
Pita bread
1/4 Teaspoon cayenne pepper
1 Tablespoon curry powder
1 Teaspoon agave nectar or honey
3 Tablespoons water
3 Tablespoons olive oil
Tahini
Handful fresh flat leaf parsley
1/4 cup golden raisins
1/4 cup cashews
A white, mild cheese like provolone
Directions
Preheat oven to 350°
Combine cayenne pepper, salt, olive oil, curry powder, agave nectar, water and salt together in a bowl and beat with fork until well incorporated.
Meanwhile, coarsely chop the cashews and raisins.
Cut up cauliflower and red onion, place on baking sheet and generously slather with sauce on both sides.
Bake for about 8-10 minutes then flip the pieces so they brown evenly. Bake for another 8-10 minutes then remove. Add raisins and cashews and gently toss around. Bake another 5 minutes. Cauliflower should be tender but not at all mushy.
Spread a nice amount of tahini inside pita bread. Then place cheese inside and stuff with cauliflower mixture. Flatten it a bit by applying pressure with a spatula. Then place sandwich back in oven for a minute to toast and melt cheese OR grill it on a pan (med heat) for about 3 minutes on each side.
HonestFare.com