Nothing says summer like corn. Running your teeth across juicy, sweet corn on the cob; getting it all over your chin and jammed between your front teeth for hours to come – that's what I'm talking about.

Summer's second to that would definitely have to be ice cream. So why not just get the best of both? My mind was first blown by the notion of sweet corn ice cream almost three years ago when someone was nice enough to leave a comment letting me know it existed after I'd gone on and on about how much I love corn and how I would even be willing to eat it for dessert (perhaps even in ice cream). I remember reading their comment and thinking "whhhhhat, corn ice cream exists?" I haven't stopped thinking about corn ice cream since then, nor have I ever actually seen it in person anywhere. From time to time I do come across a rendition of corn ice cream online and imagine what it would taste like. So after all this time I finally conceded to the fact that I probably won't get to try it unless I make it. And goodness, am I glad I finally did.
This stuff is insane. Yes, it tastes like corn, but it's not weird or savory at all. The sweet and creamy corn flavor is subtle enough to keep it from being off putting and the little bits of corn give such great texture. I decided to layer in a simple strawberry sauce to brighten it up even more with a summer fruit component. I think it's a perfect match. Once the ice cream is done and the strawberry sauce is cold, you can alternate layers in an airtight container for storage.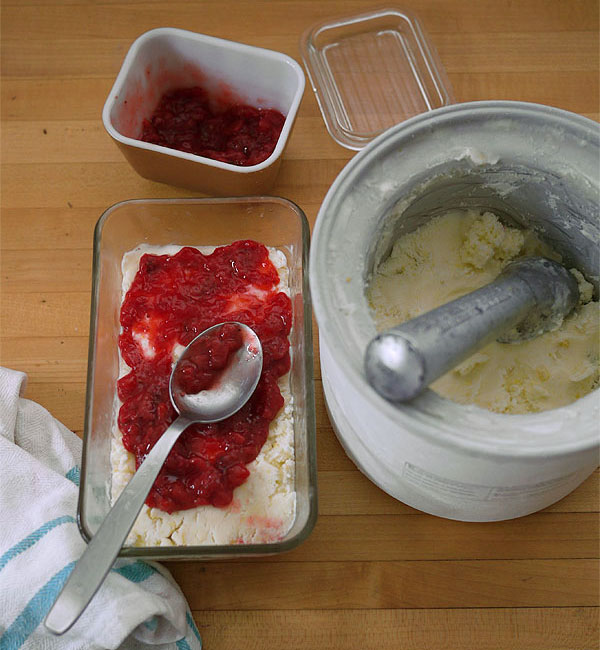 I also decided to go eggless with it. Not that I have anything against eggs; I just don't miss them in my ice cream and prefer to keep things as simple as possible. I got grossed out one time making ice cream using eggs (the flavor and smell of the egg yolks was too overpowering) and since then I've stayed away from eggs in my ice cream altogether. Some people swear by that rich and custardy flavor and texture that eggs give, but it's not necessary to get a fantastic and creamy ice cream! The egg keeps things from crystallizing, but it's by no means the only solution. Some people use a tad of liquor and some use acid like lemon juice. I went with cornstarch because it's easy to use and reliable. Plus, we're making corn ice cream here so I figured may as well stick with the concept. Corn starch is used as a thickener in a lot of foods and sauces as well as jams/jellies. Just a couple teaspoonfuls dissolved in milk does the trick for the entire batch here.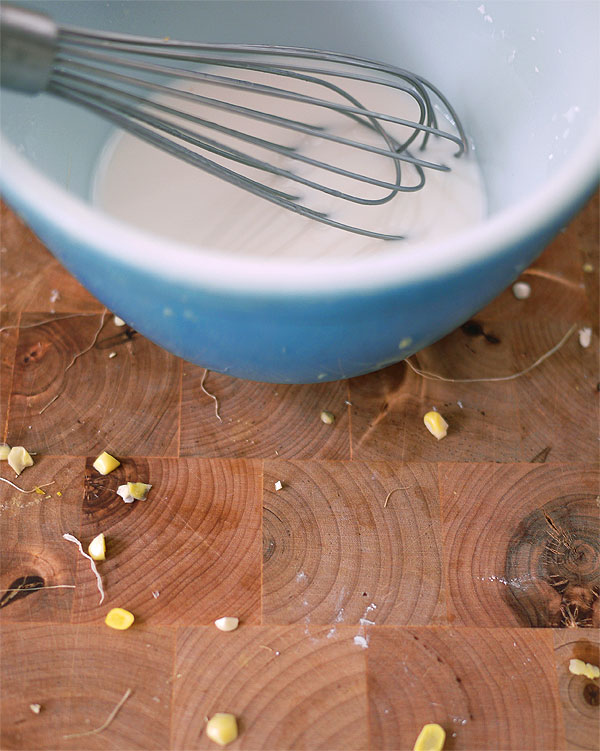 The mix itself is very simple to make. You just cook the corn kernels in milk and cream and sugar, whisking to keep from burning sticking. Once the mix gets to room temp, you can pulse it 3-4 times in the blender to break open those kernels and release more of the natural corn flavor and starches.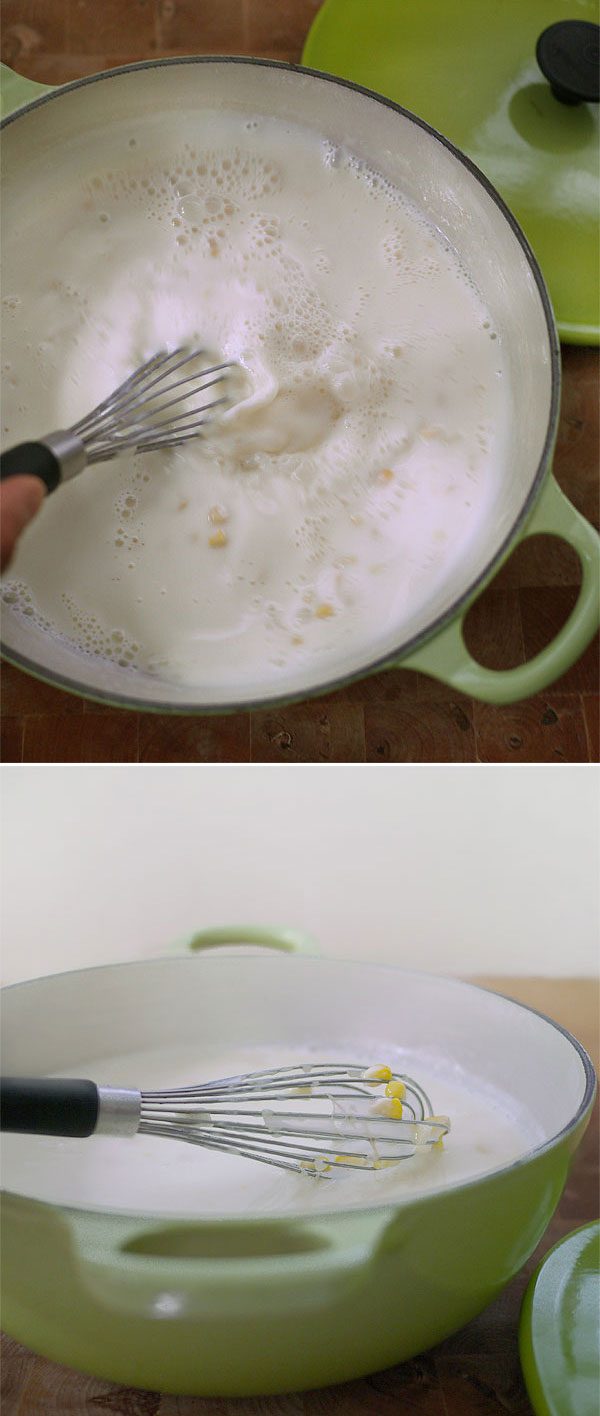 You'll want to cool it in the fridge and let it steep for a few hours so all that good corn flavor releases, and then strain the mix over a bowl. I added about half the chopped up kernels back into the mix so there would be some in the ice cream. All of them seemed like it would be too much, but half was just right in the end so you end up with a little bit of corn here and there.

The ice cream itself isn't overly sweet (which I really like) so the strawberry swirl adds that extra hint of sweet/tartness, and as they melt together it's pretty damn magnificent. What else can I say about this ice cream…? You just have to make it. And eat it like a crazy person, like I have been.

It's so pretty!!!
Print Recipe
Back to Top
Recipe
Makes about 1 quart ice cream. Once cool, let corn mixture steep in fridge for at least 3 hours. Corn starch is your secret ingredient in this eggless recipe. Use whipping cream instead of heavy cream if you want an even creamier texture!
You need:
For Ice Cream:
2 ears fresh sweet corn
2 cups milk
1 1/4 cups heavy cream or whipping cream
2 Tbs corn starch
2/3 cup sugar
1/4 tsp kosher sea salt
For Strawberry Swirl:
1 cup chopped strawberries
1/2 tsp white vinegar
Tiny pinch kosher sea salt
1/4 cup sugar
2 tsp corn starch
Directions
For Ice Cream:
Mix 1/4 cup milk and corn starch together in bowl until fully dissolved. set aside. Remove corn from cob. Bring rest of milk, cream and sugar to simmer. Add corn and cook for 5 minutes, stirring to keep from sticking or boiling over.
Remove from heat and let cool to room temp. Once at room temp, pulse 3-4 times in blender and place mixture in fridge to steep for at least 2-3 hours or as long as over night. The longer it steeps the stronger the corn flavor! Once cold, strain mix into a bowl, reserving half the corn kernels to add back into mix for nice texture.
Put corn mixture and corn starch slurry in ice cream maker and follow instructions per your machine. Store ice cream in vessel in freezer until strawberry sauce is done.
For Strawberry Sauce:
Place chopped strawberries, 2 Tbs of water, sugar and vinegar into pot and heat to a slow simmer. Cook until strawberries are soft and mixture gets juicy. Place a couple spoonfuls of that strawberry juice into a bowl and stir in corn starch until dissolved. Stir cornstarch mixture back into rest of sauce and remove from heat. Sauce will thicken as it cools. Place in fridge to become cold before adding to ice cream.
Remove ice cream from freezer. Alternate layers of ice cream and swirl sauce in an air tight container for storage.
HonestFare.com