Earthy kale folded into a rich and creamy mash of avocado and golden raisins. So nutty, sweet and vibrantly green with life giving powers! So I'm about convinced—this is hands-down the healthiest + tastiest salad I make.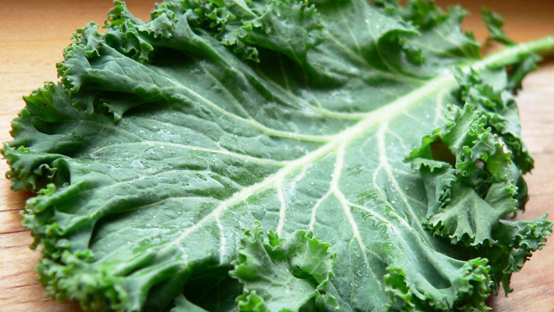 The beautiful wavy leaves of the kale plant provide us with more nutritional value for substantially fewer calories than almost any other food IN THE WORLD.
Kale is packed with vitamins and minerals and sulfur-containing phytonutrients, which are said to prevent cancer byway of activating detoxifying enzymes (quinone reductases and glutathione-S-transferases) in the liver that help neutralize potentially carcinogenic substances.
Then there's everybody's best friend the avocado.
High in potassium; great for your skin and your cholesterol. And get this, when eaten with other foods, avocado greatly increases your body's ability to absorb certain nutrients (for example, alpha-carotene & beta-carotene absorption increases by more than 10 times!)
Conclusion: This is the healthiest salad in the world. And very simple to make.
Chop and steam in steam pan until kale wilts or quickly blanch in boiling water (like 30 seconds). Place on paper towels to dry and press to dry well. This is important or the salad will be soggy!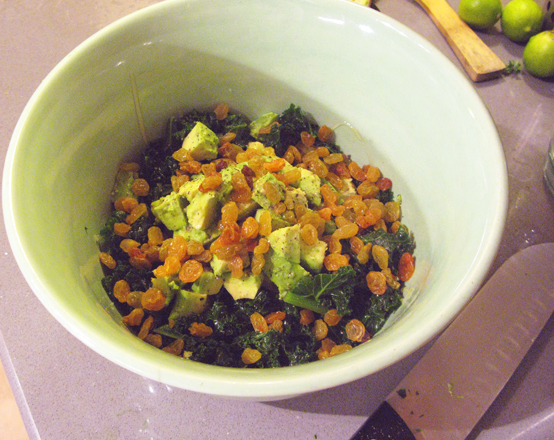 Then just put it in a giant bowl with chopped avocado and raisins and smush together with a fork or better yet, WITH YOUR HANDS. Once well incorporated, you'll add the rest of the ingredients and toss again!
Print Recipe
Back to Top
Recipe
Cook/prep time: 20 minutes Serves 4 If you don't feel like steaming the kale first, you can do a raw version. Just discard most of the thick stems and rub a little olive oil on the leaves to soften them before chopping. Then proceed with the recipe.
You need:
1 ripe haas avocado
1 bundle green kale
Agave nectar or honey to taste (start with 1 tablespoon)
Juice from 1 lemon
1-2 tablespoons rice vinegar
1/2 cup golden raisins
1/4 teaspoon garlic powder
1/4 teaspoon onion powder
Salt and cracked black pepper (to taste)
Cayenne pepper to taste (start with a pinch)
Directions
Wash and roughly chop kale (including stalks) into 2 inch pieces. Prepare a pot to boil with about 2 cups of water. When water begins to boil, add kale and stir for about 30 seconds before removing from heat (no longer than 30 seconds or it wont be crisp!) Drain and run under cold water immediately. You can also place into ice water bath or fridge to cool further.
Place kale in colander and press leaves to release water. Then place leaves onto paper towels to dry further – press between paper towels to remove all that sogginess.
Place kale in large bowl with entire avocado cut into cubes and raisins. Toss and mash it up (squishing between your fingers or using fork) until avocado is fully and evenly incorporated. Add garlic powder, onion powder, salt, black and cayenne pepper, agave, rice vinegar and lemon juice and toss again until evenly incorporated.
Taste to see if you want to add more salt/pepper/garlic/agave/whatever.
HonestFare.com