I thought I knew my berries. Not counting the tons of varieties growing on bushes on mountainsides in far off lands where the people live to be 125-years-old. But I'm talking about the berries available to the average consumer. I can be so naïve sometimes.
I present to you the golden berry.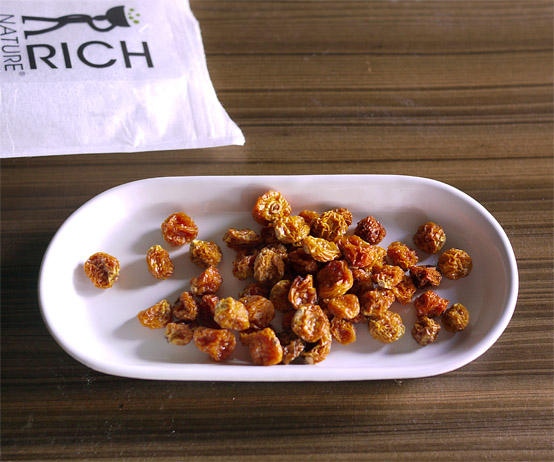 Also known as Incan berries or golden cherries. Ever heard of them?
Mind blowers. They're unlike any berry I've ever had and everyone I've let try agrees. It's hard to articulate the uniqueness of their flavor, but they're somewhere between a dried cherry and cranberry.
First six things that come to mind:
Withered yet gummy.
Tart like sour patch kids.
Sweet like jam.
Dried cranberries are dead to me.
A miniature elbow filled with tiny snappy seeds that are fun to pop with your teeth.
Okay so now that you know exactly what these intriguing little fellas taste like you probably want to know where to get them… Rich Nature! This company was one of the very first to import goji berries back in the late 1990s before they were really available in the marketplace, and today they've expanded their product line to include all kinds of organic super berries (goji berries, golden berries and muleberries). For me, the quality is much better than anything I've purchased elsewhere (the goji berries are especially large, moist and chewy) and the prices are great. Annnnnd, as a new partner here on Honest Fare, they're offering all of you a generous 18% discount on all your purchases! Hell yeah.
Just use this code at checkout: HONEFARE1212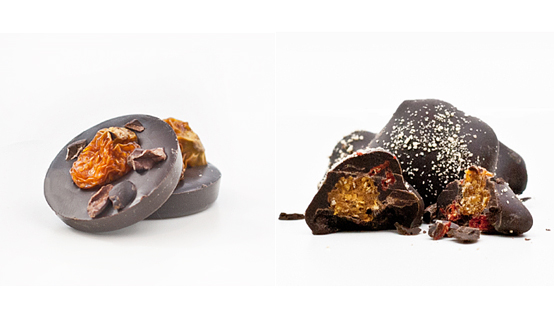 They also do chocolate covered super berry treats that are incredible. I can't recommend the chocolate covered goji berries enough though. They're impossibly good. I just placed an order for the holidays actually.
* Click on their pretty ad to your right in the sidebar and visit their shop to use your coupon code!
Our star ingredient in these "super berry scones" is the golden berry or golden cherry – rich in phosphorous, calcium, and vitamins A, C, B1, B2, B6, B12 and protein. Yes, protein! For a fruit, golden berries are extremely high in protein (16%). The Greek yogurt and nuts add some additional protein here as well. And in an effort to make the healthiest scone on earth, of course I used whole-wheat flour and coconut oil instead of butter… (tried it both ways and had similar results with the butter being slightly fluffier and more…well, buttery tasting).
Prior to these I had never made scones before and kind of figured they'd be a bit of a pain. They're actually really simple and quick though! After combining all the wet and dry ingredients you just roll the dough into one or two balls depending on how thick and large you want each scone to be (I did two softball-sized balls because I wanted mini scones).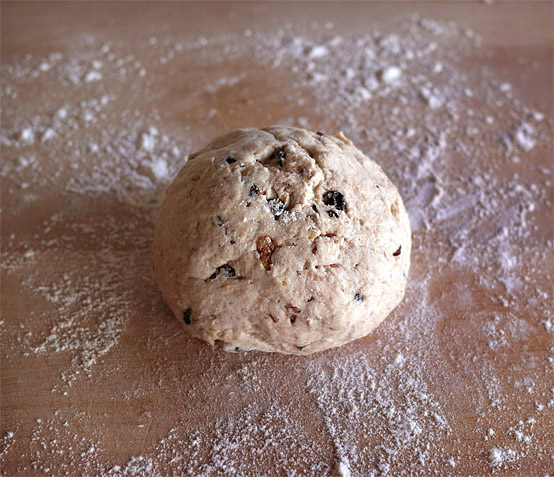 Then flatten each ball out and cut into wedges of your desired size, like a pizza. I dusted the cutting board pretty good with flour to avoid sticking and it also helps significantly if you let the dough chill in the fridge for about 20 minutes before working with it.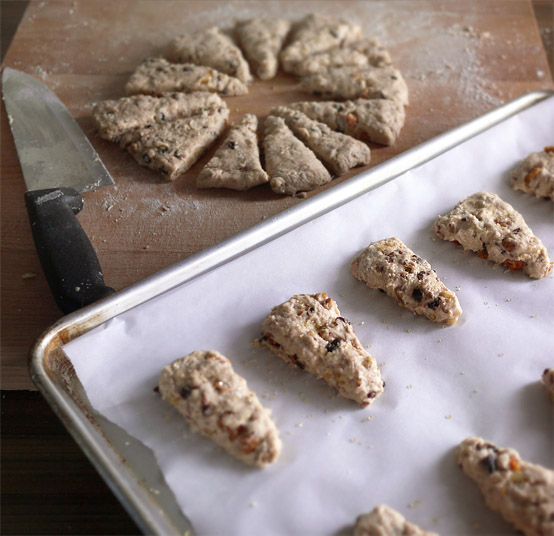 I've made these a three times and the results have been great. Very nice texture and crumble and not overly dense like some whole wheat baked goods can sometimes turn out.
It's the perfect scone for dunking!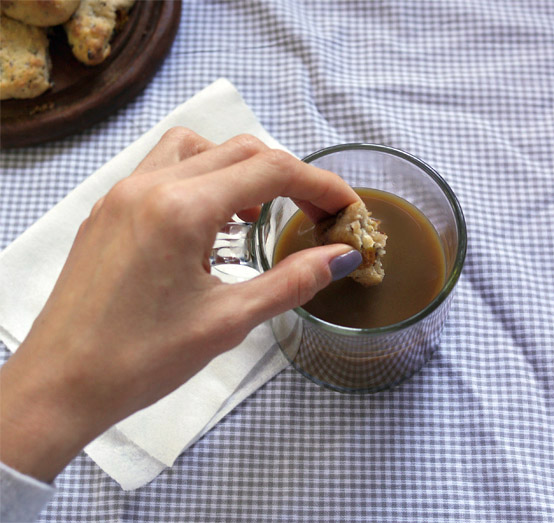 I used golden berries and currants, pecans and walnuts here, but these will work with any dried fruit/berry or nut. I think goji berries and almonds or even dried cherries and pecans would be awesome!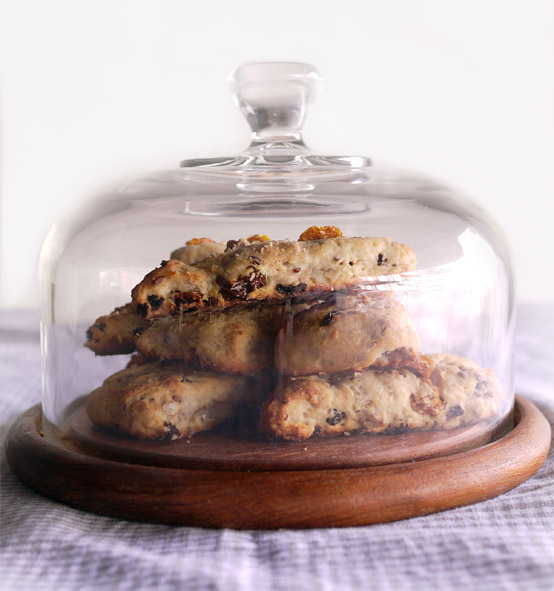 Print Recipe
Back to Top
Recipe
Prep + cook time: 40 minutes. makes 16 scones Use your favorite dried berry and nut mixture. And choose to use butter or coconut oil.
You need:
1 1/2 cups whole wheat pastry flour
1/2 cup whole wheat flour
1 tablespoon baking powder
1/2 teaspoon baking soda
5 tablespoons turbinado (raw cane) sugar, plus extra for sprinkling on top
5 tablespoons coconut oil (or butter)
1/2 cup plain low fat Greek yogurt
1/2 cup low fat milk (I used soy)
1/2 teaspoon cinnamon
1 tablespoon flax seeds
1/4 cup chopped pecans
1/4 cup chopped walnuts
1/4 cup dried currants
1/3 cup dried golden berries
Directions
Preheat oven to 350°
Combine the yogurt and baking soda in a small bowl and set aside. The yogurt will get light and airy, like meringue.
In another bowl, combine flours, baking powder, sugar, cinnamon and salt and whisk together really well.
Drop coconut oil (or butter) into dry ingredients one spoonful at a time and break apart with fingers as you mix it into the flour. Fold in milk and yogurt mixture. Add in flax, dried fruits and nuts and mix well to combine.
Place dough on cutting board dusted with flour and roll into two balls. Press dough out with your hands into circles that are about 1/2 inch deep all around. Place in fridge for just a few minutes before cutting each circle of dough into wedges. Eight scones per circle is ideal.
Dust each scone with raw sugar and place on baking sheet lined with parchment paper. Bake for about 15 minutes or until light brown.
HonestFare.com