I think my favorite part about holiday eating is all the eating that takes place before the actual mealtime. You know, the grazing about with a handful of seasoned nuts as you try out "a little bit of this and a little bit of that" until you're not even hungry for the main course. I can't help it – I like to hover the snack table. Some chevre goat cheese smeared on a red grape with a couple pistachios on top – doin' it. Then on to some cucumber and radish slices with salted honey butter and pumpernickel points. Oh, that's nice. And how about some sunflower pâté on pita chips or veggies? Sounds good to me!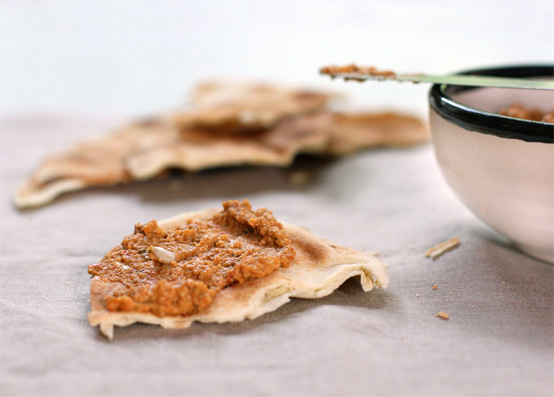 Not only is this pâté delicious, it's super healthy! The sunflower seeds are soaked overnight, making them a better source of easily digestible protein. Then it's just a few pulses in the food processor until creamy with some basil, olive oil, lemon juice, salt/pepper, agave and red peppers (roasted or raw). Super easy.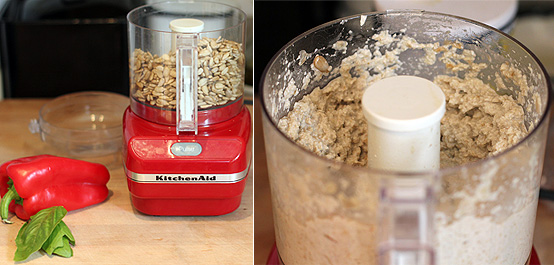 So what's soaking the seeds have to do with it? Well, seeds and nuts contain enzyme inhibitors that, in nature, ensure the seed or nut only begins to sprout when the weather conditions are favorable (warm and damp in springtime). By soaking seeds and nuts in the warmth of your home, you can break down these enzyme inhibitors, releasing more nutritious and making the seeds easier to digest.
Sunflower seeds are loaded Vitamin E, a fat-soluble vitamin and antioxidant found in many foods, fats, and oils. Vitamin E it is said to destroy free radicals (harmful compounds in the body that damage DNA and cause cell death) which are believed to contribute to aging as well as the development of a number of health problems, including heart disease and cancer. Antioxidant rich foods, like sunflower seeds, provide some protection against these conditions and can help reduce the damage caused by toxic chemicals and pollutants.
Because vitamin E helps break down fat, it should be an especially welcomed snack for the holiday season!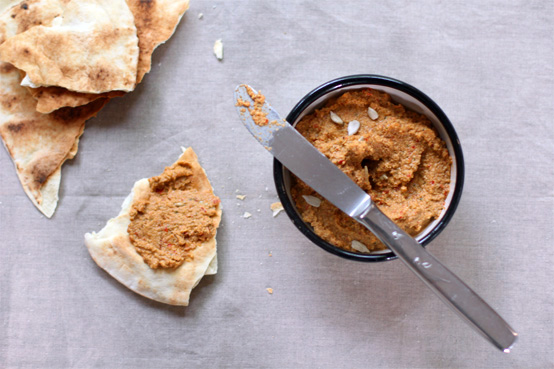 This pâté is great on all kinds of breads, chips and crackers. We also like to use as a spread on sandwiches. It's fantastic with sharp cheeses and a really nice as a dip for veggies (smear it on some cucumber slices). Oh yea, and it's awesome with avocado on a rice cracker or piece of toasted bread!
* Note: I've modified the recipe since its original post date.
I've done a couple batches using raw red peppers and it's great, but I recently tried it with roasted red peppers and happen to like that a bit better. The roasted red pepper gives a richer, smokier flavor and I think it makes for a creamier, sturdier texture too. If you're going to use raw red peppers, I recommend using the miniature sweet ones (you often see them sold in packs of orange, yellow and red together) because they are more flavorful and contain less water than regular red bell peppers.
Print Recipe
Back to Top
Recipe
Prep + cook time for raw pepper version: 15 mins, 1 hour 15 minutes for roasted red pepper version. Sunflower seeds should be soaked overnight or at least a few hours. Recipe makes about 3 cups of pâté. Store in airtight container in fridge for up to 5 days.
You need:
1 3/4 cup raw, unsalted, shelled sunflower seeds
About 5 mini sweet red peppers
Juice from 1 lemon (or 2 tbs white vinegar)
8 large, fresh basil leaves (more if you really like basil)
2 tablespoons olive oil
1 tablespoon honey or agave nectar
Pinch of red pepper flakes to taste
Sea salt and cracked black pepper to taste
Directions
Set aside 1/4 cup of your sunflower seeds and place 1 1/2 cup of sunflower seeds in a large bowl of water and soak overnight. The seeds will absorb most, if not all, of the water and look plump. Drain out any excess water, pat dry and let sit on paper towel a couple minutes to remove any extra water droplets.
If doing the roasted red pepper version: Preheat oven to 400°F. Brush peppers with olive oil and bake, turning every so often, for about 40 minutes or until they become soft and the skin has charred in some areas. Remove from oven and let cool completely. Remove seeds and stems and peel off charred skin from peppers.
Add sunflower seeds to food processor and pulse a few times. Add olive oil, lemon juice, basil, agave, pinch of red pepper flakes, salt/black pepper and red peppers (raw or roasted) and pulse until nice and creamy. If necessary, you can thin the pâté with a tiny bit of water or lemon juice or thicken it by adding a tablespoon of your reserved, unsoaked seeds and blending again. Taste and add any additional basil, salt or pepper to your liking.
HonestFare.com