Yesterday I reached the week mark of my summertime detox wherein I've been eating nothing but fruits and veggies (I should clarify: a gut-busting amount of fruits and veggies). In addition to all the smoothies, juices and grilled, steamed and raw veggies I've feasted on, I've also made a couple great soups (like Monday's Miso Beet Soup) that are really worth sharing.
It may not look like much, but this creamy broccoli, avocado and arugula soup was especially phenomenal. One of the better soups I've had in a while. And, talk about soups you would have never thought to make, right? Can't take the credit. I modified the recipe from Gwyneth Paltrow's, GOOP and thought to add avocado because of a different recipe a friend shared with me.
This soup packs a ton of greens and good fat and I think, all that combined, really kept me full longer and gave me more energy than most of the things I was eating during my cleanse.
The process takes just a few minutes. Steam your broccoli (I like to leave the stems long cause I like the texture of them). Sauté some onions. Add some water then blend everything up with some ginger, lemon juice, apple cider vinegar, salt and pepper. I also added some red pepper flakes and honey for extra heat and sweetness.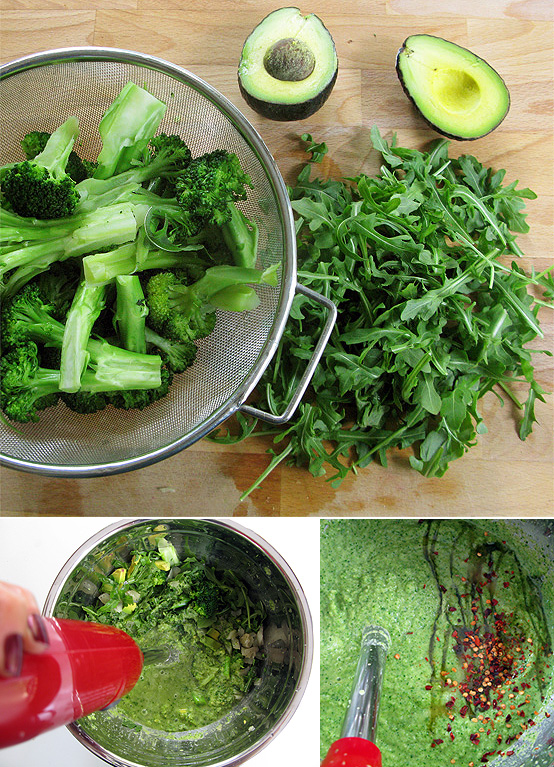 This was my first time using arugula and avocado in a soup and I was so pleasantly surprised by how well the flavors came together. Hot avocado is my new jam. I'll definitely be adding this soup to my list of regulars. It's great hot or cold like gazpacho.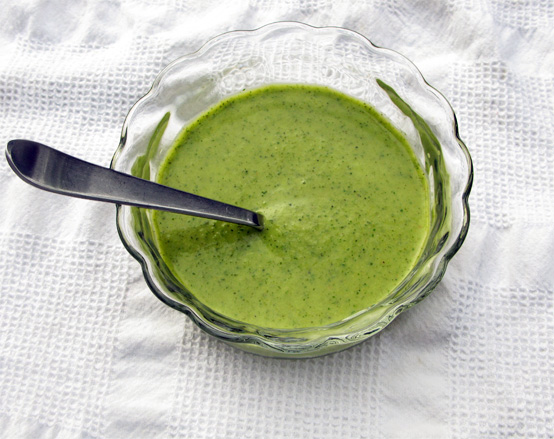 Print Recipe
Back to Top
Recipe
Cook/prep time: 15 minutes. Serves: 2 (but easily double the recipe to make more!) I like to keep the broccoli stems longer for texture. Soup is great served hot or cold like gazpacho. Blend with additional water if you like thinner consistency. Use spinach as a sub if you don't like arugula. Freezes great.
You need:
1/2 haas avocado
About 8-10 decent sized broccoli clusters = to almost 1 full head (stems kept at least an inch long)
1/3 onion of choice
2 hand fulls arugula
1 Tablespoon olive oil
Salt (about 1 teaspoon) or to taste
1 Tablespoon apple cider vinegar
Red pepper flakes (about 1/4 teaspoon) or to taste
Drizzle of honey or agave
Juice from half a lemon
1 inch minced ginger root
1 cup water
Directions
Lightly steam the broccoli. Remove from heat when bright green. Saute onions in olive oil until just soft.
Place cooked broc and onions and all the other ingredients in a blender, food processor or use hand emersion blender. Add 1/2 cup water and blend. Keep adding more water until reachers desired consistency. Add any additional salt to taste.
Enjoy hot or cold!
HonestFare.com