Strawberry season is upon us! It's hard to pass up the old 3 for $6 special at the market these days…so I didn't. My plan was to make a bangin' strawberry preserve that was primarily sweet, but with just enough heat to warm your lips at the end. Done and done. Something sweet. Something spicy. Can't really argue with that!
I debated between using jalapeño peppers or serrano peppers, but I went with serrano purely because strawberry serrano sang nicer than strawberry jalapeño. The serrano is a type of chili pepper that's actually notably hotter than the jalapeño. I say, the hotter the better. But don't be scared, it's not that crazy, tongue on fire, drink a glass of milk after kind of hot. Not in the amount we're using here anyway. I've made this recipe using varying amounts of serrano pepper to find the level of heat I like best – the recipe I'm giving you is like a 6 on a 1-10 heat index.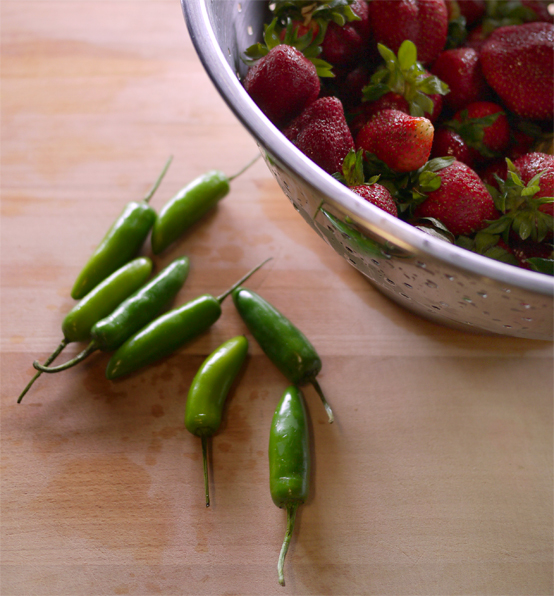 It's really simple to do to. First, cut the peppers lengthwise and remove about 80% of the seeds (yes, 80%) and dice them up into little bits. Then you can hull and cut the strawberries into med-sized pieces and simmer them with lemon juice until a lot of the liquid cooks out (about 25-30 mins). The sugar and peppers are added in during the last few minutes of the cooking process. Oh yeah, pepper gas warning!! Depending on the amount of peppers you use, the steam released during cooking might make you cough…uncontrollably. That's why you should add the peppers toward the end. It's no big deal, just something to be aware of. Open a window and you'll be fine.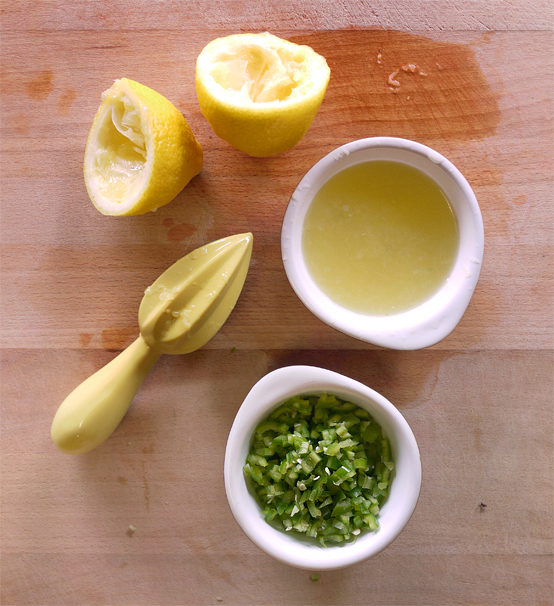 Look what I found!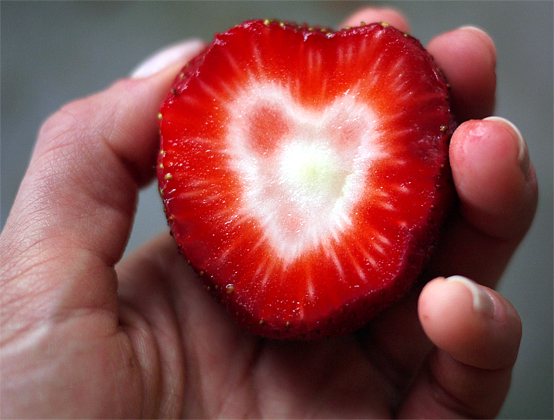 Most of the jams and preserves you buy in the store contain pectin, which is used as a thickening agent. It's tasteless and you can totally use it if you're accustomed to doing so. I don't use it in this recipe – simmering to cook out the moisture seems to do the trick. Cornstarch is another option if you'd like your preserves to be closer to that jam-like consistency. I have used cornstarch in this recipe and was pleased with the results. Just mix a teaspoon or two with equal parts of warm water in a separate bowl and then add it in to the pot while simmering. It will continue to thicken as it cools. Works great, but don't overdo it.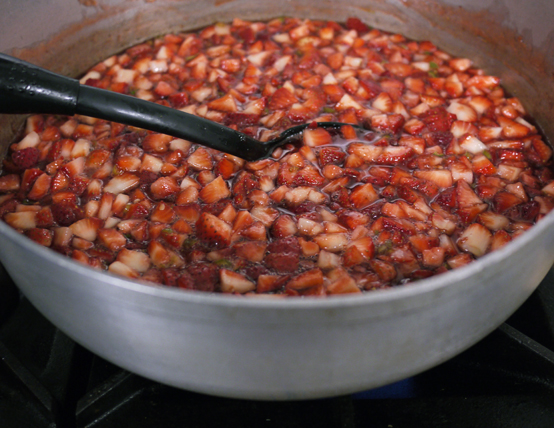 This stuff is especially fantastic with cheese! Do it up with some goat cheese or queso blanco on toast or crackers. Even a mild cheddar is nice. Anything mild and creamy (cream cheese!) will work. A peanut butter and strawberry serrano sandwich is pretty amazing too!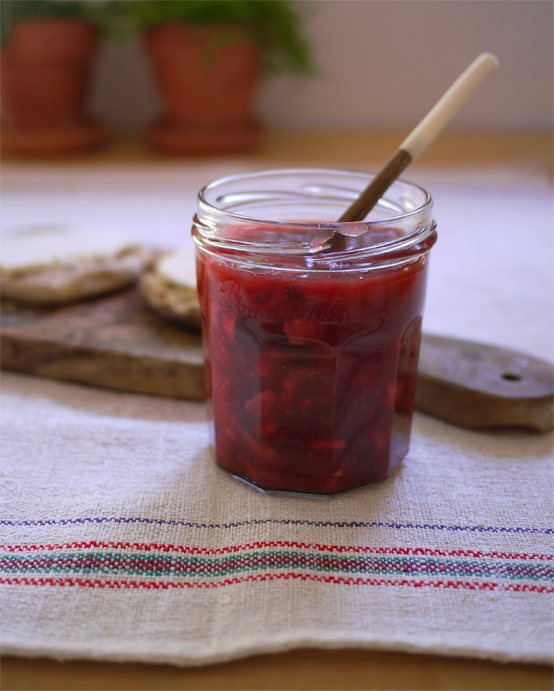 I want to also mention the linen photographed throughout this post. It comes from Transylvania Images , a textile company that makes kitchen linens and towels, bags and upholstery using vintage grain sacks and organic hemp. They were nice enough to send me a couple beautiful samples! Their pieces are woven on authentic hand-looms by villagers like these in Transylvania…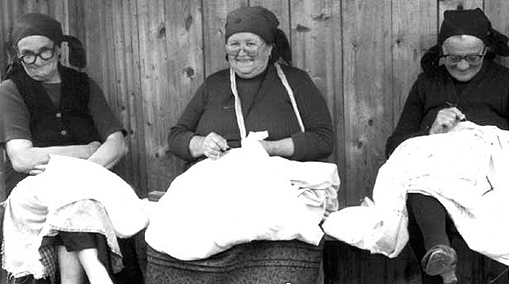 Check out their collection!
Transylvania Images
Print Recipe
Back to Top
Recipe
Cook time: 30 minutes. Makes about 2 cups. Lasts about 2 months stored in airtight containers in fridge. Increase or decrease serrano peppers to your liking. The addition of cornstarch (or pectin) may be used during cooking to thicken even further.
You need:
2 lbs. Strawberries
Juice from 1 lemon
1 cup sugar
Cornstarch or pectin (optional for additional thickening)
2 and a half serrano peppers (most seeds removed)
Directions
Wash and hull strawberries and cut into pieces. Wash peppers and cut lengthwise to remove about 85% of seeds before dicing.
Cook strawberries and lemon juice in a saucepan or shallow pot over low heat for about 30 minutes. Add sugar and increase heat to a simmer for 10-15 minutes minutes.
Optional step: For additional thickening, you can add 1-2 teaspoons cornstarch to equal parts warm water in a separate bowl and add to pot. It will continue to thicken when it cools.
Add in peppers and few seeds, stir in and cook for another 2 mins before removing pot from heat. Let cool completely and remove any foam from surface before storing in airtight containers or jars.
HonestFare.com