Strawberries in October? Yeah, well I figure as long as it's 90 degrees in Orlando and people are still wearing white summer dresses, strawberries are still in season.
So I've decided to hold off on pumpkin, along with a lot of my other favorite fall flavors, for at least another couple weeks (it just doesn't seem right) or until this blistering heat gets the hell out of here!
These babies are so fluffy and fun.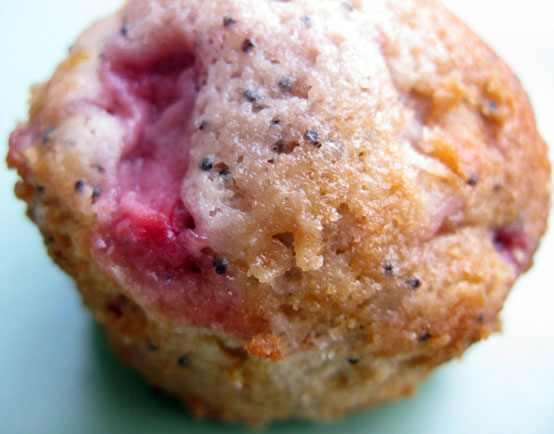 Poppy seeds swirling through that batter. So pretty.
If you can't find fresh strawberries near you, frozen ones will work. Just make sure they're defrosted and patted dry before you mix them into the batter.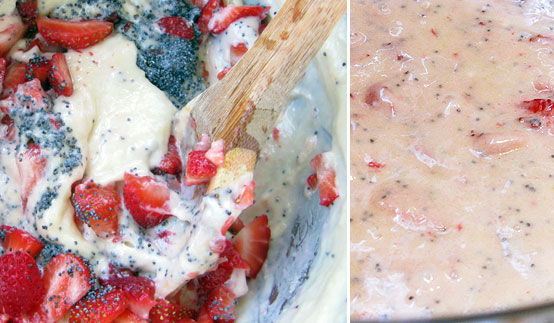 And I just love the way those poppies pop when you bite into them!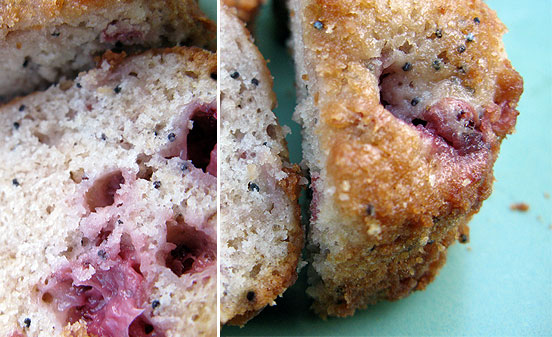 Print Recipe
Back to Top
Recipe
Prep time: 35 mins. Uses apple sauce instead of butter!
You need:
1 ½ eggs
1/3 cup white sugar
1 teaspoon vanilla extract
½ cup vegitable oil
4 Tablespoons apple sauce
2 cups of chopped strawberries
2 Tablespoons poppy seeds
1 ½ cup of all-purpose flour
½ teaspoon of baking powder
½ teaspoon of baking soda
½ teaspoon salt
Directions
Preheat oven to 350 degrees.
Wash and chop your strawberries. If you're using frozen ones, let them defrost and then pat out some of the excess wetness before chopping.
In a large bowl, beat the eggs lightly and remove 2 tablespoons (that equals about ½ an egg so you can meet the 1 ½ eggs this recipe calls for). Blend in the sugar, oil, applesauce and vanilla. Add flour, baking powder, baking soda, salt, and poppy seeds. Mix just to combine. Stir in the strawberries.
Bake in nonstick muffin tray for 18-20 mins, or until a tester comes out clean.
HonestFare.com