Today we set the clocks forward an hour. Now we have more daylight to hoe the fields under, or something. So in honor of this great North American holiday, I made quiche.
Ham and green onion.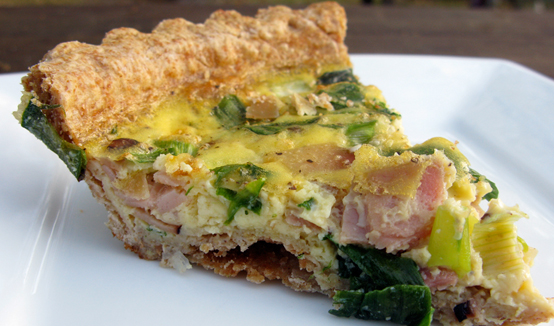 Spinach, yellow pepper, onion and goat cheese (the tanginess from the goat cheese was sooo nice).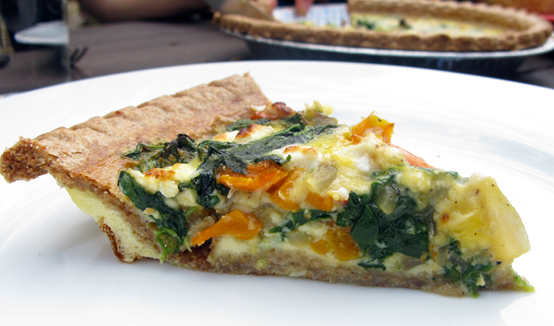 I like to take the easy route when I make quiche. That meaning, I buy a premade crust. Whole Foods makes a great whole-wheat crust (they come frozen), but you can use any premade flour pie crust. Once fully defrosted, you'll just need to make several tiny slits to the base of the crust, then bake it for about 6-8 minutes before filling with your egg and veggie fillings.
About the egg filing: I don't use any butter or cream. Each crust requires about 4 eggs to ½ cup of 2% or whole milk. I think it makes for a fluffier quiche. Definitely makes for a healthier one and in no way compromises flavor.
I recommend sautéing my all your veggie or meat fillings (not the egg, of course) first and setting them aside until I you're ready to fill the crust with the egg mixture and pop them in the oven.
Once you're ready, first generously cover the bottom of the crusts with the veggie/meat mixture.
Then, add the egg filling.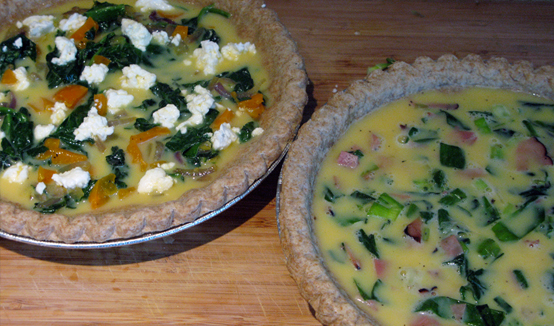 Only fill your crust about 2/3 of the way to the top with the combined egg and veggie/meat mixture because it will rise a tad during baking.
Your bake time will vary depending on how much and what kind of meat and/or veggies you use. For example, spinach and peppers tend to release a lot of moisture so that will add a few extra minutes to your cook time. But generally, you're looking at about 20-25 minutes. Just take them out and give then a flick to make sure the center is cooked through…and look something like this!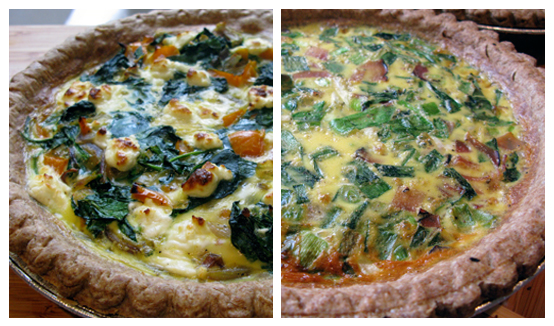 These were pretty wonderful. And we ate them outside. Under the sun of course.
Print Recipe
Back to Top
Recipe
Coop/prep time: 1 hour I used a whole wheat pie crust from Whole Foods. Make sure crust is defrosted before filling.
You need:
2 cups uncooked spinach
1/4 of a red onion
1/2 of a red, yellow or orange pepper
About 1/4 cup goat cheese
1 teaspoon salt
1/2 teaspoon black pepper
1 garlic clove
2 Tablespoons olive oil
1/2 cup milk
4 eggs
1 pie crust (defrosted)
Directions
Preheat oven to 350 °
Make several slits into the base of your pie crust. Bake at 350° for about 6-8 minutes. Remove and set aside.
Dice onion, garlic and your chosen color of pepper. Sauté in olive oil on medium high heat for about 4 minutes. Add your 2 cups fresh spinach and a sprinkle from your teaspoon of salt. Cook until spinach reduces. Set aside in a bowl.
Crack 4 eggs into a large bowl. Add ½ cup of milk, the ½ teaspoon of black pepper and the remainder of your teaspoon of salt. Whisk the hell out of it. The fluffier the better.
5. Fill your pie crust with your veggie mixture and goat cheese (evenly distribute across bottom of pie crust). Pour the egg mixture over, filling the crust about 2/3 of the way to allow room for a little rising.
Bake for about 20 minutes. Take it out and press gently across the top and middle to make sure it's cooked through. If not, put it back in. Just keep checking every few minutes until it feels firm but still fluffy. It's normal for the middle to be slightly moist (that's from the veggies) but in no way watery. Leave it to cool for at least 5 minutes before serving or it'll fall apart.
HonestFare.com