Valentine's Day. Everybody's doing it. So here it is, my compulsory "sweets for your sweetie" Valentine's Day post. Though "red hot, take me now" is more like it for these cookies.
They're a rich and chocolaty take on the classic sinckerdoodle with a spicy kick from cayenne pepper. Oh yeah, AND they're vegan….so do what you will with the cookie dough. Just sayin'.
Chocolate is one thing, but spicy chocolate is quite another. You know that lingering sensual pleasure you get after dissolving some good dark chocolate in your mouth? Well, the heat from the cayenne pepper intensifies and prolongs that effect. So five minutes later your lips are still tingly with a little pulse that says, "Give me more!"
I don't know…can you even handle these bad boys?
If so, they're very simple to make. Combine everything. Roll in balls, flatten and press in sugar and cinnamon combo. You can adjust the amount of cayenne pepper you use depending on where your tolerance for heat is. (Recipe modified from Post Punk Kitchen.)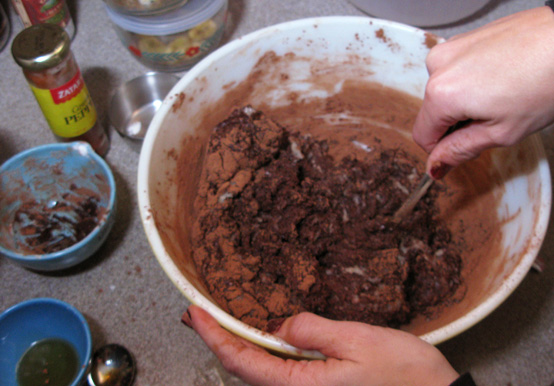 These hold together much better than regular snickerdoodles and tend to be crunchier. The bake time will vary depending on how big you make them.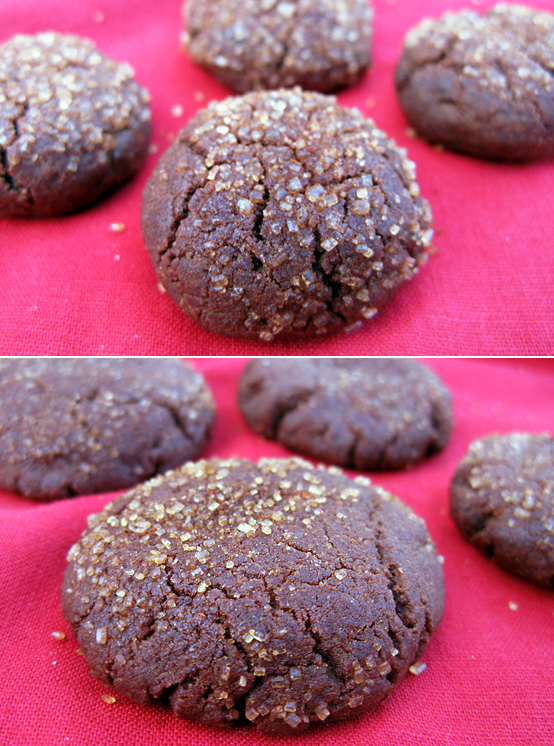 I made little guys. (bake 8 minutes)
And bigger guys. (bake 10-12 minutes)
Oh yeah, happy Valentine's Day and I love you!
Print Recipe
Back to Top
Recipe
Makes about 30 cookies. Use the cayenne pepper sparingly if you're very sensitive to heat. Otherwise, add more.
You need:
For topping:
¼ cup sugar
1 teaspoon ground cinnamon
1/6 teaspoon cayenne pepper
For cookies:
3/4 cup sugar
½ teaspoon cinnamon
1/2 cup canola oil
1/4 cup pure maple syrup
3 tablespoons almond or soy milk
¾ teaspoon of cayenne pepper
2 teaspoons vanilla extract
1/4 teaspoon salt
1 2/3 cups flour
1/3 cup unsweetened cocoa powder
1 teaspoon baking soda
Directions
Preheat oven to 350°
Mix the topping ingredients together on a flat plate. Set aside.
In a medium mixing bowl, use a fork to vigorously mix together oil, sugar, syrup, and milk. Mix in extracts.
Sift in remaining ingredients, stirring as you add them. Mix until you've got a pliable dough.
5. Roll dough into walnut sized balls. Pat into the sugar topping to flatten into roughly 2 inch discs. Transfer to baking sheet, sugar side up, at least 2 inches apart.
Bake 10 minutes. They should be a bit crackly on top. Remove from oven and let cool for 5 minutes, then transfer to a cooling rack to cool completely.
These will continue to cook once you take them out and get pretty crunchy. So be sure to get them out on time if you like your cookies softer.
HonestFare.com