Poor, poor calamari . Always getting battered up, deep-fried and squirted with lemon. Only to be served in a basket or on some crummy piece of wax paper. So sad. Sure, we all love our fried calamari with marinara sauce. But calamari has a softer, more refined side too, ya know. The sautéed calamari pasta dish I have here for you really gives our ole cephalopod friend a chance to reinvent himself.
Oh yeah, before we get started, I just want to make one quick clarification. Calamari is the Italian word for squid. So that's right, calamari is nothing more than squid. Which means: You eat squid. And you like it. For culinary purposes, we've adopted the term calamari because it sounds more appetizing. You can't really argue with that…everything does sound better in Italian. Kinda like how we now say 'dried plum' instead of prune. Silly but whatever.
Anyway, I picked up about ¾ lb of these little guys the other day. One thing I love about handling squid is that they have little to no smell at all.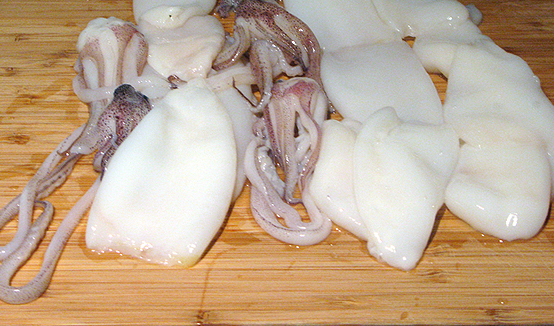 I find it much easier to cut them up using kitchen scissors rather than a knife. Although they're pretty slimy and mushy looking, they are pretty tough little suckers to get a knife through.
Once you start sautéing them, they become stiff almost immediately. But then they soften back after a few minutes (that's how you'll know they're ready). I cooked them until soft in olive oil with onions, garlic and spices.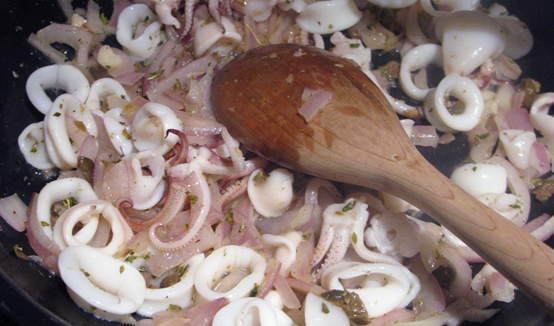 After adding the crushed tomatoes and capers, I continued cooking the sauce on low heat (with lid on) for another 10 minutes. Then, because it was nice and spicy, I decided to also add a little bit sugar. The sweet & spicy combo is what really makes this dish special I think—so don't skip the sugar!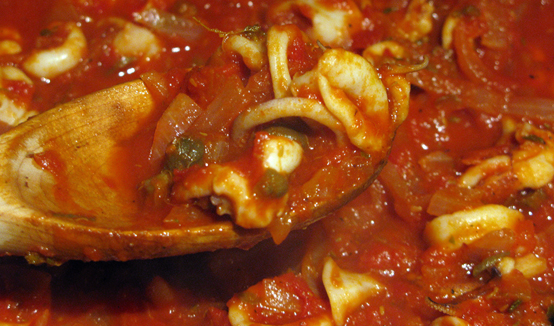 A delicate pasta with the tender and smooth flavor of calamari. The capers were a nice hit of acidity and salt. And that spicy sweet combo is addictive. Top it off with some freshly grated cheese.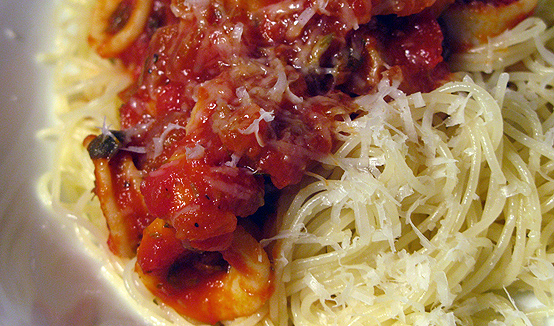 Print Recipe
Back to Top
Recipe
Coop/prep time: 40 min. Serves 4. This recipe calls for canned tomatoes. Amy's Organic makes a great Fire Roasted variety. Omit red pepper flakes if sensitive to heat.
You need:
1 tablespoon fresh oregano
1 teaspoon black pepper
1/4 teaspoon red pepper flakes
1/2 teaspoon salt
1 tablespoon sugar
3 tablespoons olive oil
1 garlic clove
About ½ – ¾ lb calamari (preferably fresh)
1 ½ cup crushed or pureed canned tomatoes
1/4 cup large capers
1/2 red onion
1/2 lb (1/2 box) angle hair pasta
Parmesan Reggiano cheese for topping
Directions
Using kitchen scissors, cut up calamari (including tentacles!) into about ½ inch pieces. Then, thinly slice onions and garlic. And roughly chop the capers so they'll open up a bit and release more flavor.
Put olive oil on pan and turn burner to medium high. Once oil is hot, add onions, garlic and calamari pieces, oregano, salt and pepper. Cook uncovered for 2 minutes, then cover and reduce heat to medium. You'll need to keep cooking it until it you can stick a fork in the calamari (about 10 minutes)
Add capers and canned tomatoes and sugar to pan. Cover and continue cooking on medium low heat for another 10 minutes. Stir occasionally adding a little water and olive oil if it starts to get too thick.
Bring water to a boil and cook your pasta. Remember though, angle hair pasta cooks really fast so keep checking it to make sure you don't go beyond al dente. When it's done, drizzle some olive oil over it and toss to prevent sticking.
Spoon Calamari sauce over pasta and top with a little parm cheese.
HonestFare.com