Jason is turning 30-years-old this week so I've been distracted planning something special for that, and I must admit, Valentine's Day kind of snuck up on me this year. But nevertheless, love is in the air and I wanted to share these romantic little cookies with you all.
This one is a new creation for me. A few weeks ago I picked up a bottle of rose water from the Middle Eastern market and my intention was to make some kind of rose water infused cookie…maybe with pistachios.
Side note: I recently downloaded a copy of Soup Stone's 5 ingredient baking cookbook and have been so inspired by it. If you're not familiar with SoupStone , it's run by a food scientist committed to only cooking meals and baking treats with 5 ingredients or less. I love the concept and agree with her philosophy of keeping things super simple. You should check out her blog and free online cookbooks.
Anyway, figuring the rose water would go nicely in a macaroon, I started doing some research on different macaroon recipes, which I have very little experience with. I wanted something easy though (5 ingredients or less style) and all of the classic macaroon recipes I found seemed too frilly for my mood. The creams/sweet spreads that usually go sandwiched between French style macaroons were kind of turning me off…the last thing we want for Valentine's day ;)
So I went out on a limb and did a combination of a few things I'd read – basically Frankensteined a recipe for an almond Passover cookie with Martha Stewart's French Macaroon recipe – and came up with these!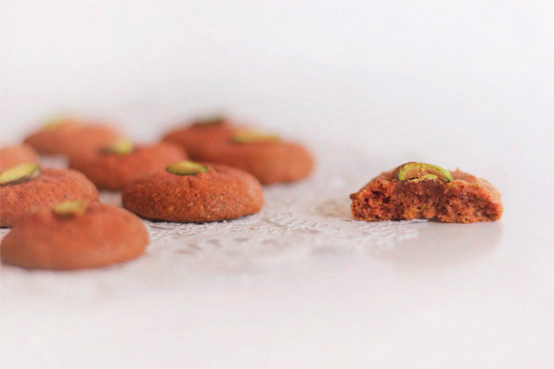 They are FANTASTIC. Just sweet enough. Fluffy and chewy. Sort of reminiscent of nougat with the perfect hint of rose water at the end. Jason says they are the perfect cookie.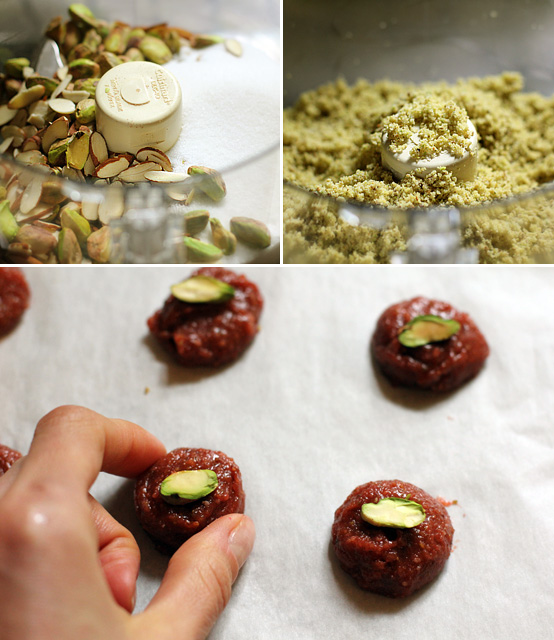 The best part about them is that they're the kind of cookie you can make in your sleep. Almonds, pistachios, sugar, pinch of salt and cream or tarter (optional) in the food processor until a sandy consistency. Add an egg white, rose water and a couple drops of food coloring (optional) and blend.
The dough is kind of sticky and thick which makes it easy to form into nice little mounds.
They're quick to bake and oh so lovely. You definitely have time to throw these together, especially if you're in a Valentine's Day pinch like me! Plus, there's nothing more romantic than the sweet scent of roses…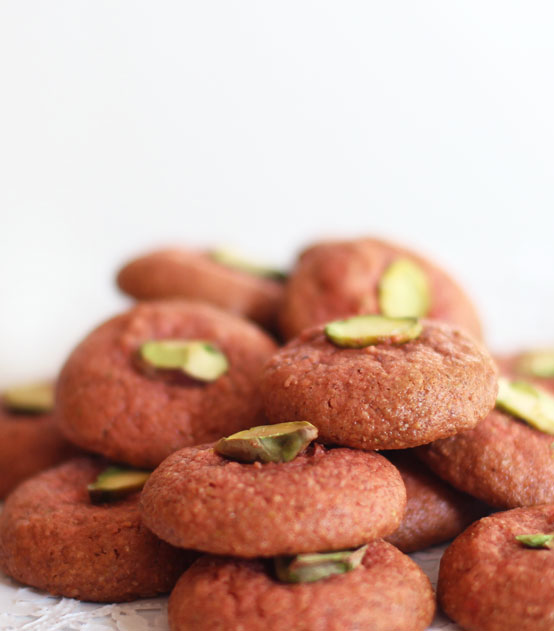 Print Recipe
Back to Top
Recipe
Prep time + cook time: 15 minutes. I added a a few drops of red food coloring to give them the pretty pink color, but feel free to omit that step. You can also omit the cream of tarter, but I think it helps a little with the fluffiness. Recipe makes 16-20 macaroons.
You need:
1/2 cup unsalted almonds
1/2 cup unsalted pistachios, shells removed (plus a few extra for topping)
3 oz granulated white sugar
1 teaspoon rose water
Tiny pinch salt
Tiny pinch cream or tarter
1 egg large white
A few drops food red food coloring
Directions
Preheat oven to 350. Pulse almonds and pistachios, sugar and pinch of cream of tarter and salt in food processor until consistency of cornmeal. You may need to stop and stir if it starts to stick. Add rose water, egg white and food coloring and pulse a few times until thick dough forms.
Scoop 1 level tablespoon of dough at a time and place on lined baking sheet at least 1 inch apart. Let dough settle 10 minutes and then go back to work into neat mounds and press 1/2 a pistachio nut (cut side up) in center of each cookie. Bake at 350 degrees for 8-10 minutes or until slight cracks start to form on tops. Remove immediately and let cool completely before eating. They will be very soft when you remove them but harden as they cool so you don't want to over bake! Better take them out sooner than later and if the centers still seem too doughy as they start to cool, you can pop them back in for just another minute or two.
HonestFare.com