We had a little bbq at the house this past weekend to celebrate a new addition to the back yard (a 24 X 38 foot mini ramp) and appropriately called it 'Ramp Jam 2009.'
There she is.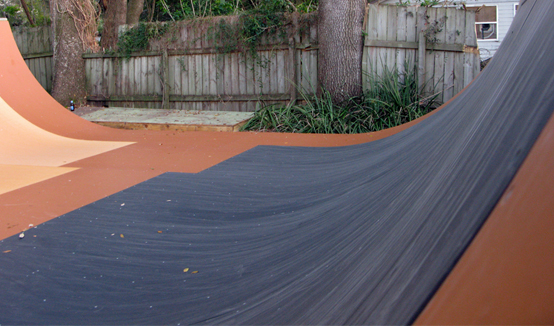 At 80°, it truly was a beautiful winter day in Florida to spend with lots of good people and lots of good food.
Tito explains the art of manning the grill?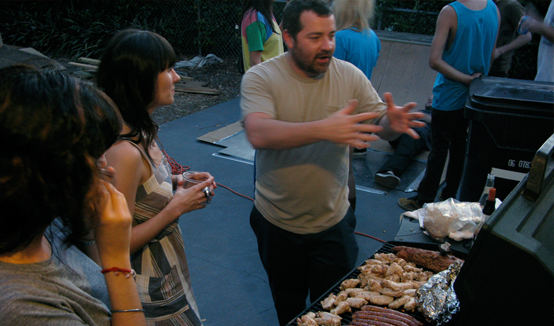 Lots of good ole skater dudes.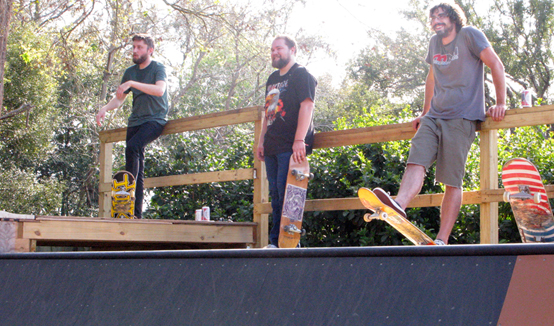 Lots of chip and chicken wing sharing…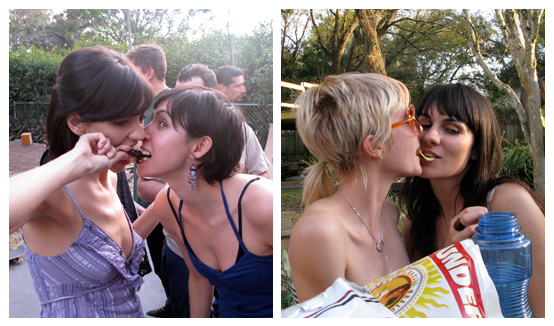 Yes, an octopus.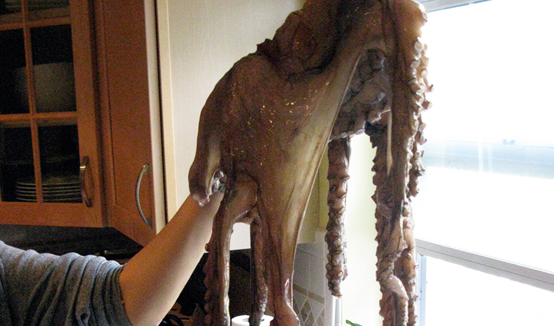 So here's how that goes:
After holding it up to grasp its full scale, you drop it into a large pot and boil it in 2 bottles of beer for approximately 45 minutes to an hour (depending on size of the octo).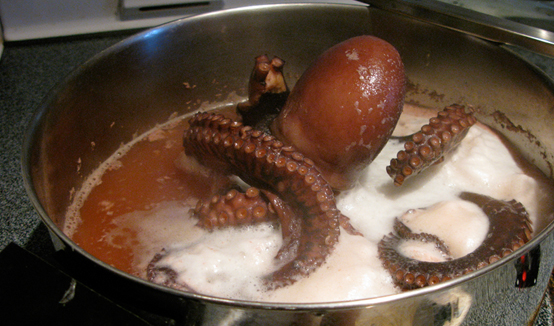 When the beer starts to boil, it will almost immediately shrivel up to about half its size, go from a slim ball to hard as a kneecap and turn a purplish pink color. You keep the pot halfway covered while it boils and know it's ready when you can easily stick a fork in it. Next, you remove it and cut it up with a pair of kitchen scissors. It should be chewy but not hard.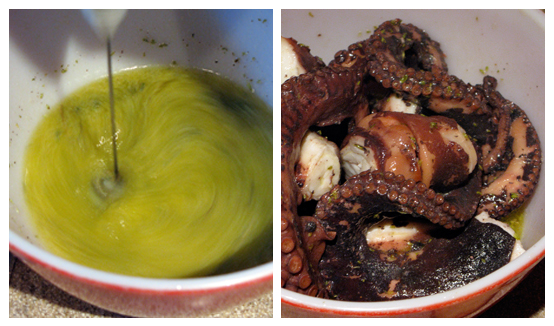 Then you toss it around in a marinade of lemon juice, olive oil, honey, salt, pepper and oregano.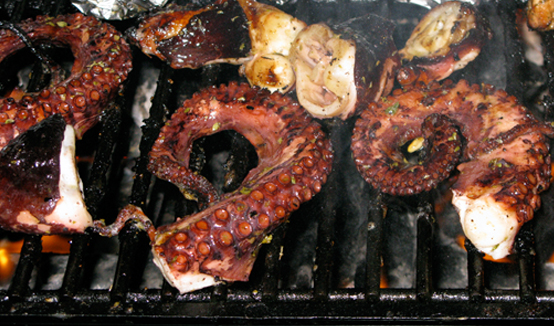 Finally, you throw it back on the grill, applying marinade and some extra lemon juice as needed, and remove from grill when the tentacles are nice and crispy!
Oh yeah, this was the sweetest picture of the day.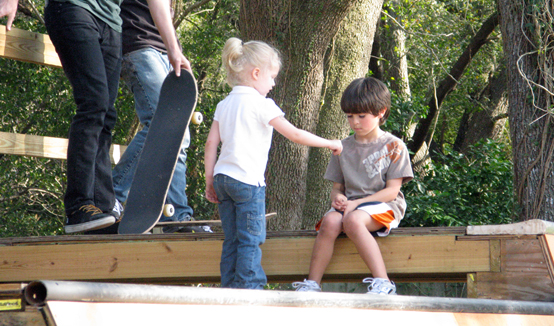 Eva flirting with Eric. Doesn't look like he cares though…
Print Recipe
Back to Top
Recipe
Coop/prep time: 2 hours. Don't worry about boiling the octopus for too long…it's not really possible. The longer you boil, the more tender it becomes. Make sure you can easily stick a fork in it before attempting to eat or put on the grill.
You need:
1 octopus
2 beers (any kind)
1/2 cup olive oil
2 tablespoons honey
1 teaspoon salt
1/2 teaspoon black pepper
2 lemons
handful oregano (like 1/4 cup)
Directions
Boil octopus (whole) in 2 bottles of beer in large pot for about 1m hour or until becomes tender.
Meanwhile, make the marinade: Combine salt, oil, pepper, honey, juice from 1 lemon and oregano. Whisk together.
Boil octo for about 45 minutes or until you can get a fork easily into it. Cut it up into pieces and toss in a bowl with the marinade.
Place octopus on the grill and cook until tentacles get crispy and dark. Squeeze half lemon on it while it grills. Squeeze juice from remaining half of lemon just before serving.
HonestFare.com