I love a simple pasta. Just some shallots, garlic, butter and olive oil, a good amount of herbs, salt, pepper and an accompanying protein. I'd been craving something like this for a while and then I remembered that we still had a bag of scallops in the freezer from our scalloping trip in Homosassa Bay this summer! The perfect little gems for this modest dish.
Side note: You can totally substitute for the scallops with shrimp or just omit the protein altogether because it's got such great flavor on its own!
I decided to roast a couple long sweet red peppers to eat along with the pasta and it all came together really beautifully. The red pepper bleeds into everything so nicely as you work your way through the dish. (the red pepper juices are a sauce of there own)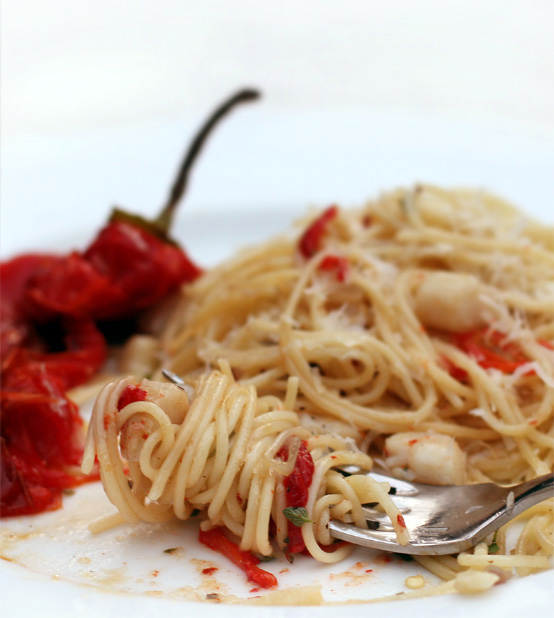 There are many varieties of long red peppers so don't worry too much about what kind you get so long as you get a sweet one (even if it's a yellow or orange one). I just baked them with a little olive oil and salt until soft and charred around the edges.
The sauce/broth was super easy. I basically just sautéed the shallots, garlic, salt/pepper, some dried tarragon and fresh oregano and thyme in some olive oil and butter until just soft. While that cooked, I patted my scallops dry to prevent them from sweating too much or becoming rubbery during cooking. Then I added the scallops, turned the burner off and tossed them around just a moment before adding the pasta to the pan directly from the pot of water (using tongs and incorporating into sauce between each tong full).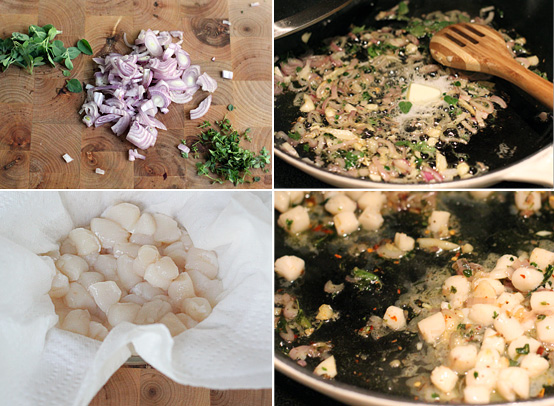 The reason I do this is because it keeps the magical salty, starchy water on the pasta, which really helps the sauce and flavor stick. The wet pasta also keeps the dish moist and prevents you from having to use too much additional oil (I did also add a nice drizzle of oil and a ladle of starchy water to the pan).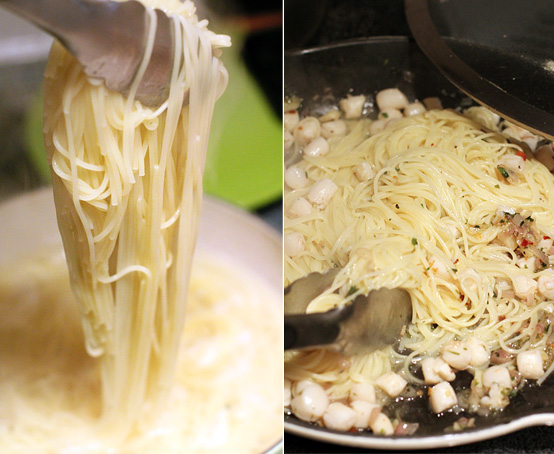 Another side note: Make sure you add one ladle of pasta at a time and toss so you don't end up adding more pasta than there is sauce to go around.
I topped it off with a touch of grated Romano cheese and cracked black pepper – so perfect.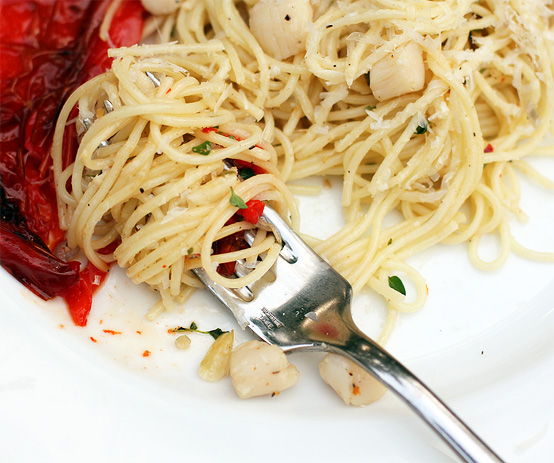 Print Recipe
Back to Top
Recipe
Prep + cook time: 30 minutes Serves: 2 When adding pasta to pan, make sure you add one ladle at a time and toss so you don't end up adding more pasta than there is sauce to go around. Leave out the protein for vegetarian option!
You need:
1 large shallot
About 3 tablespoons butter
Olive oil
Salt
Black pepper
2 cloves garlic
Red pepper flakes
Few sprigs of fresh thyme and oregano
1 teaspoon dried tarragon
Half a lemon
About 3/4 cup bay scallops
2 long sweet red peppers
2-3 servings of angel hair pasta
Directions
For the scallops and pasta:
Rinse and pat dry scallops and set aside. Finely slice scallions and dice herbs and garlic. Bring pot of water to boil (enough for 2-3 servings of angel hair pasta) and add pasta to water with 1 tablespoon of salt. Drizzle olive oil on pan and heat to medium. Add garlic and shallots and cook until just soft. Add butter and let melt before adding herbs, 1 teaspoon salt and little black pepper to taste. Reduce heat to medium low and cook covered until pasta is done.
When pasta is done, remove from heat and add scallops and a pinch of red pepper flakes to pan. Quickly toss (they only need a minute to cook through) and turn heat off the burner. Now, using tongs, begin transferring the pasta (one tong full at a time) to the pan, tossing in sauce and scallops before each new tong full. Important to drizzle some additional olive oil and add some (a ladle or so) of the salty starch water to the pan to help incorporate everything better and keep from sticking.
Once all the pasta is in the pan, squeeze a little lemon juice over it all and toss once more before serving. Top with Romano cheese and extra cracked black pepper if desired.
For the red peppers:
Brush with olive oil on all sides and sprinkle salt. Place on baking sheet in oven or toaster oven, cover with aluminum foil and bake at 350 degrees for about 10 minutes. Uncover and continue baking until edges of peppers are charred to your liking and peppers are nice and soft (bust can still hold their form).
HonestFare.com