Here it is. My first soup of the season! I made a giant batch of it a couple weeks ago to serve on what was supposed to be our first chilly night here in Winter Park, Florida. We were taking the truck (La Empanada Food Truck) out that evening so I figured it was the perfect night to start serving soup!
I think the temp ended up getting down to the low 50s so hot soup was perfect for all our truck-side diners. Floridians are so funny about cold weather. It's like we want to fully embrace it when it comes around, but we're simply not capable. We're either not properly prepared or we're simply in denial about it. Perfect example: the customer that came up to the window that night wearing a fur coat to her ankles and flip-flops on her feet. What? Only in Florida. We just don't know what we're doing. Anyway, the soup…the soup takes the place of boots, apparently.
I love parsnips. (see: Parsnip Potato Purée and Parsnip Carrot Pasta). They're so magnificently aromatic, and unexpected. People are always pleasantly surprised by parsnips because they're not all that common, which is another reason I love using them. The parsnips definitely set the tone in this soup, adding an element of sophistication to the sweet and earthiness of the carrots.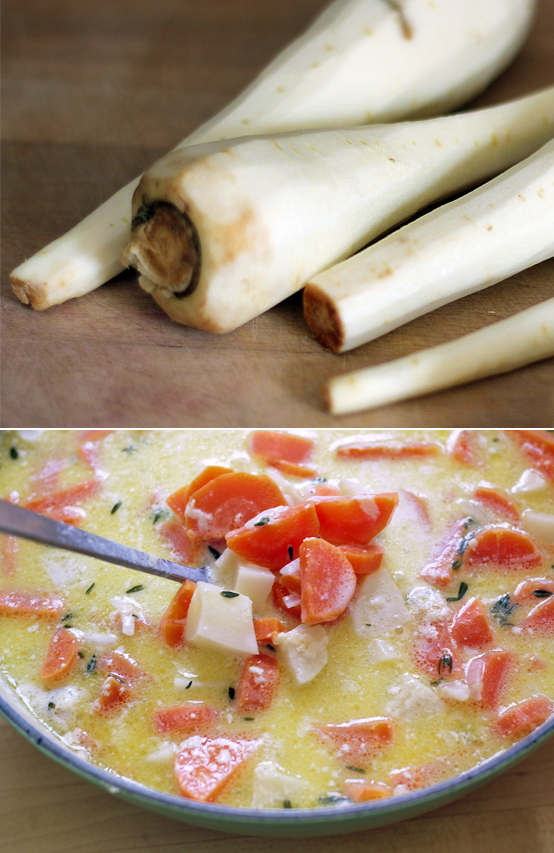 After a quick sauté, everything is boiled in some milk and water or veg stock until soft. You can blend it up using whatever device you like, but I definitely recommend an immersion blender when it comes to soups. I blended this one until really silky, but feel free to do less if you like it chunkier.
This soup is seriously fantastic. Velvety and comforting. And what makes it even better is that it's the kind of thing that can go nicely as an accompaniment to a variety of meats or fish or pasta or whatever!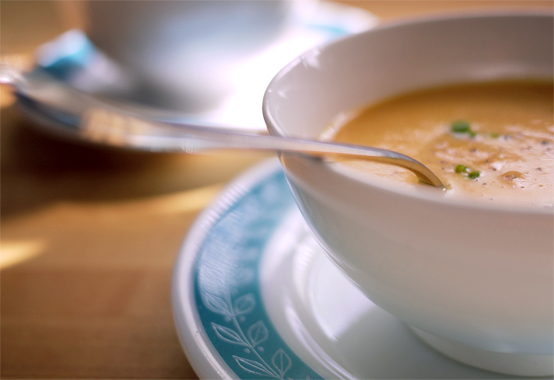 Print Recipe
Back to Top
Recipe
Prep time: 20 minutes Cook time: 30 mins Serves 6
Boil in veg broth for non-dairy option.
You need:
2 garlic cloves, diced
1 large shallot, diced
3 cups carrots, peeled and chopped
1 ½ cups parsnips, peeled and chopped
2 sprigs fresh thyme
Kosher salt
Black pepper
Olive oil
About 2 Tbs butter
2 cups room temperature milk
1 cup veg stock or water
Directions
Coat bottom of pot in olive oil and a pad of butter and bring to medium heat. Sauté shallot, garlic, thyme, pinch salt ( recommended 1/4 tsp) and pepper for a minute. Add in carrots and parsnips and toss to coat in olive oil. Add additional oil and butter if necessary. Cook uncovered, tossing to keep from browing, for a few minutes.
Add milk and stock/water to pot and increase heat to bring to a nice simmer. Reduce heat once milk starts to foam up. Stir and cook partially covered until carrots and parsnips are nice and soft.
Salt to taste before blending until silky smooth . Serve hot with diced chives, cracked black pepper and Parmesan cheese if desired.
HonestFare.com