I'm going to just come out and say it: I prefer cooking for men. I love watching watching them eat. How they just go after it—one, sometimes two or three bites at a time. Without the reserve or guarded caution a lot of women practice at the table. Sure, we'll put aside the lady-like niceties to devour a plate every once in a while, but generally speaking (and because apparently I am a gender stereotyper), men have a more untamed approach. And THAT is what I enjoy watching across the table. Pretty sexy stuff.
I'm lucky then, because my man loves to eat. And better still, he loves to eat with his shirt off. Elbows on the table, the whole deal. Now were talking. So as you can imagine, I raised not one, but two dazzled eyebrows when I walked in to find my shirtless babe sitting at the table popping mini-muffins, back-to-back like nobodies business. One bite per muffin. Only a man.
Anyway, these muffins are fantastic. Men, women and children alike will find them irresistible. They're not bad for you either, which always makes things go down even easier. Just almonds, cornmeal, coconut oil, brown sugar/agave, baking soda, almond milk, eggs, vanilla, blueberries. Pretty wholesome stuff; the sex appeal is all in who's eating them.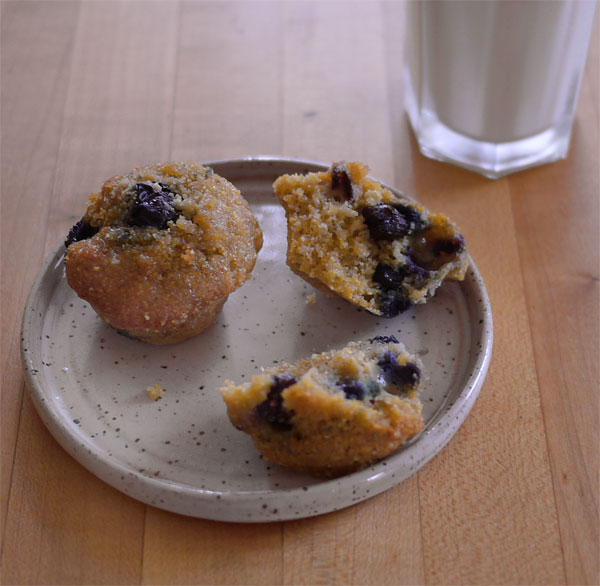 I made the almond meal by pulsing raw almonds in the food processor until they were the consistency of raw grits. Quick and easy, but you don't want to go too far with the pulsing or you might end up with almond butter. Just keep an eye.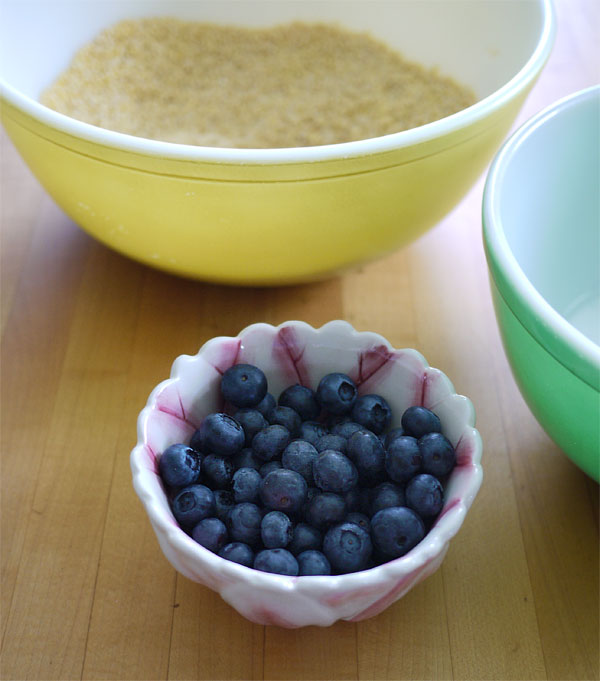 Cornmeal is the other gluten free flour used in this recipe. The combination of nutty almond meal and sweet cornmeal with those bursts of fresh blueberry is absolutely dynamite.
The recipe calls for coconut oil instead of butter, and you can use whichever kind of milk you favor (soy, regs, almond, etc.). It's sweetened with just a little brown sugar and agave. I kept it pretty light because I like to taste the full flavor of those blueberries. You can always taste the batter and add a little more sugar if you like things sweeter.

And I filled the muffin tins to the top because they don't rise all that much.Please excuse this hideous aluminum mini-muffin tray. I was in a pinch.

It all comes together in just a few minutes, and feel free to make these as regular-sized muffins or even bread. Right now it's still blueberry season, but you can always substitute the blueberries for raspberries or even blackberries if you prefer. Waiting for them to cool will be the hardest part of the recipe…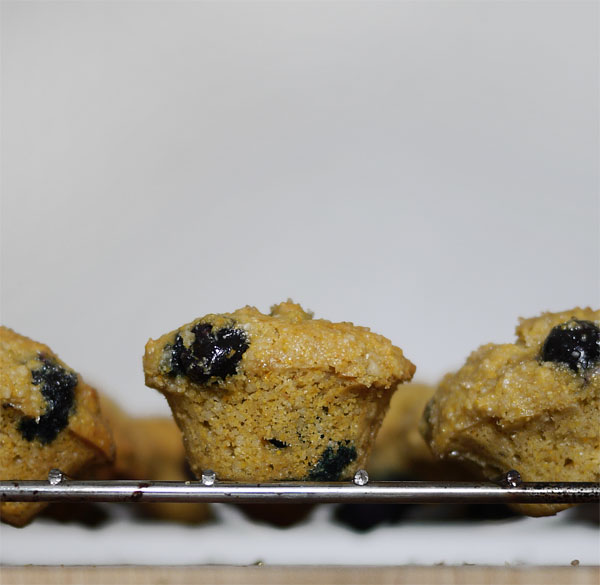 Print Recipe
Back to Top
Recipe
Makes approximately 20 mini muffins. You can sub raspberries for the blueberries if preferred.
You need:
1 ¼ cups almond meal
3/4 cup cornmeal
1/2 teaspoon baking soda
1/4 cup brown sugar
1/4 teaspoon salt
3 tablespoons milk (of choice)
3 tablespoons coconut oil
2 eggs
2 tablespoons agave syrup
1 teaspoon vanilla extract
3/4 cup blueberries
Directions
Preheat the oven to 375°. Prepare a mini muffin tin with paper liners, or coat the pan generously with coconut oil.
In a large mixing bowl, combine the almond meal, cornmeal, baking soda, brown sugar and salt. Stir together with a fork or whisk. In another bowl, whisk the eggs, coconut oil, milk, agave, and vanilla extract together. Add the wet to the dry ingredients and fold together. Carefully fold in blueberries evenly into mixture and being careful not to pop any.
These won't rise much, so you can fill the muffin cups to the top. Bake 16-18 minutes and chill on a wire rack for 15-20 before eating.
HonestFare.com