So Halloween is over and now we all have a giant pumpkin sitting around. Time to season and bake some pumpkin seeds! Though the meat of large decorative pumpkins isn't really the tastiest (the small baking pumpkins are better for cooking with), their seeds are great so don't let them go to waste!
I seasoned these seeds with a blend of curry powder, sugar, salt, cayenne pepper and paprika. And I figured out that the trick is to lightly season before baking and then toss them in additional seasonings, sugar and a little olive oil while they're still hot (so it sticks).
These are the best, most addictive pumpkin seeds I've ever made!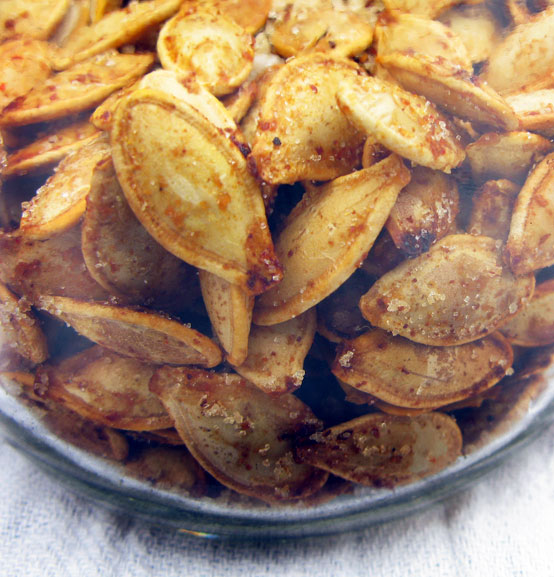 Print Recipe
Back to Top
Recipe
Cook/prep time 30-40 mins. Do your best to get all the pumpkin strings completely off the pumpkin, else they may burn. Placing in a strainer and rinsing works best. Dust seeds with sugar after baking (while still warm so it sticks).
You need:
One med-large pumpkin
White sugar
Salt
Olive oil
Paprika
Curry powder
Cayenne pepper
Directions
Preheat oven to 350 degrees.
Using your hands or a spoon, remove the stringy guts and seeds from inside the pumpkin. Do your best to separate the seeds from the pumpkin flesh and goo.
Put seeds in a strainer and rinse under water, shaking about to remove excess pumpkin. Let drain for a minute.
Convert the seeds into a large bowl (they should still be a little wet). Add 1 tablespoon of olive oil and mix well. Sprinkle ½ teaspoon salt, ½ teaspoon paprika, 1 ½ teaspoon curry powder and 1/8 teaspoon of cayenne pepper. Mix until all seeds are evenly coated.
Spread them evenly across a baking sheet. Bake time may vary, but usually you'll need to bake them for 10 minutes and remove to stir and flip around and then bake for another 10 minutes. You want them to be toasty and brown, but be careful cause they'll burn the second you take your eyes off them.
The final step is to immediately convert them to a heat safe container and add a tablespoon of sugar and a little drizzle of olive oil and some additional salt and curry powder if needed. Stir them up again, let cool and enjoy.
HonestFare.com