I love how elegant this salad looks. Slivers of red pepper spiraling through a delicate nest of arugula—so into it. Don't know how to sear scallops? I'll show you!
Okay, so scallops. I think the only reason some people don't like scallops is because they've had them cooked poorly which results in that chewy texture. Chewy scallops are the worst!
Wonderful things happen when you sear a scallop. In under a minute, their total squishiness develops a paper-thin golden crust, which locks in all the flavor and moisture and gives way to supple and tender meat that's naturally buttery tasting.
Searing scallops is a really simple process…
It's crucial to remove their excess water before they hit the pan. Sprinkling a little salt on them helps dehydrate them further. Your pan also needs to be smoking hot before you put them on, and once you do, DON'T move them. I know this can be difficult, but practice self control here. They really only need about 40 seconds of undisturbed searing per side. And that's it.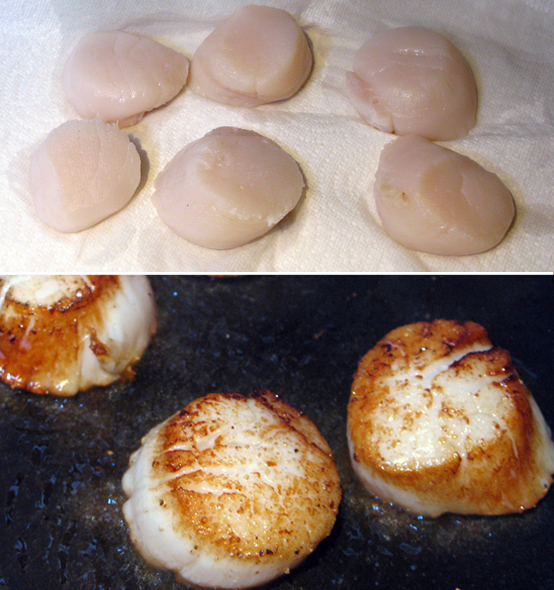 When cooked properly, the texture of seared scallops should remind you of a perfectly cooked filet mignon. I recommend you do a test one first (and taste it) to make sure your pan is hot enough, it cooks through, doesn't stick and all that.
I chose to go with dry white beans instead of canned. I really think it makes a huge difference. Obviously you'll have to soak them, which requires time, so your decision to use canned or dry is all going to depend on what you're up against time wise.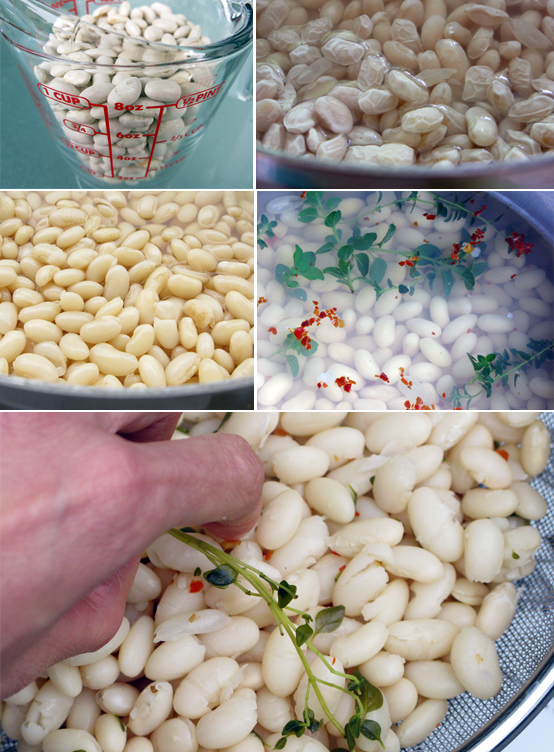 I did a quick soak for these (boil for 10 minutes and then remove from heat and let soak in hot water for 45 minutes) which works great. Just remember that once soaked, you'll still have to cook the beans with the herbs and seasonings for about an hour.
If you use canned you should not cook them at all for this recipe or they'll get really mushy.
Once you have your red peppers all slivered up and your beans cooked, it's as simple as tossing with the arugula in the vinaigrette and topping with the scallops.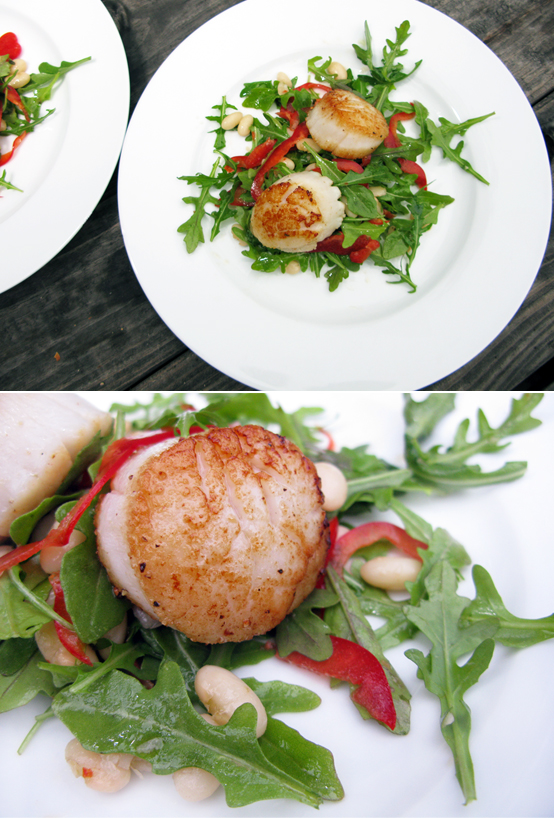 I deem this the perfect summertime salad. Refreshing and so satisfying (cause it's loaded with protein).
Print Recipe
Back to Top
Recipe
You can use canned or dry, uncooked beans. I like the texture of the dry beans better, but you'll have to pre soak these over night or do a "quick soak" before cooking them as explained in the recipe (refer to post for "quick soak" instructions). Just remember that once soaked, you'll still have to cook the beans for about an hour. If you use canned beans, do not cook them at all or they'll get too mushy.
You need:
Arugula (recommend 1 cup per person)
Large sea scallops (recommend 2 per person)
1 red bell pepper
1 cup dry (previously soaked) white beans
3 cups water (for boiling)
Olive oil
Salt and black pepper
1/2 1 teaspoon red pepper flakes
Few sprigs of fresh thyme and oregano
Juice from one lemon
1 tablespoon honey
1/4 teaspoon garlic powder
1/4 cup sherry, fig or red wine vinegar
Directions
Beans: Once soaked, add beans boiling water. Once boiling, reduce heat to low simmer and add in herbs, ½ teaspoon of salt and 1 teaspoon of red pepper flakes. Simmer on low with lid tilted on for about 1 ½ hours. Stir very little to prevent breaking skins. When done, pick out large stems and/or clumps of herbs and drain any excess water.
Scallops: Remove excess by pressing between paper towels. Sprinkle with a little salt and pepper to dehydrate further. Apply very thin and even layer of olive oil to pan. Heat until smoking hot. Place scallops on pan one at a time. DON'T move them. Allow for about 40 seconds of undisturbed searing per side.
Vinaigrette: Combine ¼ cup of chosen vinegar (sherry is best), 1/8 cup olive oil, about 1 tablespoon of honey, salt and pepper to taste and 1/4 teaspoon garlic powder. Shake, whip or stir the hell out of it till it fully combines.
Slice an entire red pepper into very thin slivers. In large bowl, combine 4 cups arugula, red pepper slivers, 1 cup of cooked white beans (store extra in fridge). Toss with dressing. Divide into four portions and top each with two scallops. Squeeze a little lemon on top and crack some pepper and sea salt if desired.
HonestFare.com