It's been too long since I've posted something with beets. Which is not to say I haven't been eating them to the point that my insides exude pink from time to time. Beeturia is such a strange and very real phenomenon. Anyway, beets are my favorite and I recently threw together a wonderful little salad of sautéed beets with citrus thyme and romaine lettuce. I topped it off with cold feta and cucumbers. I've made this several times now and I think it's my favorite salad this summer. So crunchy, tangy and sweet – not to mention how pretty the lettuce is when it turns pinkish lettuce from the beets.
Since sautéing romaine lettuce for the first time a couple months ago (see: Braised Romaine & Goat Cheese Crostini) I've been kind of hooked on cooking lettuce. I eat a lot of salad and love raw lettuce as much as you do, but cooking it is really worth trying if you haven't yet. It's a nice change.
Usually when I make beets, I like to sauté the stems and leaves too. Unfortunately, it's not always so easy to find beets with the stems/eaves left intact. That's what gave me the idea to sauté up some lettuce with these. Cooking lettuce changes Its entire flavor profile, transforming it from green and unassuming to savory, luscious and fulfilling. I liken it to the difference between raw and caramelized onions. Both amazing. Just different.
Note: You'll need more lettuce than you think because it shrinks down like any other green. Not as much as spinach or anything though.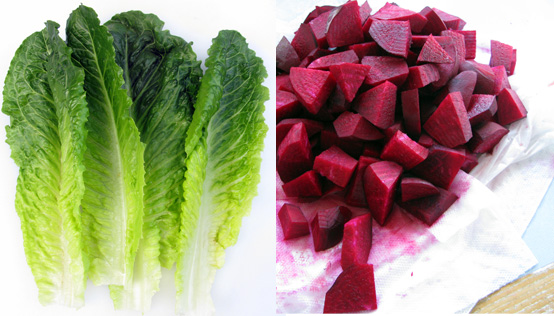 For this salad, you'll want to first sauté the beets until cooked through to your liking. If you happen to have beets with the stems intact, you can incorporate those too. I say, the more greens the better. For seasoning I use: garlic, salt, pepper, red pepper flakes and citrus thyme. I splash some rice on the pan before adding the lettuce and only lightly sauté the leaves so they remain crisp. You don't want to go too far with them because they'll continue to cook slightly even after you remove them from the pan.
This is SO good. I think it's my favorite salad this summer. Crunchy and crisp and the feta cheese is a great tangy accompaniment.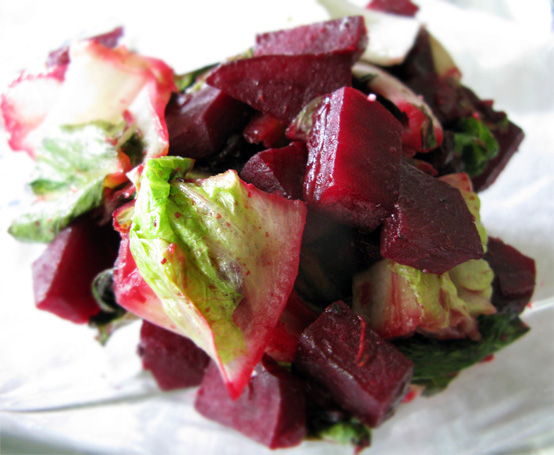 Print Recipe
Back to Top
Recipe
Coop/prep time: 20 minutes Serves 2-3 You'll need more lettuce than you think because it shrinks down like any other green. I use rice vinegar because it's got a great like tanginess and not too much acidity, but you can use a different kind if you prefer. I happen to think balsamic is too strong though.
You need:
2 medium sized beets cut into roughly 1 inch squares
1 shallot or 1/2 red onion chopped
Several leaves of firm romaine lettuce
Partially peeled and chopped cucumbers
A few sprigs of citrus or regular thyme
Feta cheese
Salt to taste
Black pepper to taste
Pinch of red pepper flakes to taste
Splash of rice vinegar
About 1 cup water
3 Tablespoons olive oil
1 clove garlic
Directions
Wash, peel and cube up beets. Wash and cut up romaine horizontally across the stem. Dice up onion or shallot. Rinse and dice thyme. Wash and partially peel cucumber. Set aside.
Add 2 tablespoons olive oil to pan and heat to medium high. Add beets, onions, garlic to pan and sauté for 5 minutes partially covered. When pan begins to look dry, add 1/2 cup water, thyme, about 1 teaspoon salt (or to taste), a pinch of red pepper flakes and a little black pepper. Continue cooking partially covered. Keep checking beets for doneness. If beets require more cooking and pan has dried out, add remaining water and continue cooking until all water evaporates. Repeat that step until beets are cooked through to your liking.
Once beets are done and all water has evaporated, and a nice splash of rice vinegar and swirl around the pan to loosen up the flavorful goodness that has gotten stuck during cooking. Then add 1 tablespoon of olive oil and romaine lettuce. Sauté romaine for about 2 minutes or until it begins to wilt.
Place in bowls and top with cucumber slices and thinly sliced or crumbled feta.
HonestFare.com