Since I can't spend the day my mom this Sunday for Mother's day (she lives on the other side of the country in Portland, OR), I decided the next best thing would be to send her my love in the form of some goodies from my kitchen/herb garden. So I made her a little care package yesterday and one of the things I included was a jar of citrus thyme & rosemary salt.
When it comes to seasoning, I've never been into using those pre made spice packets or jars of zesty what have you. Neither is my mom. They're way too gimmicky—we prefer the natural touch. You simply can't trust those things. Nope, not even Mrs. Dash. They just take over and become all you can taste, plus, it just doesn't seem right to dump a kaleidoscope of dehydrated flavor over fresh ingredients, does it?
However, I'm a practical girl and I realize that's it's totally nice to reach for an old standby seasoning when you're in a rush or just want a little hit of quick flavor. My mom feels the same. I think moms everywhere do. So what's the happy medium then? Make your own seasoning blends, of course! It's totally easy. Not to mention what pretty and thoughtful gifts they make.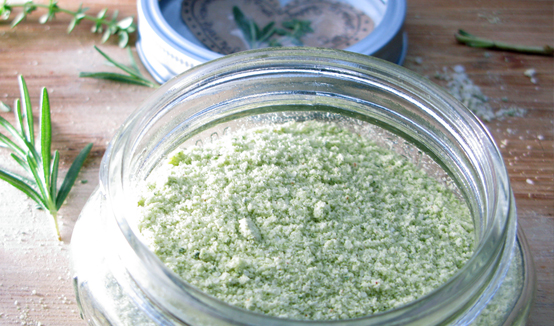 There are all kinds of combinations you can do, but since I like to have something that's as versatile as possible, I keep it to no more than 2 herbs + salt + some kind of pepper (either black or red). You must, must, must use fresh herbs. Wash them and make sure they are totally dry before starting.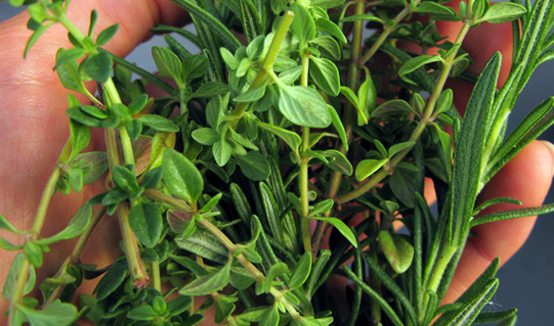 Remove the leaves from the stems and set aside. Then put about a cup of course sea salt in the food processor. Now, I can't give you an exact measurement of herbs to use, but I can say that you should probably do about equal parts. That's a cup of fresh whole leaf herbs for every cup of course sea salt. Also add about a teaspoon of either black pepper or ¼ teaspoon of cayenne pepper for a little heat.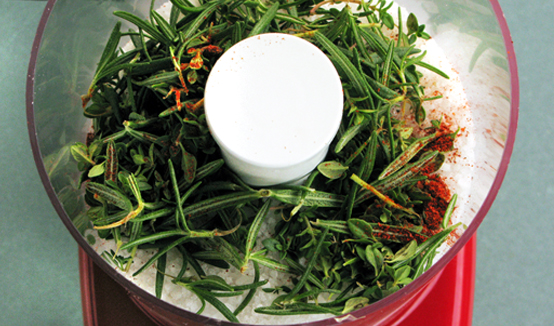 Then just start pulverizing. You want to keep going until more or less all the course sea salt becomes a fine grain. It takes a few minutes. You'll have to keep stopping and stirring it up to make sure chunks don't get trapped in there.
Almost, but not quite…still larger pieces of salt in there.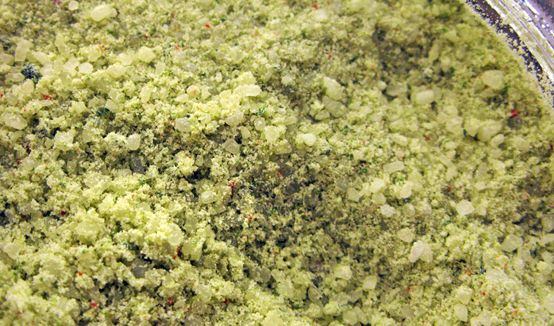 This is what I'm talking about. Super fine.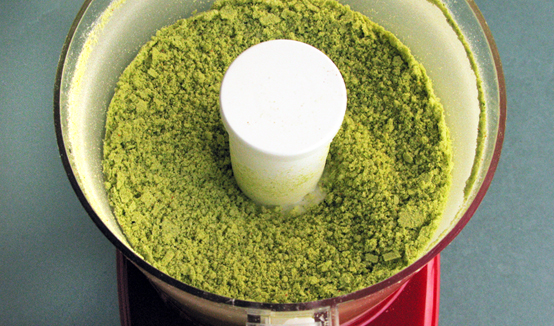 And, that's it. I like to keep them in these shallow jam jars.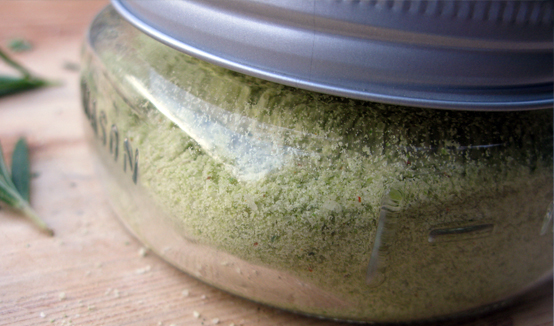 You can find them at Target or crafts stores. They have a nice wide opening that make it easy to get your hands in to grab a pinch. The exclusive Mother's day salt blend complete with cutesy label only a mom would love…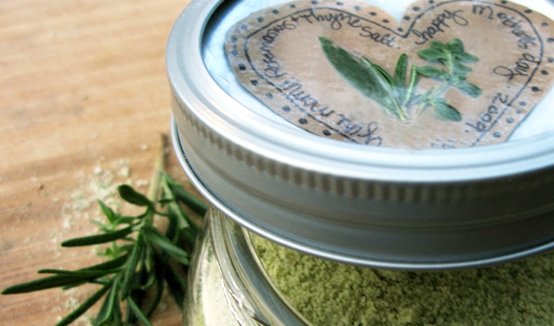 A couple suggested combos:
* Citrus Thyme, rosemary, salt and cayenne pepper.
That's what's pictured above. Such a pretty color! If you don't have or can't find citrus thyme, you can use regular thyme and some lemon zest. Tastes about the same when it's all blended up!
* Rosemary, salt, black pepper and cayenne pepper.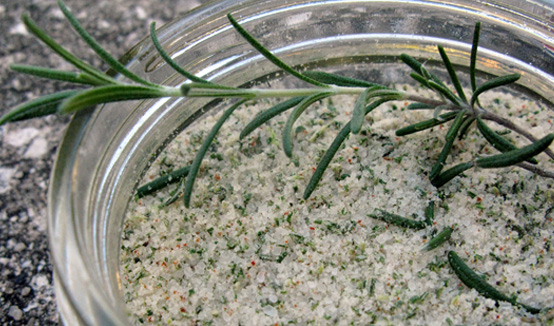 Even Smokey likes this one!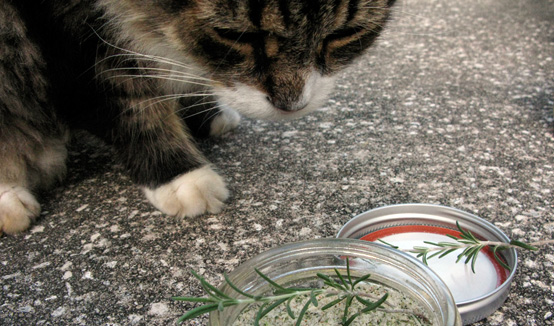 * Basil, salt, crushed red pepper flakes.
Uses
Salad (just sprinkle on top or mix with lemon juice, honey and olive oil for a nice dressing)
Pastas (use in the sauce or just sprinkle on top)
Any kind of fish, shrimp or chicken.
You get the idea…
Also, try recommend experimenting with sugar blends
* Cinnamon, nutmeg and raw cane sugar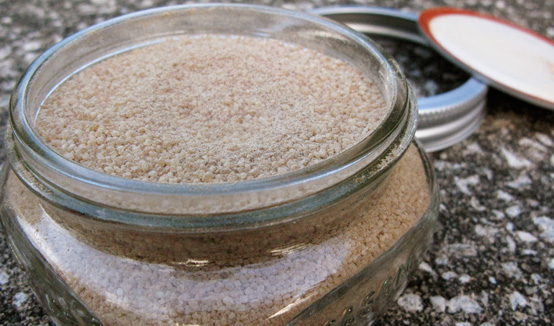 Uses
Banana smoothie
Cinnamon sugar toast!
Oatmeal
Pancakes
Coffee