Valentine's Day is this Friday (in case you forgot) and I'm actually pretty excited about it this year! We've decided to host a little Valentine's party at our house as a way to show our friends some love and because it's something for everyone to do without stressing. Kind of like the whole "friends Thanksgiving" thing, but for Valentine's. Lots of fancy cheeses, some red wine poached pears, chocolate…all the romantic staples. And then the matchmaker in me can put on some sexy tunes and see if we can inspire a love connection between some of our single friends. Should be a good time. And if all else fails, I guess we can always play spin the bottle or something. Point is, I get to be with my sweetheart everyday and we do a pretty good job at telling/showing each other love – so this year, it'll be beautiful to spend Valentine's eve with our friends that mean so much to us.
But enough about me, you probably want to know about this awesome Valentine's giveaway, which of course has a chocolaty theme!
This is Cocoa Bella, an incredibly robust and flavorful chocolate brew I've recently been introduced to.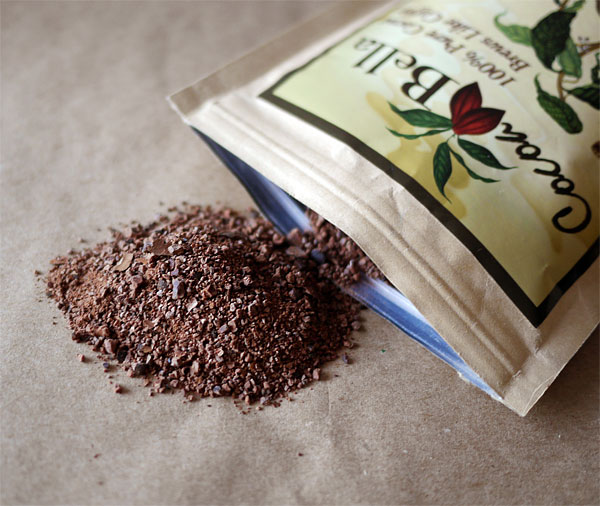 Though it smells and tastes intoxicatingly like it, Cocoa Bella is not actually chocolate (like the kind you eat) or hot cocoa (like any kind you've known before). This brilliant product is made by hand roasting and grinding cocoa beans so that it can be brewed just like tea or coffee.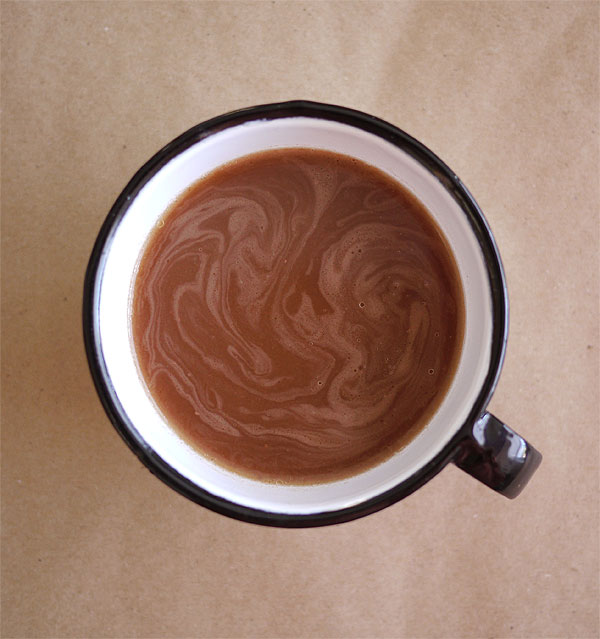 The flavor is amazing. Think red wine and hot cocoa mixed, but not as heavy. I've had some fun getting creative with it – been enjoying it straight or with different kinds of milk and sweeteners (soy, almond, regular, raw sugar, maple syrup, agave) and with a splash of bourbon or brandy, it's divine.
Plus, there are all the health benefits cocoa brings, without the downsides (calories, sugar, fat) of regular chocolate. There are only 20 calories per serving, almost no cholesterol and no fat. Did you know cocoa beans contain the highest level of antioxidants of any food? They can also help lower blood pressure and increase blood flow to the heart as well as encourage alertness. Cocoa beans also contain phenylethylamine, the same stimulating chemical your brain releases when you fall in love.
Cocoa Bella is made of 100% cocoa beans so it's vegan, gluten-free and paleo. Of course this is no replacement for chocolate; it's just something else for chocolate lovers to enjoy.
Are you a believer yet? I encourage you to try it out, whether you win here or not!
WHAT YOU CAN WIN:
This Cocoa Bella Starter Kit, which includes this French press and two varieties of the product.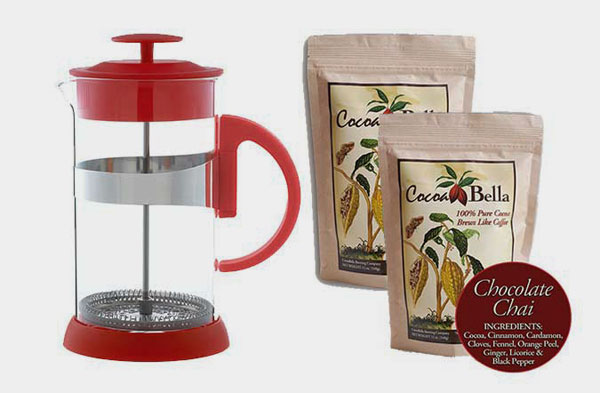 HOW TO ENTER: Sorry, this giveaway has ended. But read on for the recipe!
There are two ways to enter By "liking" the image of this drink on Honest Fare's Instagram or by commenting on this post. Yes, I'm cool with people entering twice because it's Valentine's Day for goodness sakes and as it turns out, not everyone has Instagram. Do whichever is easier, or do both.
TO ENTER VIA INSTAGRAM
Visit Honest Fare on Instagram and like the photo I put up today of the Romantic Cocoa Maple Bourbon Brew featured in this post. That's it, super easy. Again, all you have to do is click here to be taken to my Instagram where you can "like" the photo of the drink in this post.
TO ENTER HERE, VIA HONEST FARE:
Just leave any ole comment, preferably a nice one, at the bottom of this post.
GIVEAWAY PERIOD: Sorry, this giveaway has ended. But read on for the recipe!
Starts: Monday, Feb. 10, 2014
Ends: Friday, Feb. 14, 2014 at 5pm
Best of luck to you all and I'll be in touch if you win!
The winner will be randomly selected from the list of people who liked the photo on on Honest Fare's Instagram as well as those who commented below. You'll be notified via Instagram (in the form of an @ mention) or in an email depending on how you entered. Winner will be announced on Friday, Feb. 14 (Valentine's Day).
And now the recipe…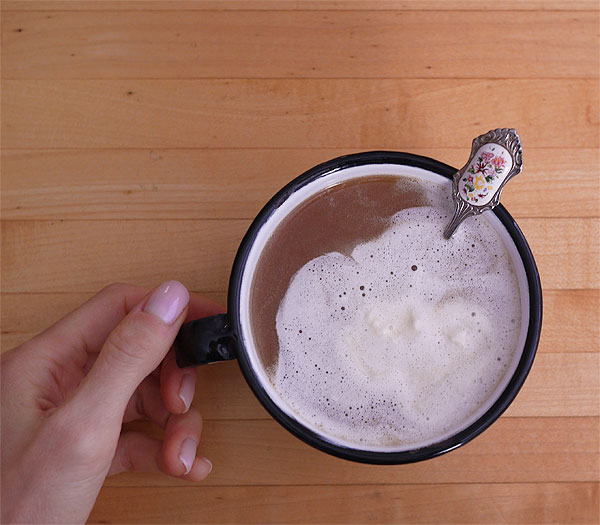 Whether you're spending Valentine's Day with someone special or ignoring it altogether, you can still enjoy this heartwarming cocktail. I love the combination of maple and cocoa and the bourbon takes it to the next level. It's like hot cocoa for grown-ups. It'll keep you warm on these winter nights and satisfy your chocolate craving. They key ingredient is Cocoa Bella (surprise, surprise), but you can substitute with hot cocoa if needed.
The Cocoa Bella brews like coffee in a French press or it can be steeped like tea depending on your toolkit.

Once steeped and poured, I mixed a bit of maple syrup in and then added a nice glug of bourbon. Brandy would also be great if you like things sweeter. It's topped off with a dollop of whipped cream that will promptly melt (before I took the photo).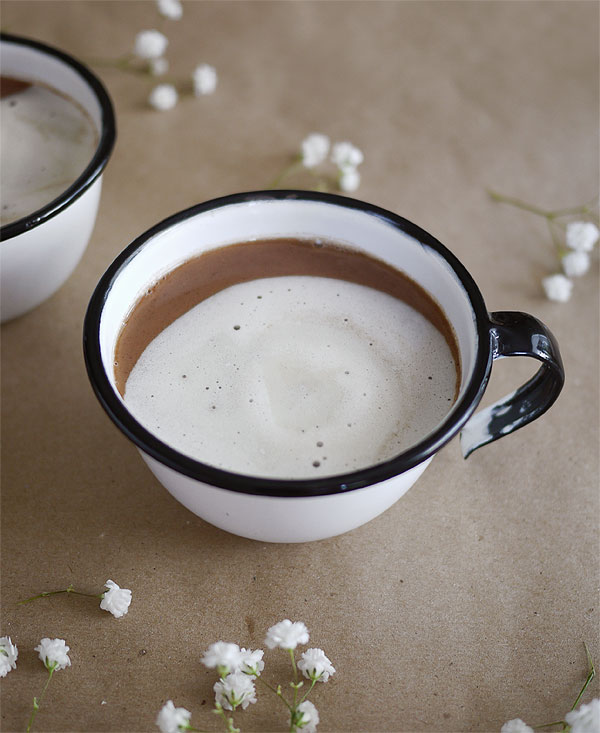 I like to use raw sugar instead of white sugar for whipped cream because the flavor is so much nicer. Here, I even added a tad of the maple syrup to bring it all together. Amazing whipped cream, I must say.

Hope you'll give it a try!
Print Recipe
Back to Top
Recipe
Feel free to use either bourbon or brandy in this drink. Adjust the measurements of alcohol and maple to your taste. If you can't get the Cocoa Bella you can use hot cocoa but it will be different…
You need:
12 oz brewed Cocoa Bella (see post above for link to product purchase page)
Heavy whipping cream
Sugar in the raw
Maple syrup
Bourbon or brandy of choice
Directions
Whip (using hand mixer or the like) about 6 oz of heavy cream with one and a half tablespoons of sugar in the raw and a small drizzle of maple syrup. Taste half way though and add more sweetener if desired. Place in fridge.
Brew two servings of Cocoa Bella (or hot cocoa) according to directions. Pour into two cups and sweeten to your liking with maple syrup. Add bourbon or brandy to desired strength. Top with whipped cream.
HonestFare.com