I like sun dried tomatoes alright. But I prefer them in stuff—like a nice sun dried tomato bread or a spread of some kind. But sun dried tomatoes on their own or just tossed in a salad, eh, they're whatever. Too tart. Too dry. And kind of make me feel like I'm eating elephant skin or something.
Now ROASTED tomatoes on the other hand…those I can get into. They're a much nicer balance of sweet and tangy…and that little bit of olive oil keeps them plump and juicy.
I've been buying the roasted tomatoes in olive oil from the specialty section at Whole Foods for years now. And they're great. But, the other day when I went in, they were out. So they guy comes over with his 'fresh' vat of my favorite little tomato guys and just starts spooning, no shoveling, them into the empty container next to the olives. All of a sudden they looked more like oily blood clots than anything else.
So I get grossed out. Grossed out at a Whole Foods? Of ALL places in the world? Yeah, I know. But I did.
I just wasn't into it anymore. And so I said to myself, "I'm gonna learn how to make these things myself. " And so I did. And now I don't have to pay $8 per pound for them.
P.S. I still love Whole Foods.
It's actually pretty easy to make these.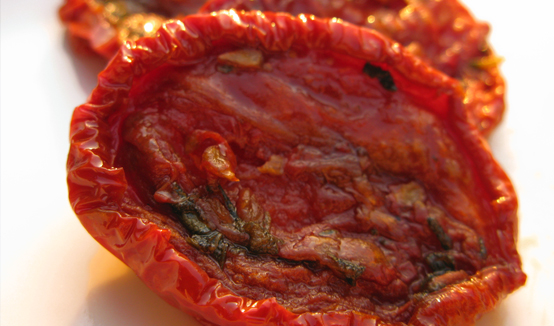 You just need time to let them do their thing in the oven. It's a slow roasting process at 200-225° for about 8 hours. Yeah, I said 8 hours, but DON'T FREAK OUT. You don't have to babysit them or anything. In the time my tomatoes roasted, I went to a yoga class, ran to the supermarket and went to a birthday party (coming home every two hours to check on them). And before my day was almost done, so were they!
Everyone seems to agree they have a much stronger tomato flavor than the ones you get at specialty markets. Almost like a concentrate or something. Must have something to do with the freshness and not being packaged in all that oil. Much better than the ones at Whole foods.
I used plumb tomatoes (medium-sized ones) but I'll bet Campari tomatoes would work too.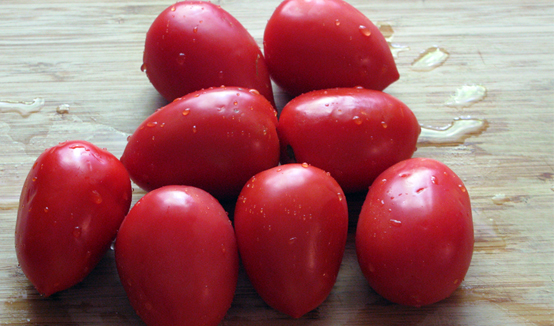 You start by halving your plumb tomatoes and giving them a nice squeeze to loosen up the seeds and tenderize the meat a little.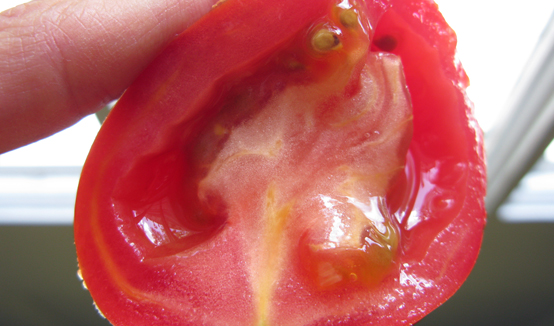 Herb wise I went with a mix of fresh oregano, sage and rosemary. I decided to mash my herbs and garlic together with some olive oil so they'd stay moist and wouldn't burn or dry out during cooking.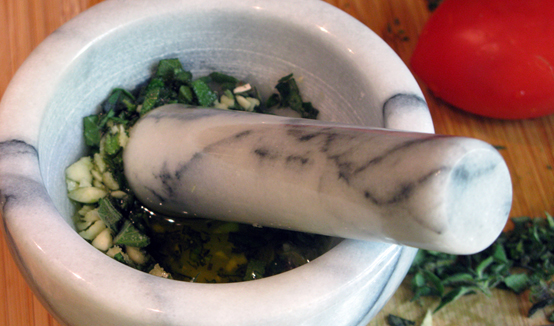 Then you just place the tomatoes (cut side up) on a baking sheet; coat them with olive oil; drop some of the herb blend on them; sprinkle some salt and pepper and bake.
I popped them out every two hours and gave them a little brush of olive oil if needed. I really recommend using a cooking brush to apply the olive oil evenly (especially for around the edges so they don't burn). If you only drizzle or spoon it on, a lot of your olive oil will run off and settle at the bottom of the pan.
After 2 hours: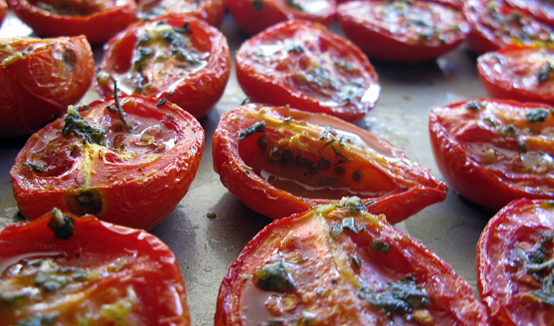 After 4 hours: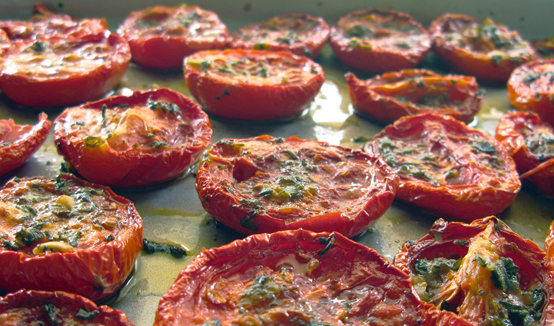 After 6 hours: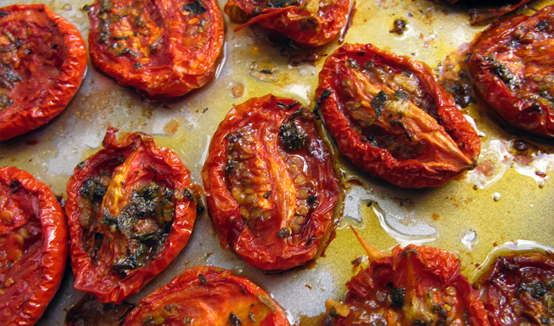 After 8 hours (done!)

I've been adding these to salads, sandwiches, pastas, couscous and eating them plain for a week now. Just exploring our options…
I also made a little roasted tomato cream cheese spread with a couple of the ones that ended up falling apart and looking kinda ugly. Pretty delicious too.

Stack them up and keep them in a jar in the fridge. Should last about 10 days.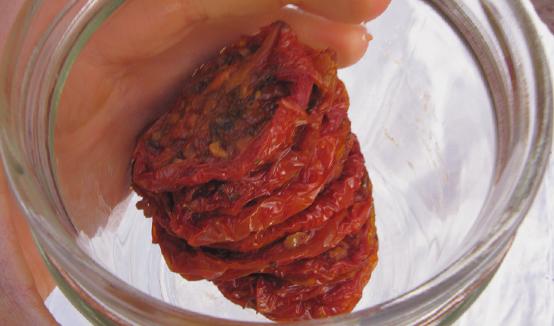 Print Recipe
Back to Top
Recipe
Coop/prep time: 6-8 hours Highly recommend using plumb or Campari tomatoes.
You need:
About 10 medium-sized plumb tomatoes
Olive oil
Handful of fresh rosemary
Handful of fresh sage
Handful of fresh oregano
Salt
pepper
1-2 cloves garlic
Directions
Preheat the oven to 200 F.
Dice up herbs and garlic. OR, if you have a mortar and pestle, use it to mash the herbs and garlic together with about 3 tablespoons of olive oil. If not, just combine diced herbs and garlic in a bowl with olive oil and mash a bit with a spoon and let sit for a few minutes until olive oil absorbs into herbs.
Cut tomatoes in half (vertically) and give each half a little squeeze to loosen up juices and tenderize meat a little.
Apply thin coat of plain olive oil to baking sheet. Place tomatoes, cut side up, on baking sheet. Apply tops with coat of herb/garlic olive oil mixture. Use a spoon to tuck some of the herbs into seeded area of tomatoes. Sprinkle each one with a little pinch of salt and pepper.
You can either roast these at 200° for 8 hours or 250° for 6 hours. But whichever way you decide, just make sure you take them out every 1.5-2 hours to reapply olive oil if needed. You don't want them to dry out or the edges to burn! I really recommend using a cooking brush to apply the olive oil evenly. If you drizzle or spoon it on, a lot of your olive oil will run off and settle at the bottom of the pan.
Oven temps vary so just keep baking if it seems like they're not done after 8 hours or visa-versa.
HonestFare.com