How about that color combination? Radishes and carrots are two of my favorites to look at and to eat.
This salad is a refreshing palette cleanser for the end of a meal. The sweetness from the carrots and peppery crunch from the radishes is paired with fresh herbs (mint and cilantro) and all tossed in light vinaigrette.
Apart from being delicious and beautiful, another thing I like about carrots and radishes is that they have a long shelf life. So when I when the lettuce is wilty and the tomatoes are not so great…I can always put money on having some healthy looking radishes and carrots buried somewhere in the crisper.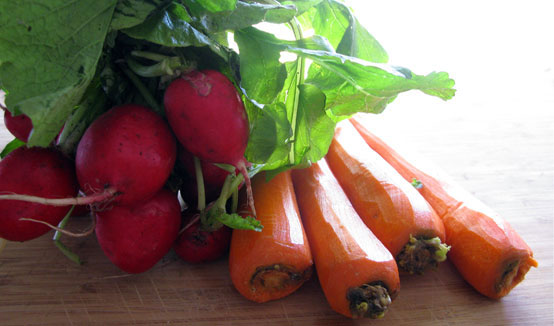 I think the best way to clean radishes it to let them sit in a bowl of water with a drop of soap for a couple minutes. Then just give them a little scrub and rinse.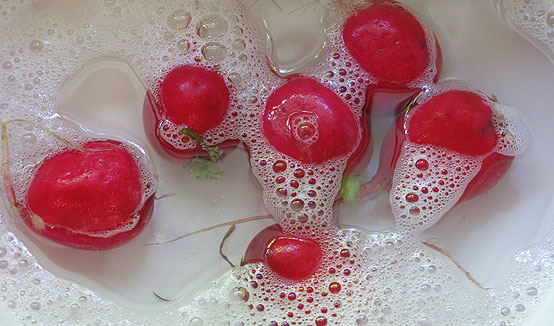 You have to slice the veggies really thin so use a mandolin if you have one otherwise just be careful while you slice. I like to use cilantro and mint, but I'm sure scallions would work as a fine substitute if you don't have one of the two. Just combine it all and toss it up.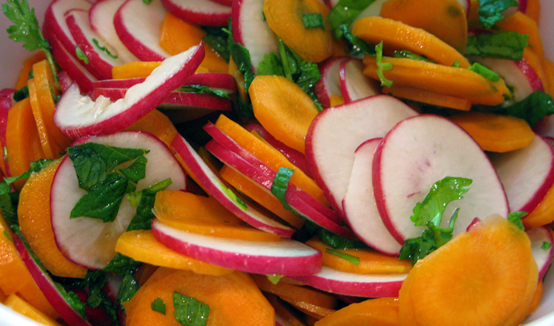 I like to let it sit for a few minutes before serving to let the veggies soak up a little of the dressing and the mint oil.
Print Recipe
Back to Top
Recipe
Coop+prep time: 10 mins. Serves 2-3
You need:
6-8 radishes
2 carrots
Juice from half a lemon
Handful of cilantro and mint
Salt to taste
Pepper to taste
1 ½ teaspoons of honey or agave nectar
1 tablespoon water
Drizzle olive oil
Directions
Combine about ¼ teaspoon salt, lemon juice, honey, olive oil in a small bowl, whisk and set aside.
Thinly slice radishes and carrots into disks and chop up herbs. Place in large mixing bowl.
Pour dressing over veggies and herbs and toss over and over so all slices are covered and herbs are equally distributed.
Let it sit for about 5-10 minutes before serving—veggies will begin to absorb the dressing and taste better.
HonestFare.com