Rice pudding with a generous dose of cinnamon on top has always been one of my favorite desserts. There's really nothing like it for me. Growing up, my mom would say something like, "Guess what we have for dessert," in this sort of secretive voice and then we'd get all giddy.
I was craving the rice pudding of my youth the other day so I went over to the ever-inspiring, Cannelle et Vanille because I figured, with her Spanish (well, Basque) heritage she'd more then likely have a pretty authentic recipe. And she did. BUT, what she also had was a similar recipe using quinoa instead. Immediately, I had to make it.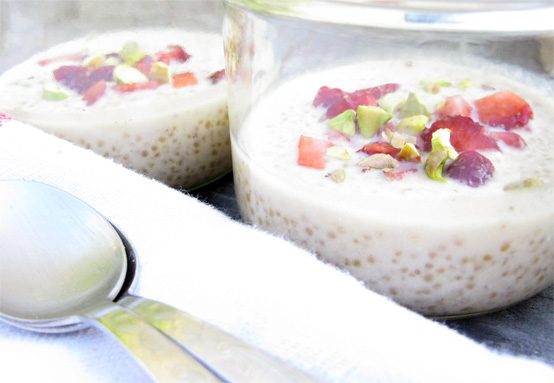 I absolutely love quinoa. And I also happen to love it on the sweeter side too (in soy milk with fruit and nuts for breakfast is the best), so quinoa pudding with strawberries and pistachios sounded pretty awesome to me. Though I adapted the recipe slightly not to include cream and added a little water and cinnamon.
The process was very similar to making rice pudding actually. And if you've never done that, then you'll find the process very similar to making rice or any other grain.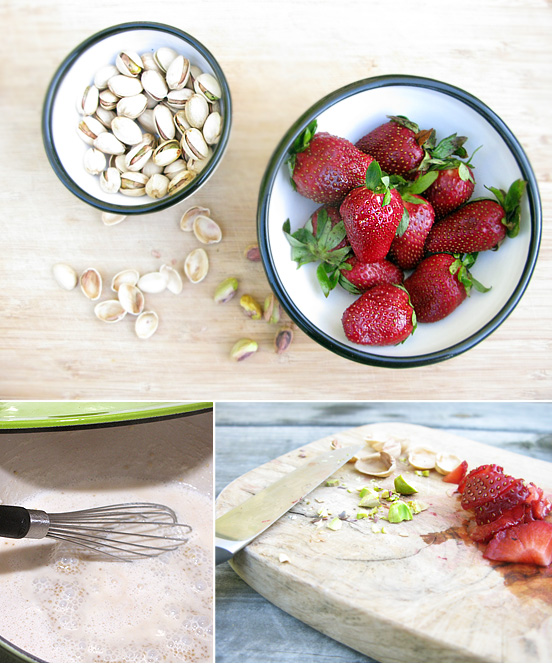 The main difference being that you cook the quinoa in a combination of milk, vanilla, sugar, cinnamon and a pinch of salt instead of water. The milk will periodically get that layer of skin across the top, but just fold it back and stir it in. Another thing to remember is that milk will froth up and boil over with the quickness so make sure to keep your eye on it because burning milk smells like a turd. I let the quinoa simmer partially covered and on low heat for about 30 minutes, giving it the occasional whisk.
Just let the quinoa do its thing until it's nice and soft. Then let it cool to firm up a bit more. Kind of resembles tapioca actually.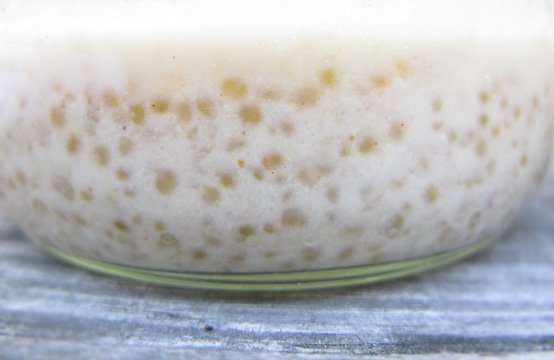 Strawberries are so in season right now so I definitely suggest chopping some fresh ones up to add on top, along with pistachios. And I'll bet this would also be great with some banana all mashed up in there instead of strawberries…have to try that next time for sure.
And there you have it, quinoa pudding – the "super food" version of my favorite childhood delicacy. Seriously fabulous.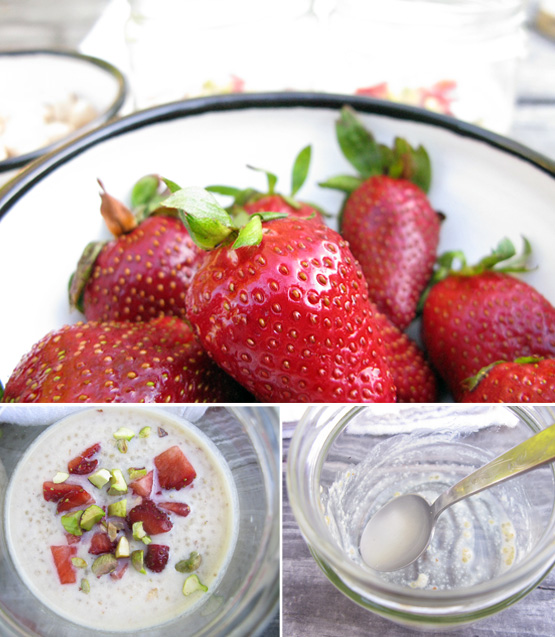 Print Recipe
Back to Top
Recipe
Coop/prep time: 35 mins. Serves 4. I used unsalted pistachios, but salted are fine too. Be sure to remove from heat when done to avoid any milk burning on the bottom of the pot. Sub with almond or coconut milk for non-dairy option.
You need:
3 cups whole milk (sub with almond, or coconut milk)
2 teaspoons vanilla or one vanilla bean
1/4 cup sugar
pinch of salt
1/4 cup water
1/6 teaspoon cinnamon
1 cup quinoa
a few diced strawberries
chopped pistachios
Directions
Place the quinoa in a strainer and rinse with cold water for a few seconds.
Combine the milk, water, sugar, salt, cinnamon and vanilla in a medium saucepan and bring to a simmer. Add the quinoa and stir. Reduce heat to medium low, partially cover (about 3/4 of the way) and cook for about 30 minutes, stirring every few minutes to avoid sticking. If skin starts to form across top of milk, just stir it back in.
If you find that your pudding seems a bit dry and the quinoa is still hard, just add a splash more milk and water and cook totally covered for a few more minutes.
Remove from heat and let cool to room temperature or cold in the fridge. Spoon pudding into bowls and top with chopped strawberries and pistachios.
HonestFare.com