Here we are – well into October with pumpkin season in full swing! Not sure if you guys know this about me, but I'm kind of a pumpkin freak. I have a weakness for all squash actually…and for sweet potatoes…and beets…and I guess anything that's rough and covered in grit on the outside and rich and tender on the inside. Happens to be exactly how I like my men too. Strange coincidence.
WOW – check this thing out!

Christy Harp's 1,725-pound giant Atlantic pumpkin is thought to currently be the world's largest pumpkin. Apparently, this beast was growing at a rate of 33 lbs per day. That's just too bizarre for me to comprehend. I think I'd have to pull an all-nighter to see it for myself. Wonder how it tastes…Really dry and starchy?
But you know what's not dry and starchy at all…
Anyway, as I was saying before I got sidetracked and googled "world's largest pumpkin" for no apparent reason…I love pumpkin. And I'll take pretty much anything pumpkin, pretty much any time of the year.
Right now I'm really living up gourd season and messing around with a lot of pumpkin recipes, and as a result, we've had an abundance of pumpkin meat and puree in the fridge. Last week a friend came over for lunch and we whipped up a creamy (yogurt based) pumpkin smoothie with what was left of one such experiment. It was ridiculous. I've made this smoothie four times since and think I've perfected the recipe for you.
I used organic canned pumpkin meat. It's good and it's just pumpkin without any additives or seasonings (just make sure you get pure pumpkin and not pumpkin pie filling).
Pumpkin + Greek yogurt + banana + ginger root + cinnamon + nutmeg + agave + hulled pumpkin seeds (pepitas) for topping.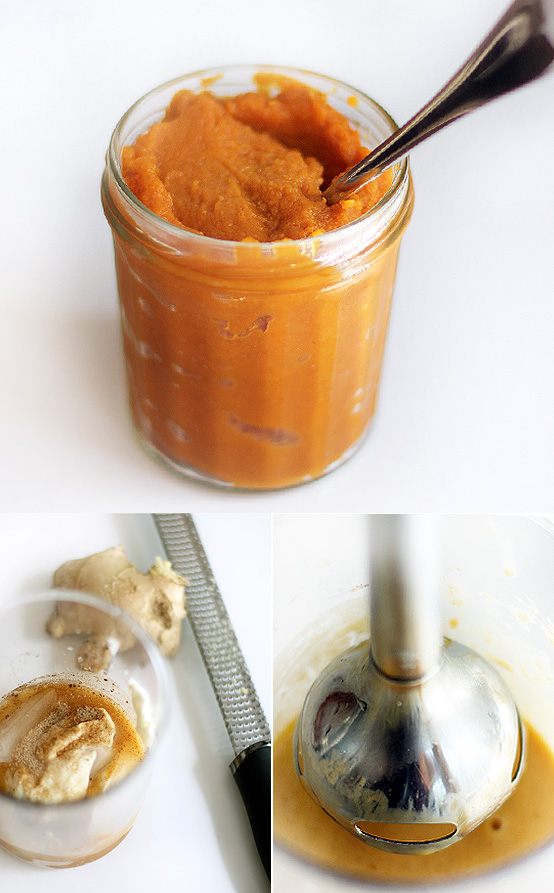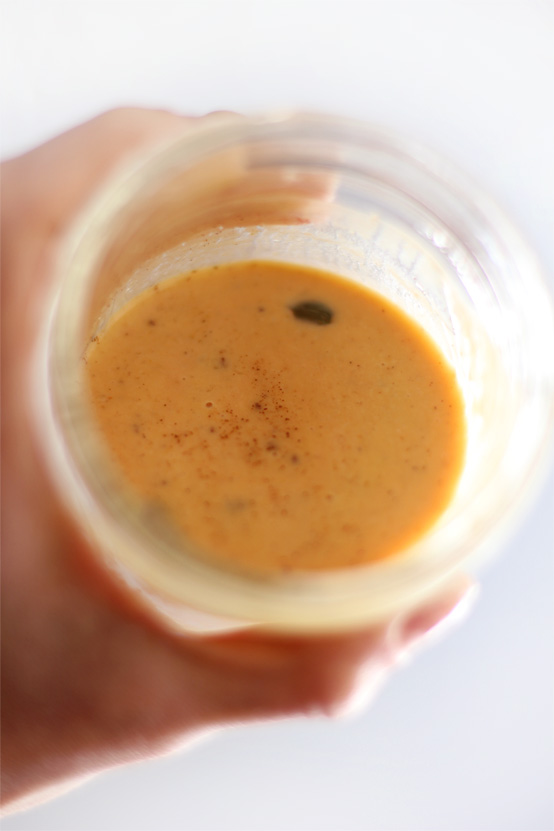 Perfectly pumpkiney, smooth, spiced and refreshing. The earthy crunch from the pepita seeds was really nice too. I think walnuts or pecans would be a fine substitute if you prefer, or do graham cracker or gingersnap crumbles if you want it to be more like a dessert!
P.S. Here are a couple of my favorite fun pumpkin recipes from last year.
Print Recipe
Back to Top
Recipe
Prep time: 3 minutes. Recipe makes one glass. I included measurements for everything but I suggest you modify amounts to your liking – especially the spices! Diced walnuts or pecans are a great substitute for pepita seeds if you prefer.
You need:
5 Tablespoons canned pumpkin puree
4 Tablespoons plain Greek yogurt
4 Tablespoons water
1/2 ripe banana
Pepita seeds or crushed graham crackers (optional for topping)
1/4 teaspoon of cinnamon
Tiny sprinkle of nutmeg
1/4 teaspoon fresh ground ginger root
1-2 Tablespoon(s) agave nectar or maple syrup
A few ice cubes
Directions
Place all ingredients in blender except for the ice and blend until smooth. Add any additional spices or agave to taste or a little additional water if it's too thick. Then add ice cubes and blend until very smooth again.
Top with hulled pumpkin seeds (pepitas) or crushed graham crackers and a little extra cinnamon. Enjoy!
HonestFare.com
Recipe modified from: Fat Girl Trapped in a Skinny Body.