For days now, I've been thinking about what to share with you guys to fill the guiltless yet delicious category on your Thanksgiving table. These pomegranate poached pears are definitely it! And I know I'm cutting it kind of close with this last minute recipe for tomorrow (eek) – but I consider this to be a pretty important addition! Important because, don't you think that in the midst of all the pies, and tarts, and cheeses and starches and puddings, it'd be nice to offer an option that's on the lighter side? Your friends and family will thank you.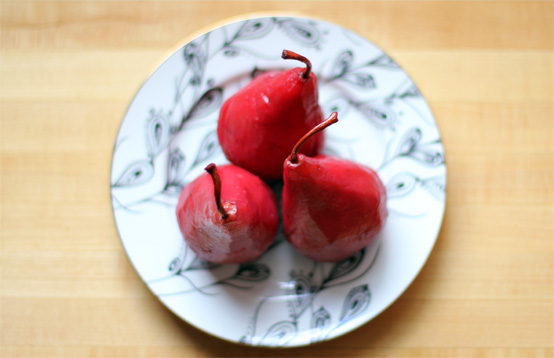 So elegant, so tasty and SO easy to make! All you have to do is peel the pears (leaving the stem on for no other reason than because it's prettier) and then simmer them in your poaching juice.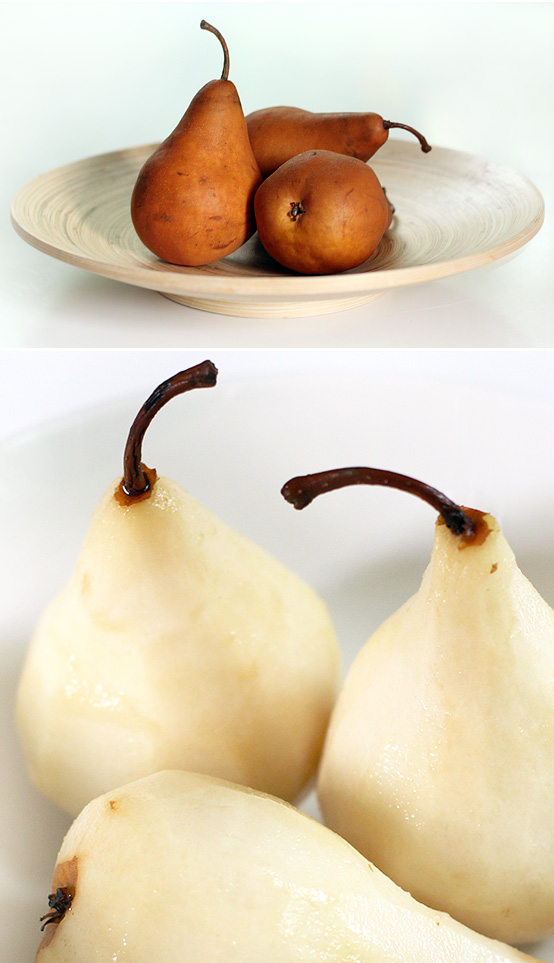 I love the red, festive color you get from poaching pears in red wine, but I wanted to keep things non-alcoholic so I figured I'd give pomegranate juice a try. Plus, I've had all this pomegranate, blueberry juice that POM Wonderful sent me samples of hanging out in my fridge for a couple months now. (Time to do something with it cause I was starting to feel like a real jerk.)
Although the juice is already naturally deep in color, I still wasn't sure that it would stain the pears that garnet color I was going for. So just to make sure, I threw a few slices of raw, peeled beet into the pot to help enhance the color. You can always count on beets to bleed all over everything (whether you want them to or not). Another option would be to add in a few drops of red food coloring if you prefer that to the beets. Neither of the two changes the flavor. I also spiced up the juice with some cinnamon, clove and a tad more sugar.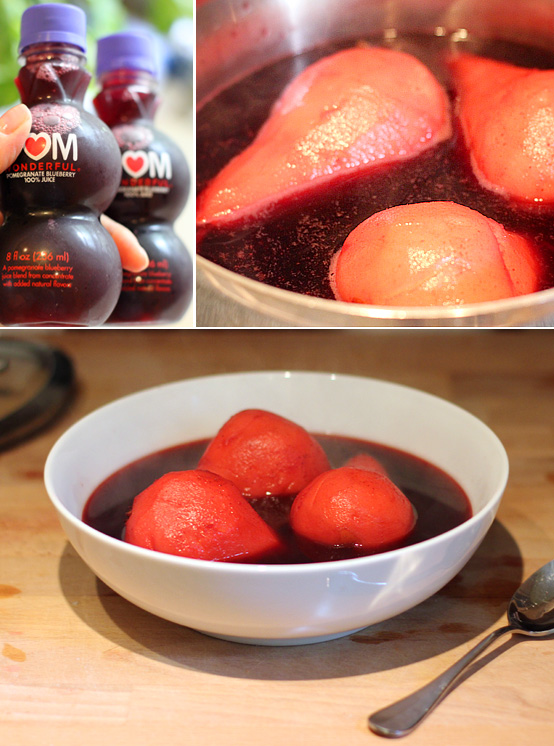 Now, I didn't run a beet-less control group or anything, but I'm pretty sure they had a lot to do with this vibrant red!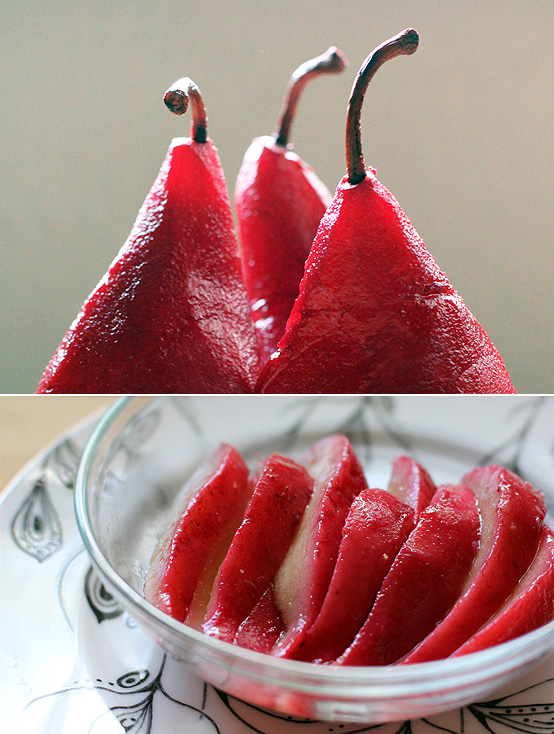 The flavor of these is so fantastic. Aromatic from the spices and cooked pear and slightly tart at the initial bite form the pomegranate that coats the outside. Refreshing, and they really do satisfy your sweet craving. They're great hot or cold and you can always dress them up with nuts, ice cream or whipped cream if you like. You can even add some liquor to your poaching juice (brandy is nice). AND, in addition to or instead of for dessert, slice them up and toss them with some arugula, nuts and cucumbers to make a really nice salad (that's actually what I did for lunch today)!
Print Recipe
Back to Top
Recipe
Prep + cook time: 25 mins Serves: 6 When choosing your pears, go with ones that are on the firm side over really ripe ones. You will have plenty of juice left over after poaching, so you can always reuse it to make another batch of pears. Best if eaten within 48 hours. You can use a few drops of red food coloring if you prefer that to using beet slices.
You need:
3 firm bosc pears
16 oz. all natural pomegranate (POM) juice
1 tablespoon sugar
A few slices peeled, raw beet
A few drops of red food coloring only if you prefer not to use beets.
Pinch ground clove
1/4 teaspoon cinnamon
Directions
Peel pears, leaving stems intact. Peel about half a med-sized beet and cut into a few pieces (about 1 inch in size each). Bring pot of POM juice to light simmer. Add beet slices, sugar and spices.
Gently lower each pear into juice. Reduce heat to med-low and let pears cook until soft (about 10-15 mins), turning with spoon every so often so they cook and take on color evenly. You can also spoon liquid over exposed fruit during cooking.
Once done, transfer to a large bowl, pour juice overtop and let cool completely before transferring to fridge. Slice up or serve whole accompanied by nuts, ice cream, whipped cream or just as is!
HonestFare.com