After all that holiday gorging I really just needed something light. No more baked goods, PLEASE. So even though today happens to be the coldest day of winter for us thus far (low of 30° high of 45°), I decided to make this refreshing little salad with pomegranate, bibb lettuce, tart green apple and Gorgonzola cheese. It was perfect.
Plus, pomegranates are a symbol of abundance and vitality, so it seems pretty fitting for the New Year.
Bibb lettuce (sometimes referred to as Boston lettuce) often comes with the root system still intact to maintain the freshness of it's delicate and buttery leaves. You just pluck the leaves you want to use from the base and save the remainder attached to the roots. Bibb bruises easily so it's best to tear, rather than chop, if you want smaller pieces. However, since the leaves are pretty small to begin with, I like them served whole. If you haven't tried bibb lettuce yet, then all the more reason to make this salad!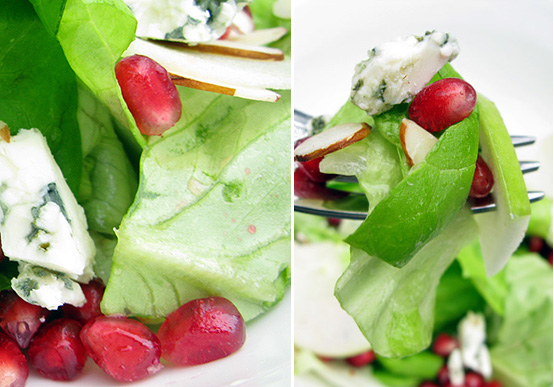 I tossed the lettuce in a light vinaigrette before combining with the fruit and cheese. Oh yea, there were some sliced almonds lying around so I threw those in too. Hazelnuts would have been better, but the almonds were a nice crunch.
This was exactly what I needed.
Print Recipe
Back to Top
Recipe
Coop/prep time: 1 hour
You need:
Gorgonzola cheese or both
Pomegranate
Green apple
Almonds or hazelnuts
Bibb lettuce
Fresh lemon juice (1 lemon)
Honey or agave
Salt and white pepper
Grape seed or vegetable oil
Directions
Separate lettuce leaves from root system. Don't chop or the delicate leaves will bruise. Tear if you want small pieces, otherwise serve whole leaves. Wash and set aside.
Separate pomegranate seeds from husk and set aside. Thinly slice green apple (best if you can just run the whole apple against a mandolin).
For the dressing: lemon juice, a teaspoon of honey or agave, tablespoon of water, sprinkle of black pepper and salt. Whisk together.
Toss lettuce in dressing until it's all lightly coated. Add pomegranate, apple slivers, cheese and nuts. Toss together.
HonestFare.com