Every time I see a photo of a rustic style galette somewhere I'm taken by how beautiful they are. I've actually never made one before this, but it's been on my list for quite a while now. With peaches, apricots and plums looking so good these days, some kind of stone fruit galette seemed in order.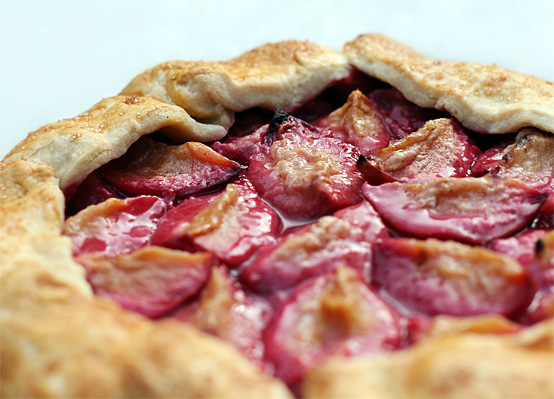 The cool thing about galettes is that you can really put anything (sweet or savory) you want in them. I wanted to make a sweet one that would work for breakfast or dessert. I chose to go with plums cause they were ripe and ready at the market. And I was in a deep purple mood, I guess.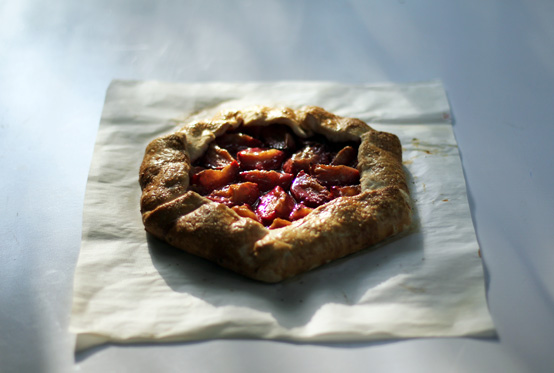 You toss the plums in a little nutmeg, cinnamon, lemon zest, flour and sugar.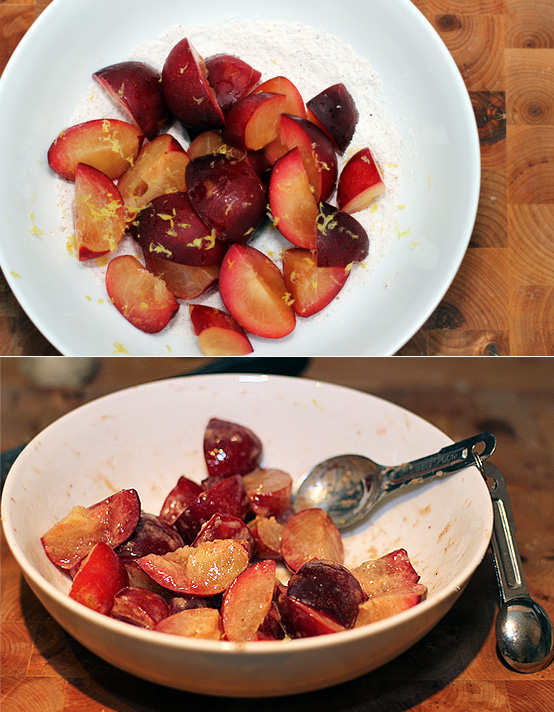 The dough is super basic and can be used with sweet or savory galettes if the almond extract is left out. It seriously took less than 10 minutes to make and was very easy to handle if maintained cold and not over worked.
I just pulsed the dry ingredients with the butter in the food processor a few times and then added the water and shaped it into a ball. I chilled it before rolling it out and then chilled the rolled out dough again before further rolling it out and filling it in order to make sure it wouldn't fall apart on me when I folded it up.
One little trick I will share (that I learned from Martha Stewart) is to place the rolled dough atop a surface that's lightly dusted with flour and turbinado sugar and press down gently. The sugar gets pressed into dough and browns the bottom of the galette really nicely. She also taught me to brush the edges of the dough with an egg wash and sprinkle with turbinado.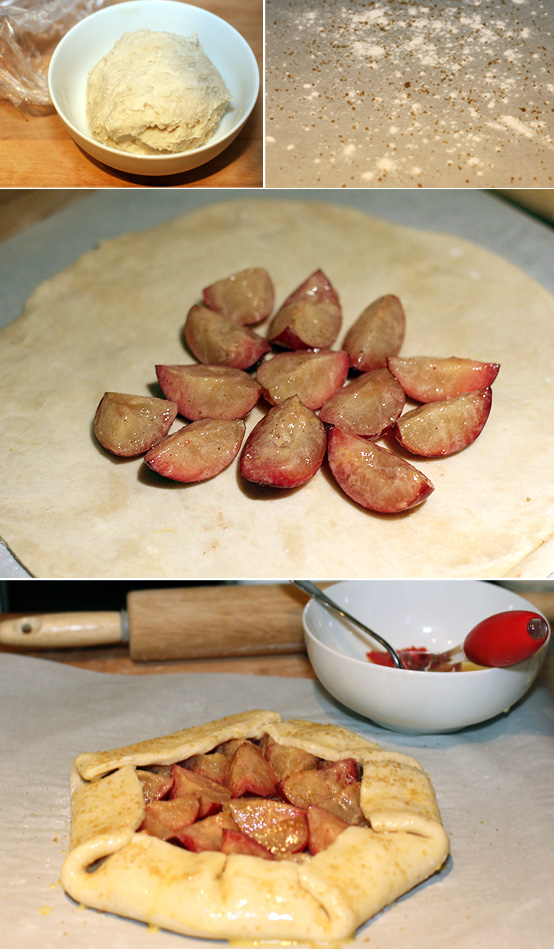 As an aside, the dough also freezes really well so you can have a ball of it around and roll out a quick galette (or even a few mini ones) whenever you want to impress your friends.
One other thing to remember is not to worry too much about how your dough folds. The corners will be uneven, but that's part of the rustic appeal.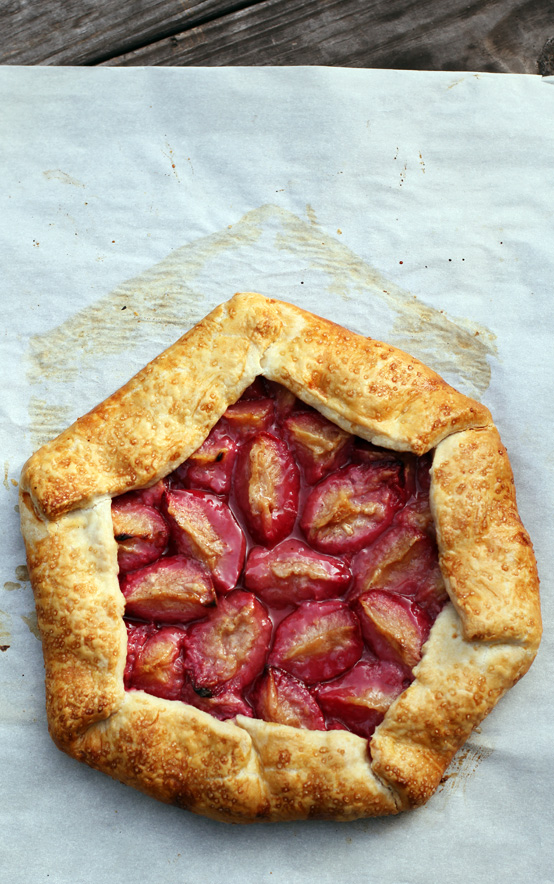 I was really pleased at how this came out and how incredibly easy it was to make. It wasn't super sweet, which I really love.
Process modified from a combination of Martha Stewart's Plum Galette and Smitten Kitchen's Simplest Apple Tart.
Print Recipe
Back to Top
Recipe
Prep time: 10 minutes to make dough and 30 minutes to chill. Cook time: about 40 minutes. Makes one large galette or 4-5 mini ones!
If making the dough in advance, work it into a ball and wrap it in plastic wrap. You can freeze it like this for up to 2 months. Almond extract in the dough is totally optional, but I think it adds something nice.
You need:
For the dough:
I cup flour
1 teaspoon sugar
1/8 teaspoon salt
6 tablespoons butter
3 tablespoons ice cold water
1 tablespoon almond extract (optional)
I egg
1 tablespoon turbinado sugar
For the plum filling:
5 plums
¼ teaspoon lemon zest
1 tablespoon sugar
I tablespoon flour
¼ teaspoon nutmeg
¼ teaspoon cinnamon
Directions
Make the dough first:
Cut up cold butter into pieces. Place flour, sugar, salt a butter into food processor and pulse a few times until dough resembles coarse meal. To mix by hand, combine the dry ingredients in a large mixing bowl. then, using a pastry blender or two table knives, cut in butter until mixture resembles coarse meal. Add almond extract and pulse (or stir) once again. Transfer to a large bowl and add chilled water one tablespoon at a time while stirring with your other hand until the dough just holds together (you may not actually need all the water). Place dough on cutting board or mat and pat it down to about 1.5" inches thick. Wrap in plastic and chill for 30 minutes in the fridge.
Now get the fruit ready:
Remove pits from chosen fruit and cut into wedges. Place fruit into bowl and toss in nutmeg, cinnamon, sugar, lemon zest and tablespoon of flour.
Preheat oven to 375°
Remove dough from fridge and allow to soften for about 10 minutes so it doesn't crack when you start to roll it out. Roll out dough on a lightly floured mat. Trim the perimeter to make a nice circle of dough.
Sprinkle parchment paper with a little flour and turbinado sugar and place dough on top. Place your fruit, skin side down, in the center of the dough, leaving about a 2" inch ring of clean dough around the edge. Fold the edges of the dough over and lightly pinch at each fold (it doesn't have to be perfect…remember, this is rustic).
Whisk one egg with 1 tablespoon of water. Brush top of dough with egg and then sprinkle with turbinado sugar.
Bake for about 40 minutes or until fruit is bubbling and dough had browned to your liking.
HonestFare.com