Oh the pistachio—salty, sweet and rich with color. Such a motley of goodness in one pretty nut! All I know is that I can't resist these luminous green guys. Especially when it comes to pistachio ice cream. And especially, especially when it comes to these pistachio cookies.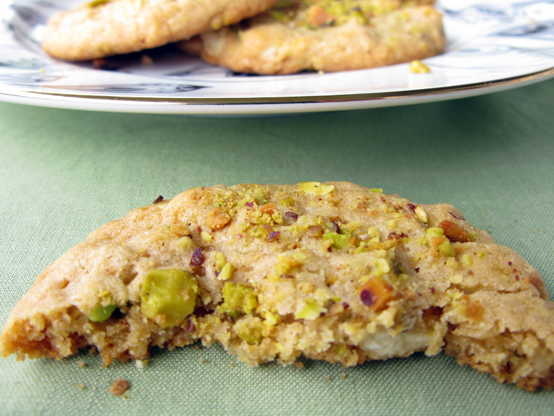 The buttery sweetness of the occasional white chocolate chip goes so nicely with the salty pistachios. These cookies have great texture, and they'll go quick, trust me…
Thanks, Katie (once again).
Print Recipe
Back to Top
Recipe
Coop/prep time: 1 hour Makes 3 dozen
You need:
1/2 cup unsalted room temp. butter
1/2 cup of sugar
1/2 cup of dark brown sugar
1 egg
1 tablespoon of milk
1 teaspoon of vanilla extract
1 1/4 cups of flour
1/2 teaspoon of baking soda
1/2 teaspoon of baking powder
1/2 teaspoon of salt
1/2 cup of rolled oats
1 1/4 cups chopped pistachios(raw, unsalted)
1 1/4 cups of white chocolate chips
Directions
Preheat the oven to 350 F. Cream the butter and sugars together on high speed for three minutes.
Add the eggs, milk, and vanilla and beat for 3 minutes, being sure to scrape down the sides of the bowl to ensure even mixing.
In a separate bowl combine the flour, baking soda, baking powder, salt, and rolled oats. Add the dry ingredients to the butter mixture slowly, being sure to scrape down the sides and bottom of the bowl once or twice to ensure even mixing.
Fold in the pistachios and white chocolate chips. Drop heaping teaspoonfuls onto parchment lined (or greased) cookie sheets, add an extra pistachio or two on top of each bit of dough for decoration if desired.
Bake for 8-10 minutes or until golden brown. Allow to set up on the cookie sheets before moving to a baking rack to cool completely.
HonestFare.com