I know it's Halloween week and I should probably be sharing some kind of spooky treat, but the truth is I'm not really feeling all that…uh, goolish at the moment. I just got back from an incredible trip to Kauai, Hawaii, where it's warm and wild and breathtaking at every turn, so the thought of dressing up for Halloween is the farthest thing from my mind. What a chore that would be. I just can't be bothered – so instead, I'm holding on to the warmth and the island flavors of Hawaii, which sound a hell of a lot better than costume make-up and miniature snickers. I hope you'll enjoy this Hawaiian treat instead of a Halloween treat this year!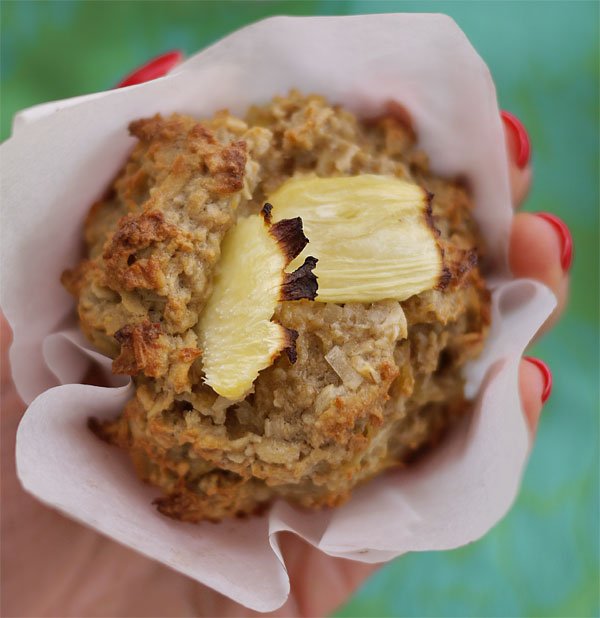 It was a quick 6-day trip to the island of Kauai to celebrate the wedding of some dear friends. I actually didn't take too many photos while there and most of what I did was on my phone. Just soaking it in I guess. But these will give you the gist of how amazing it is. Unlike any place I've ever been…that island makes you feel so light and real.
View of the Na Pali coast while hiking.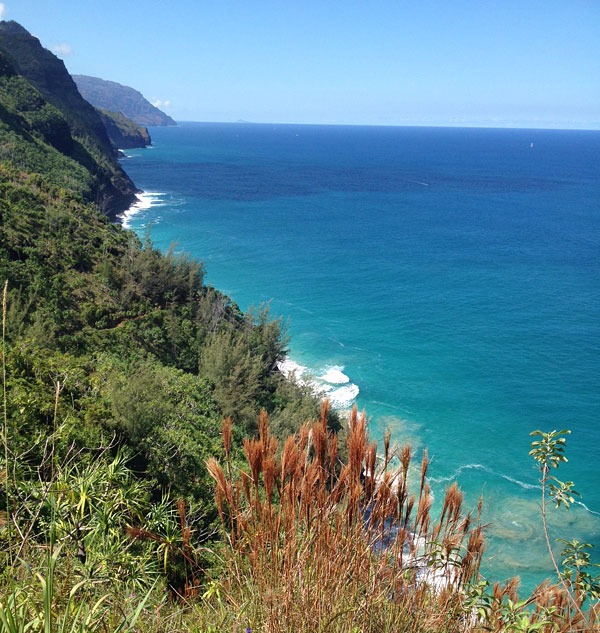 Love this one of my Shawn so in awe.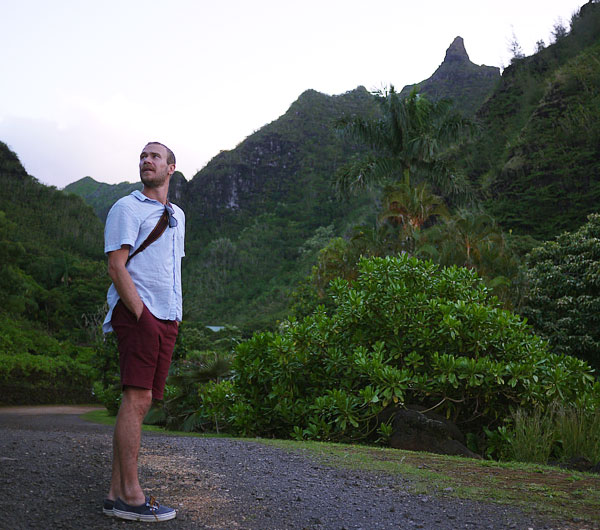 From a helicopter ride we took on our last day…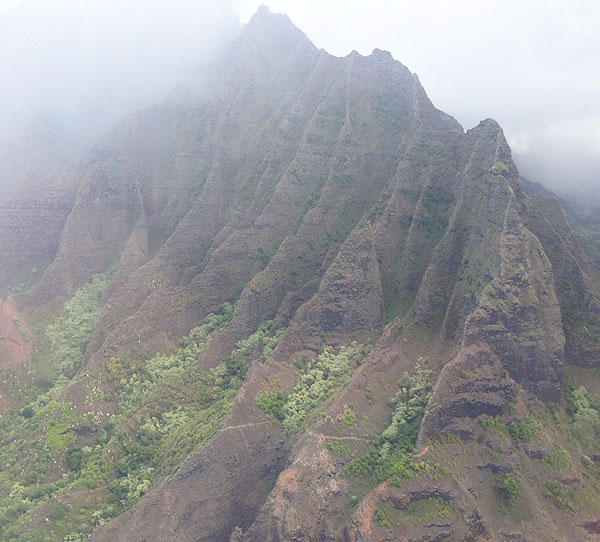 Insane, right?!
Okay, so this recipe is inspired by the abundance of fresh fruit and coconut we ate there and the macadamia nut butter that's so popular all over the island. The muffin is gluten free (made with oat flour and oats) and uses coconut milk and oil instead of butter. It's the perfect breakfast muffin – moist, flavorful and packed with fruit, hearty oats and protein. The vegan macadamia butter is a simple blend of roasted macadamia nuts, agave and coconut oil. It's SO good. Put it this way, even if you're not in the mood to go through all the steps of making the muffins, at the very least make the macadamia butter. It takes just a couple minutes and it'll blow your mind!
This recipe calls for a combination of oats and oat flour. All you have to do to make the oat flour is put some oats in the food processor and pulse until they're the consistency of grits, more or less like this image.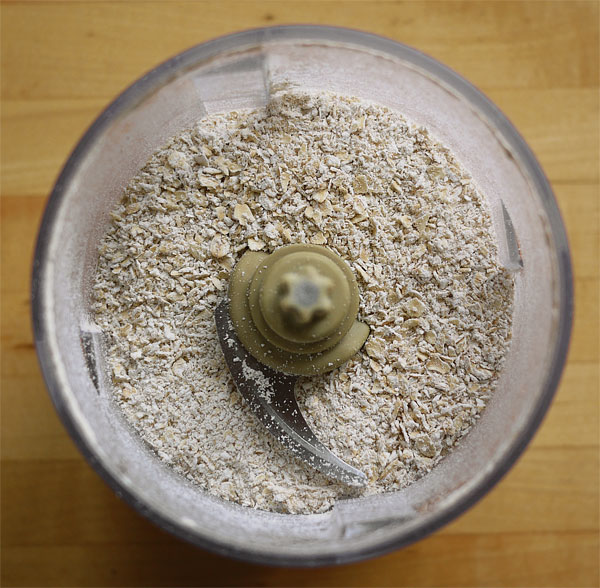 You'll also need pineapple and of course I'm going to recommend you use the fresh stuff, but you can use canned if you prefer. Pineapple is in abundance right now so you shouldn't have a problem finding it in stores, and cheaper than usual. I pulsed it a couple times in the food processor to get a fine chop and then roughly chopped the rest so there'd be some chunks in the muffins.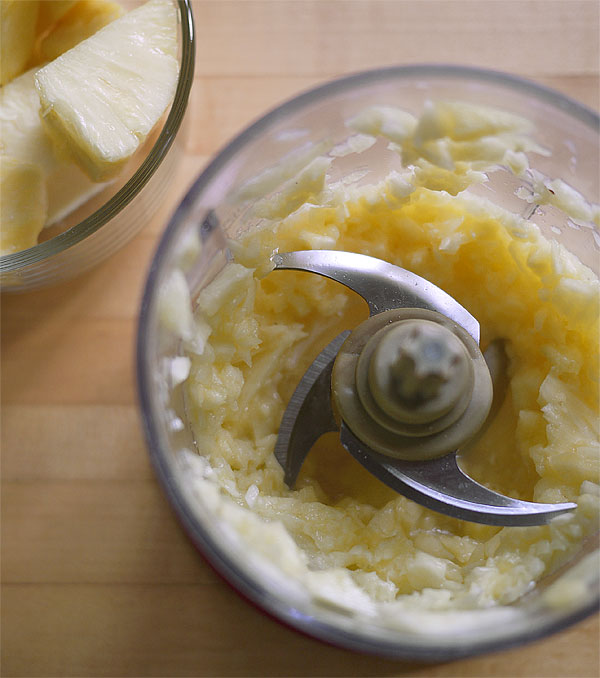 You'll want to mix the batter in the proper order, so just pay close attention to the recipe instructions at the end of the post. This is important because otherwise the batter gets heavy and won't incorporate nicely. The oats will get lumpy. Basically, you'll be working with three mixing bowls.
First bowl: Mix the oats with yogurt and coconut milk and let sit for a few minutes to soak.
Second bowl: Mix the oat flour with the dry ingredients.
Third bowl: Mash the oil and fruit together.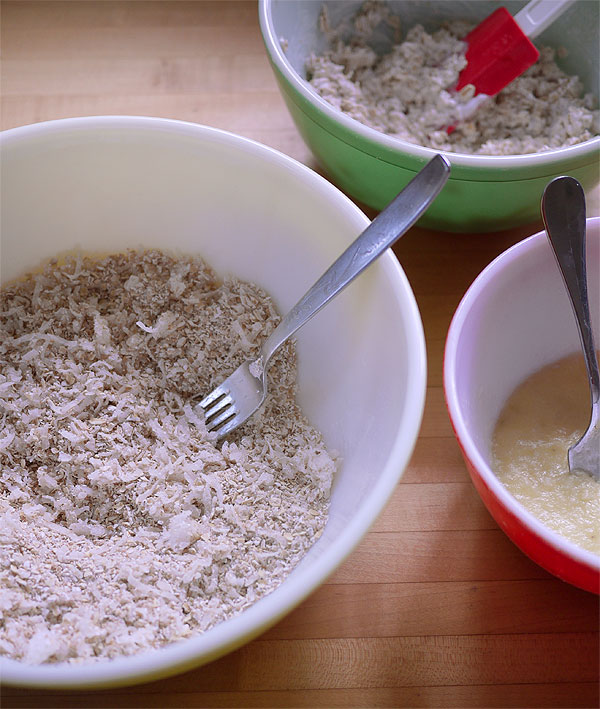 Then you combine it all and try not to eat too much of it before filling the muffin cups!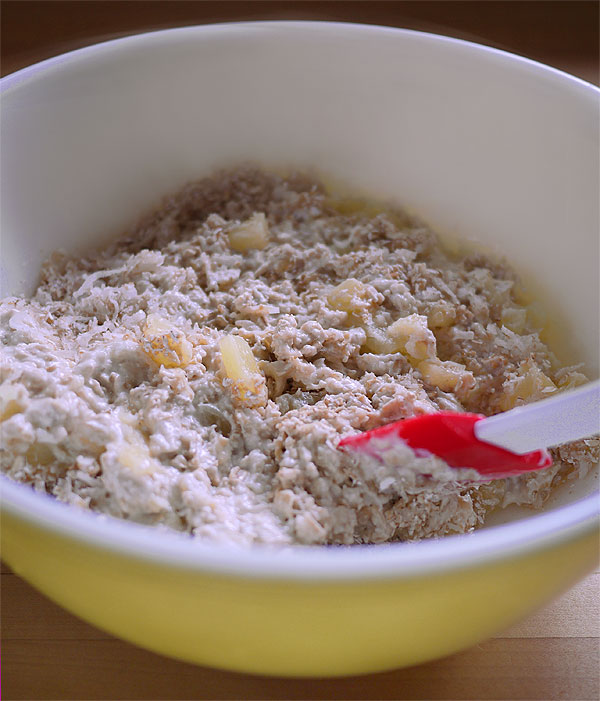 I cut squares of parchment paper to fit into the muffin tray instead of using muffin liners. I like how it looks and you can fill them much higher without worrying about them spilling over.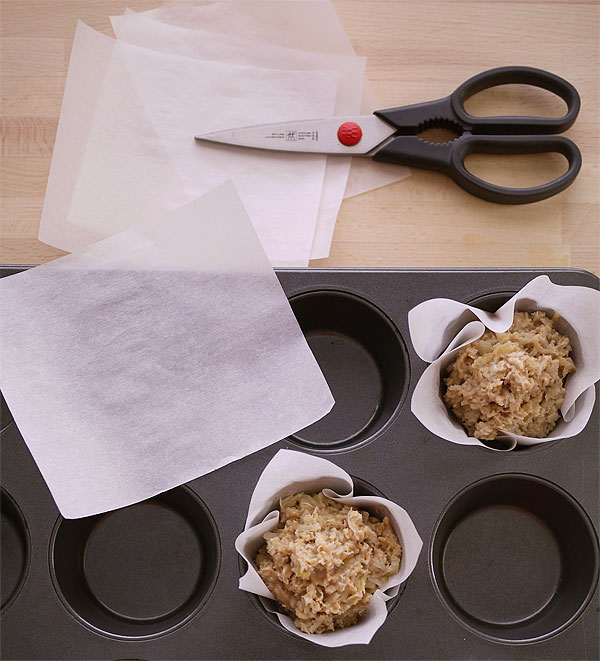 And then they're like a cute little pocket to carry your muffin in!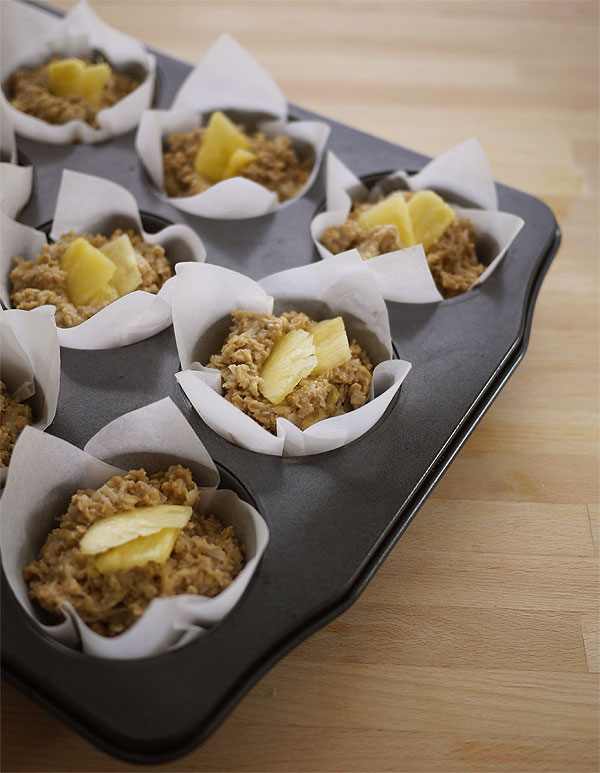 Top each muffin with a couple slices of pineapple for extra cuteness.

You know, I always forget about macadamia nuts. m Maybe you do too. Probably because they're not particularly good for you, with not nearly as much protein as other nuts and a much higher fat content. They're so rich and delicious and if you're looking for a substitute for butter (vegan or paleo) or if you like butter and are interested in trying something amazingly buttery…then you're going to love this macadamia nut butter!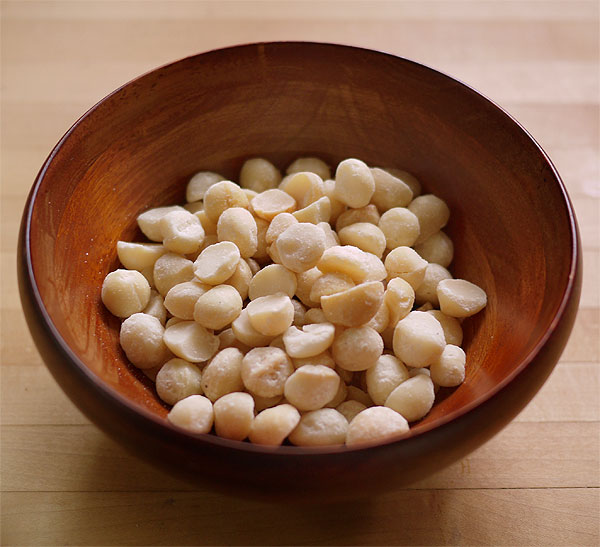 It's just the roasted macadamia nuts (I used salted and roasted), a little agave to taste and some coconut oil.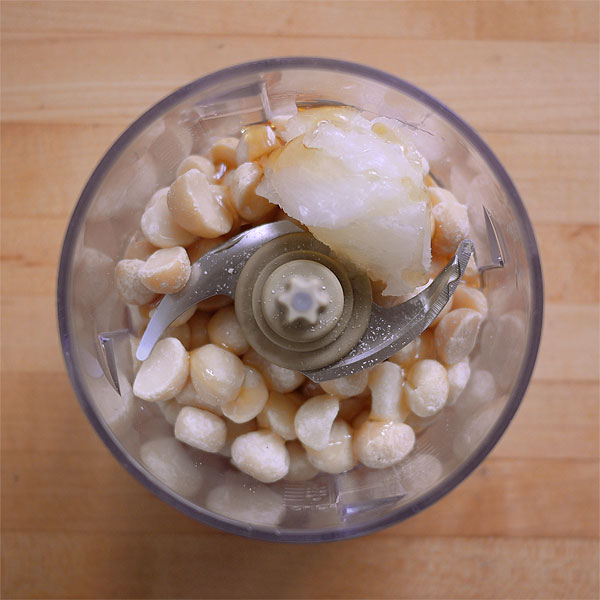 Unlike other nut butters, macadamia butter really does resemble butter in texture. It's not chunky at all and adding the coconut oil keeps it from separating and makes it perfectly spreadable.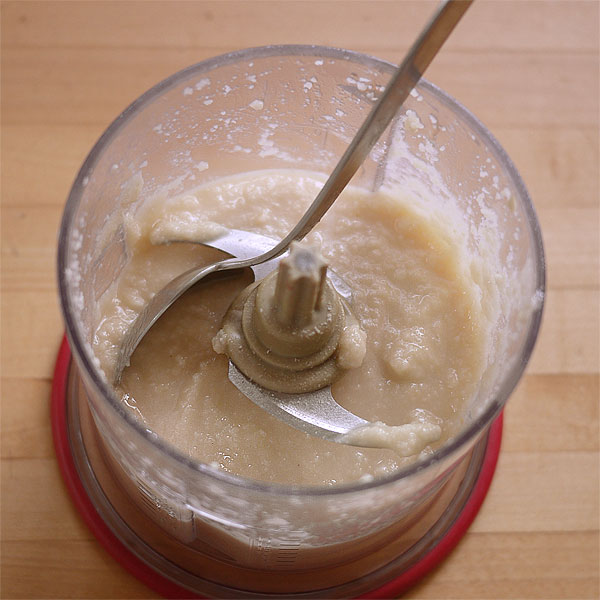 Keep it in the fridge so it stays nice and firm. You can use it as a spread on all sorts of things or even cook with it like you would regular butter!
Print Recipe
Back to Top
Recipe
Makes about 8-12 muffins depending on how high you fill each cup. Keep the macadamia butter in the fridge.
You need:
For the Gluten Free Muffins:
1 ¼ cup rolled oats
1 ½ cup oat flour (refer to #3)
1/2 cup plain, low fat yogurt (I use Greek)
1/2 cup coconut milk
1/3 cup brown sugar
1/3 cup coconut oil
1 lightly beaten egg
1/2 ripe banana mashed
1 cup diced pineapple + extra for toppping
1/2 cup dried coconut flakes (sweetened OR unsweetened)
2 teaspoons baking powder
1 teaspoon baking soda
1/4 teaspoon salt
For the Vegan Macadamia Butter:
1 1/2 cup roasted, salted macadamia nuts
Drizzle of agave syrup
2 Tbs coconut oil
Directions
For the Muffins:
Preheat oven to 375°
Mix rolled oats, yogurt and coconut milk together in a bowl. Let stand for 10 minutes.
It will require about 2 cups of rolled oats to make the 1 1/2 cups or oat flour you need. Just pulse the 2 cups rolled oats in the food processor until they turn to a powdery consistency (like dry grits).
Now, combine oat flour, salt, sugar, dried coconut flakes, baking powder and baking soda in a separate bowl. Set aside.
Pulse pineapple in food processor or dice and mash banana. Combine mashed banana, pineapple, egg and oil together in a bowl and add to the rolled oat mixture. Mix well.
Now add dry oat flour mixture to rolled oat mixture and mix together well.
Fill greased or lined muffin cups 2/3 of the way. Bake for approximately 16-20 minutes.
For the Macadamia Butter:
Place macadamia nuts, coconut oil and agave in food processor and whiz until very creamy and smooth. Place in fridge to set.
HonestFare.com