Isn't okra such a fun vegetable? That snappy pod and all those white seeds that collapse in your mouth when you bite down on them. And I love the fibrous texture of the pod itself and that characteristic sliminess. Wow, I guess all that actually sounds kind of gross on paper – us okra lovers know better though.
Fried okra. Amazing. Stewed okra. Amazing. Pickled okra. Amazing!!!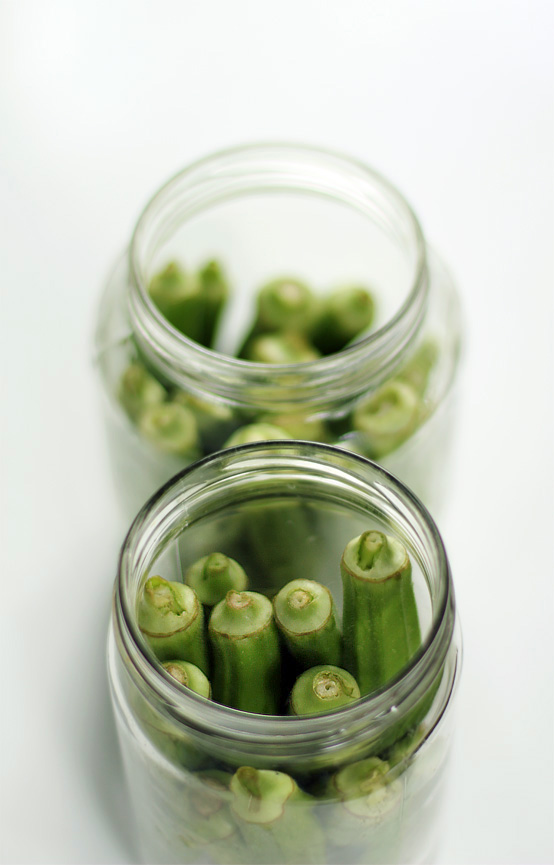 I know some people get weirded out by the slimy "goo" texture cooked okra often results in. I can see why. This usually happens a lot when okra is stewed. You can actually minimize the slime factor by leaving it whole and only quickly cooking it, flash frying it or even cutting it lengthwise and grilling it. Of course, pickling happens to be the best way to enjoy okra without the slime. It's SO good. Please try it. It couldn't be easier to do.
Right now there are heaps of okra everywhere. I picked up a giant bag of it at Clemon's produce market the other day with the intention of pickling some so I could have it around for snacking.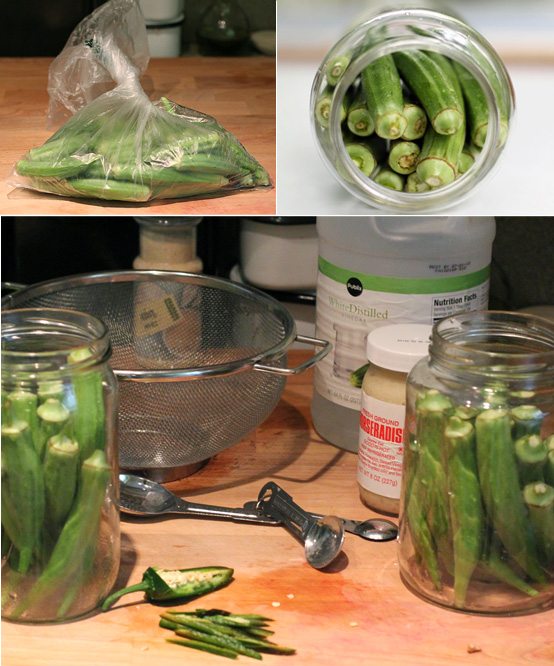 My pickling brine was nothing fancy. I just used garlic, salt, sugar and horseradish and jalepeño pepper to spice things up a bit. You can actually use more pepper than you'd think cause the vinegar really cuts the fire. I packed them in there pretty good cause once the liquid is added, they like to float around.
We ate a few after just 48 hours and they were good, but by day 3, 4 and 5, they were fantastic. Wait it out…it's worth it. And they only get better after that.
Print Recipe
Back to Top
Recipe
Prep time: 10 minutes! Feel free to leave out the jalepeño pepper if you are sensitive to heat. Likewise, add in additional jalepeño or other hot peppers of you really want to spice it up! This recipe makes enough brine for large pickle jar full of okra. They'll be good after 48 hours, but I really recommend waiting it out at least 4 days – they really do get better every day.
You need:
As many okra as you can pack/stack into the jar (refer to image)
1-2 jalepeño peppers sliced, seeds removed
1/4 cup white sugar (or less if you don't want them sweet)
1 1/2 cup distilled white vinegar
2 Tablespoons salt
1 ½ teaspoon horseradish
3 garlic cloves smashed and roughly cut
Splash of water (like 4 tablespoons)
Directions
Peel garlic cloves and smash with side of your knife and roughly chop. Wash okra. Wash and thinly slice jalepeño pepper, discarding seeds and core. Pack okra and pepper slices into jar lengthwise.
Add vinegar, sugar, garlic, salt and water to pot and bring to a nice simmer and then immediately turn off heat and let cool for about 10 minutes. Pour over veggies in jar and add horseradish. Tighten lid and give a few firm shakes.
Allow to reach room temp before placing in the fridge. Give them 3-4 days of pickling before eating.
HonestFare.com