I grilled leeks for the first time this weekend—it was an absolute success. I mean look at these things. All rolled up in sweet little nests and everything!
They're brushed in a concoction of basil, vinegar, salt, pepper and garlic and then grilled to perfection. But it wasn't as easy as just throwing them on the grill—leeks are a hearty animal so there are a few steps involved.
Truth is, I don't cook with leeks very often so I was kinda apprehensive about it (especially since I had a table full of hungry guests which included one gorgeous birthday girl) and when I do, I'll usually sauté them or treat them like onions (as an ingredient). But, a while back I was inspired when I watched Anthony Bourdain get down on some giant grilled green onions during his No Reservations: Spain episode. I thought to myself, hm, I should really try grilling some giant green onions too…
So now that grill season is in full affect and I've gotten my confidence up grilling a few things lately, I figured it was time to go for it.
The thing is, there are a few pre-grill steps you have to take before you can throw the suckers over the fire.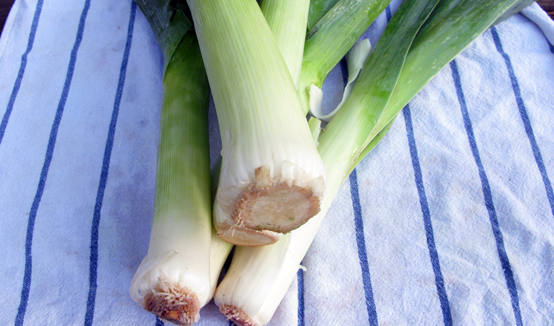 Step 1: Clean them
Like any onion, leeks are made up of layers so dirt tends to get all caked in the folds as they grow. But you wouldn't know just by looking at them—you'll have to cut them vertically and take a peek.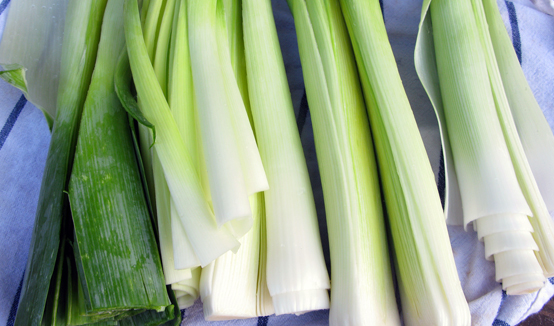 Take a knife to them from tip to tail and give them a nice bath. A couple baths for that matter, shaking them around to make sure whatever is up in there comes out.
Step 2: Boil them
Because leeks are so substantial and thick, you need to boil them before grilling (otherwise they'll take FOREVER to cook through). Boiling them will also keep them moist and prevent over charring. Boil them until they're cooked ½ of the way through. Don't pull them apart or cut them into pieces though—just boil them as vertical halves in a really deep pot or wide saucepan. It they're too long and won't fully submerge in the water, be sure to flip them during the boiling so both ends cook.
Step 3: Ice them
As we know, food continues to cook when it's removed from heat (especially boiled stuff). To prevent your leeks from getting mushy. You need to give them a quick ice bath. Just submerge them in a large bowl of ice water and let them sit until they reach room temperature. Now that they're not scorching hot, they'll be much easier to handle and season.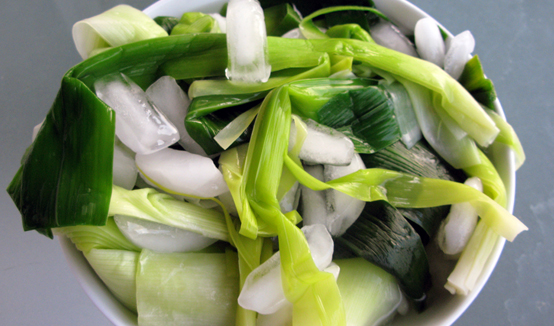 Step 4: Dry them
Congratulations, now your leeks are nice and tender, chilled and soaking wet. Press them firmly between two kitchen towels to remove excess water.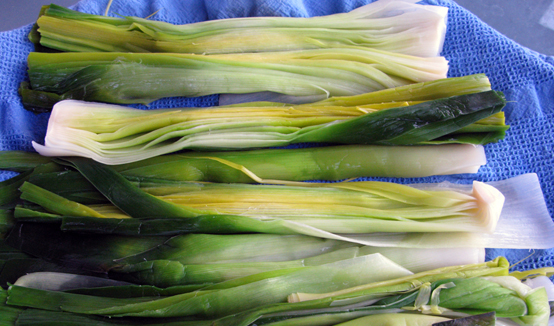 Step 5: Season them
Generously slather on the sauce making sure to get into all those folds we talked about. I used a simple combination of red wine vinegar, fresh garlic, salt, pepper and a lot of fresh basil.
Step 6: Grill them
Put them on the grill open side down. The white ends will require more grill time so you'll need to keep your eye on them to make sure the thinner green ends don't burn (I actually flipped the green ends up to keep that from happening).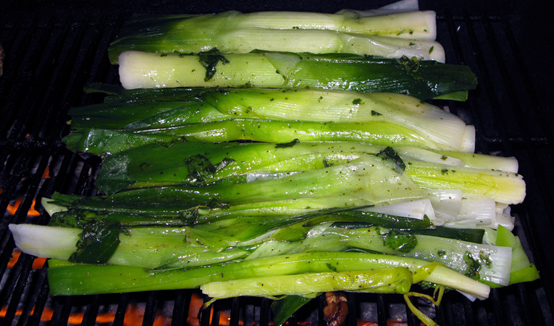 When they're close to being done, brush them with some more sauce and toss them around the grill allowing them to open up so the inner folds get some direct flame.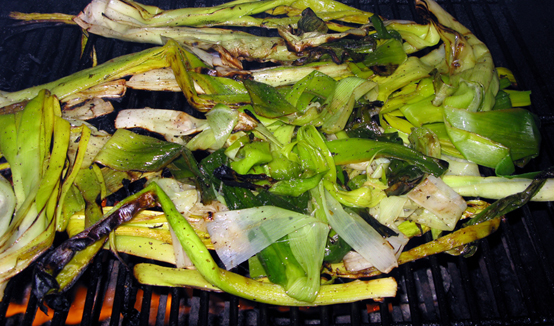 Either serve them in a bowl or rolled up in pretty little nests like this: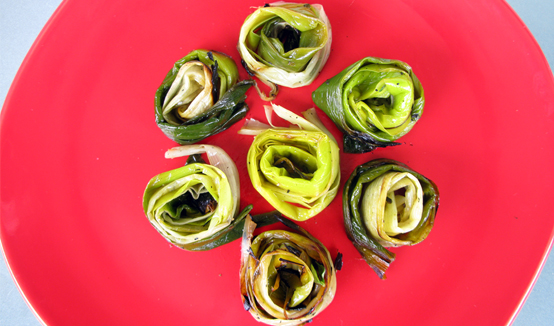 Print Recipe
Back to Top
Recipe
Coop+prep time: 45 mins. Serves 4-6 You can sub lemon juice with ¼ cup red or white wine vinegar. Please, please, please make sure to boil the leeks before grilling!
You need:
3 large leeks
Juice from one lemon
Salt and pepper to taste
1 small clove garlic
About ¼ cup olive oil
Big handful of fresh basil
Directions
Dice up a handful of basil and mash (preferably using mortal & pestle, but if you don't have one the back of a spoon in a bowl works) together with one clove garlic, olive oil and ¼ cup vinegar or lemon juice. Set aside.
Like a skilled surgeon, vertically slice leeks open. Soak in water and aggravate to get the dirt out.
To stop cooking, submerge them in a large bowl of ice water and let them sit until they reach room temperature.
Dry by pressing between two towels. Slater with sauce, sprinkle with salt and pepper and grill open side down. You'll have to keep moving them around the grill to get all sides. When almost done, open up segments and spread across the grill so insides can get browned a bit.
Serve rolled up in little nests (roll each segment up from end to end like a cinnamon bun. Sprinkle with some extra basil before serving.
HonestFare.com