I can think of a hundred reasons why Thanksgiving is my favorite holiday. But I'm not going to get into all that now because, let's face it, we're all too preoccupied planning or thanksgiving menus. There's always so much to do! Maybe you need a little something to take the edge off?
Might I suggest this Sage & Peppercorn infused Old Fashion? It's a take on your classic Old Fashioned cocktail, a la Thanksgiving. Gorgeous on your table and the perfect flavors to match any thanksgiving feast.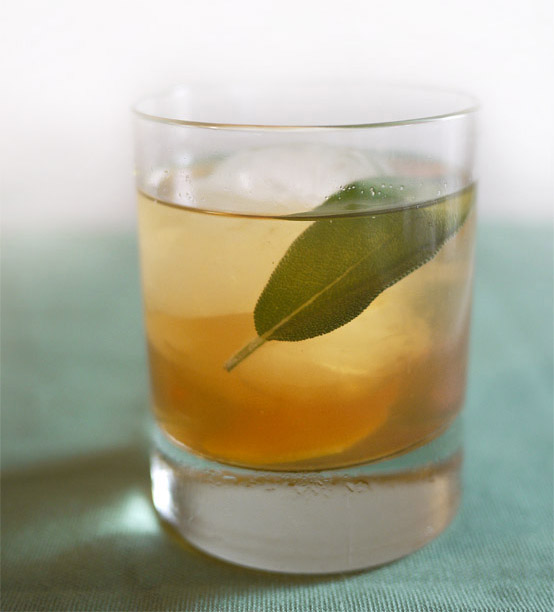 Champagne and wine are nice and all, but some of us might appreciate something a little stronger to keep that Thanksgiving glow going long into the evening when the conversation somehow shifts to whose cranberry sauce recipe was better and whether or not the turkey was dry this year…
This drink comes to us courtesy of my friend Eric who actually tends bar at The Courtesy in downtown Orlando. Eric is like the Mr. Wizard of cocktails. The man is skilled. I don't know how he comes up with these drinks and I don't generally know what he's talking about either, but it looks cool while he's doing it and it tastes even better. This one is easy for any of us to mix right up at home though.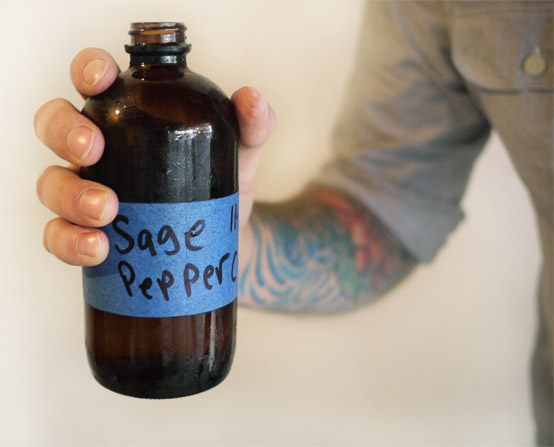 The key is in the sage and peppercorn infused simple syrup. For this you'll make your basic equal parts water/sugar syrup, with the addition of peppercorns. You'll steep the sage leaves for a few minutes at the end before straining. This is all obviously done ahead of time and then transferred into a stylish vessel of your liking for easy portioning.
I promise you'll impress the room with this concoction. And just keep everything prepped and together that way your guests can make their drinks as they go. People love activities, especially when they involve drinking.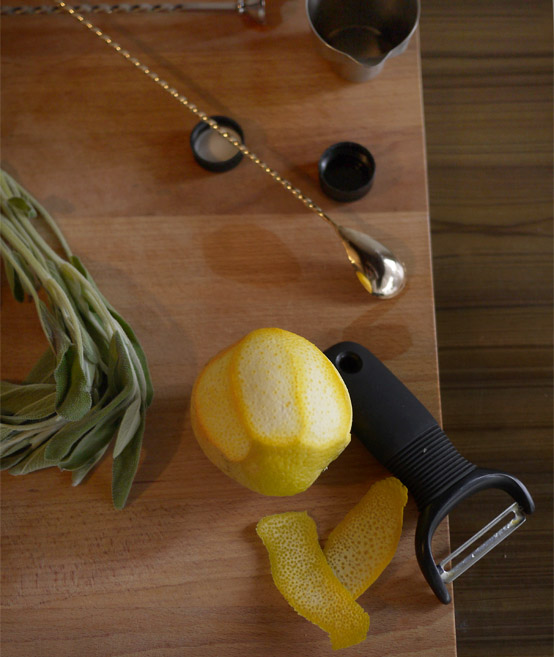 The peppercorns will go perfectly with all the earthy flavors on the table and sage is your quintessential sexy fall herb – deep and rich with just enough brightness.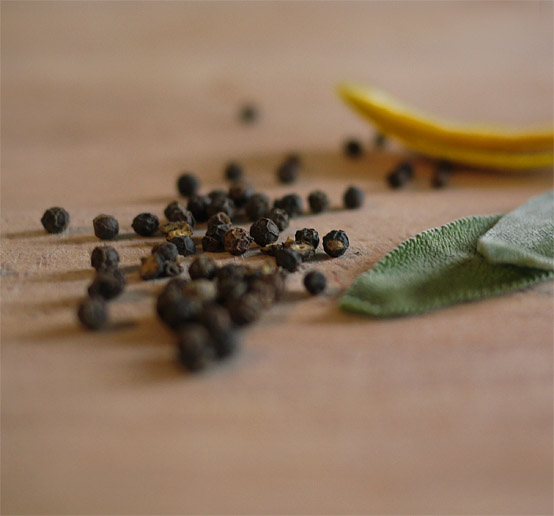 Eric taught me a couple tricks. One, being to cut the rind nice and thick, but don't cut too deep into the orange. Avoid the white! Then you'll want to release that natural orange oil by firmly pressing upon the rind with a fancy presser (or back of a spoon or whatever you have that can press things). Add the simple syrup and bitters and press, press, press.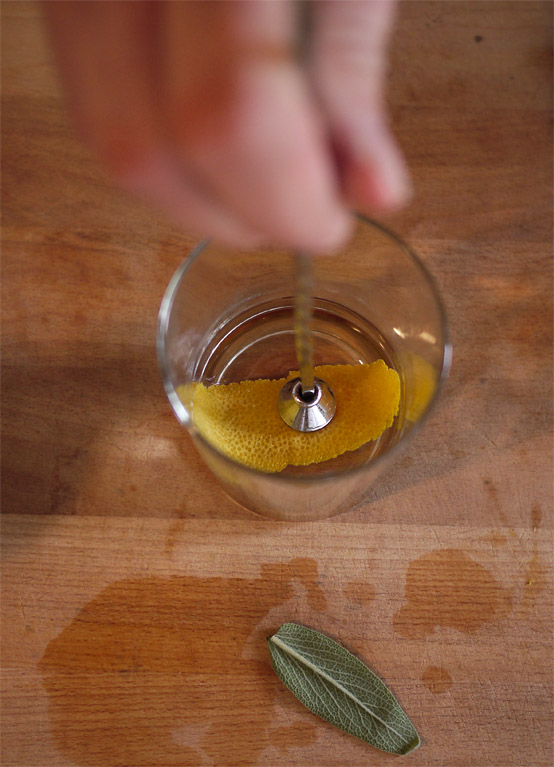 Eric also has a special machine that creates crystal ball ice cubes that let you see more and more into the future with each drink.
But, we do not. Don't get discouraged though! Add your pedestrian style ice to your tumbler just the same, pour the liquor over it and stir it up!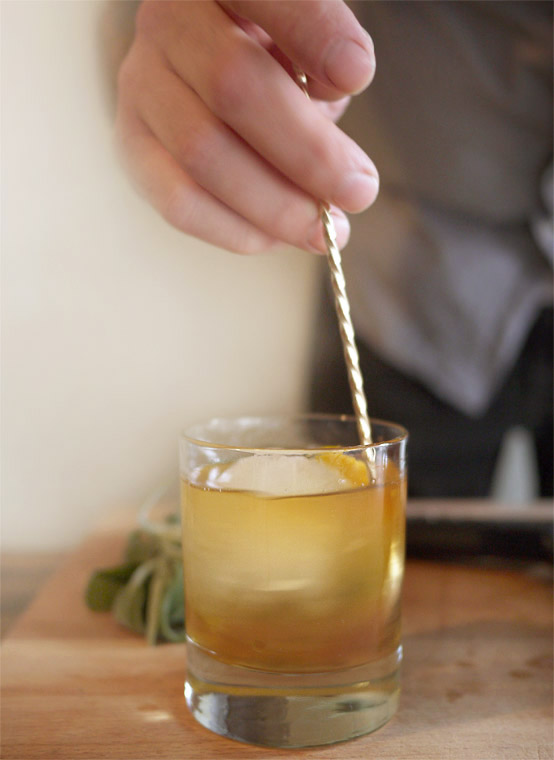 And then, like with the orange rind, you'll need to release the sage essence from the leaf before dropping in into your glass. To do this, slap it between your hands and and give it a nice rub back and forth. (That's what he said.) Do this gently so as not to bruise the leaf. Then place that pretty sage leaf in your glass at the end and drink up.
Print Recipe
Back to Top
Recipe
Prep + time: 20 minutes, but each drink takes only a minute to make. I use rye in this recipe, but use whatever whiskey or bourbon you prefer.
You need:
1 cup sage plus extra leaves for each glass
Rye or whiskey/bourbon of your choice
Orange bitters
Angostura bitters
Ice
1 cup sugar
1 cup water
1/4 cup peppercorns
Directions
The simple syrup:
Bring water to simmer and add sugar and peppercorns. Cook until sugar is dissolved and mixture thickens some. Add 1 cup chopped sage leaves and remove from heat. Steep 10 minutes and allow to cool some before straining into a clean vessel for portioning.
Measurements per glass:
Peel a nice thick piece of orange rind and place in glass. Press firmly with a utensil to release oil.
Add 1/2 oz sage peppercorn simple syrup
Add 2 dashes orange bitters
Add 2 dashes angostura bitters
Add ice
Pour 2 oz rye over ice and stir well
Rub sage between your fingers to release essence before dropping into your glass.
HonestFare.com