How are you guys in the parsnip department? Do you eat them and love them? Are you afraid of them? Have you never considered them in your life? I happen really enjoy their nutty and sweet aromatic flavor, this time of year in particular.
I like making parsnips for people cause most of us don't eat them often so they're always a nice surprise. This mash/purée is especially tricky like that cause it looks like regular ole' mashed potatoes, but then the aromatic flavor hits and you're like "wow!"
I actually made this very mash a couple weeks ago for a catering gig and was amused watching the guests' faces light up out of the corner of my eye all night. So many people came running over to tell me that they never eat parsnips and how great they are.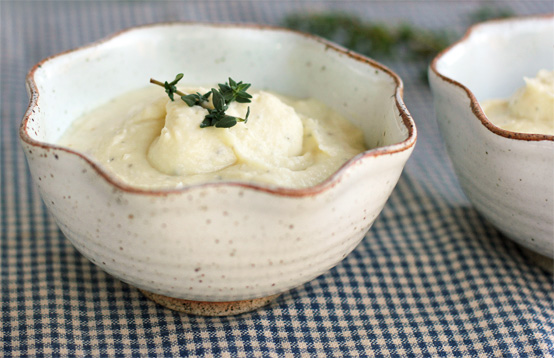 Now, the fact that I chose to make 20lbs of this is a testament to the fact that it's realllly easy! Like carrots, you can choose to scrub clean before cooking or peel. For this, I peeled.
Then I chopped the parsnips and potatoes (a ratio of about 3 to 1) and boiled them in salted water with a couple bay leaves until mashably soft. Why add potatoes? Cause it's nice to balance the sweetness of the parsnips, which can be sort of strong at times. I simmered some half and half cream (use milk if you want a lower fat version), a little bit of butter, garlic and fresh thyme leaves in a saucepan. Then I combined and mashed and whipped it all together with some additional salt and pepper to taste.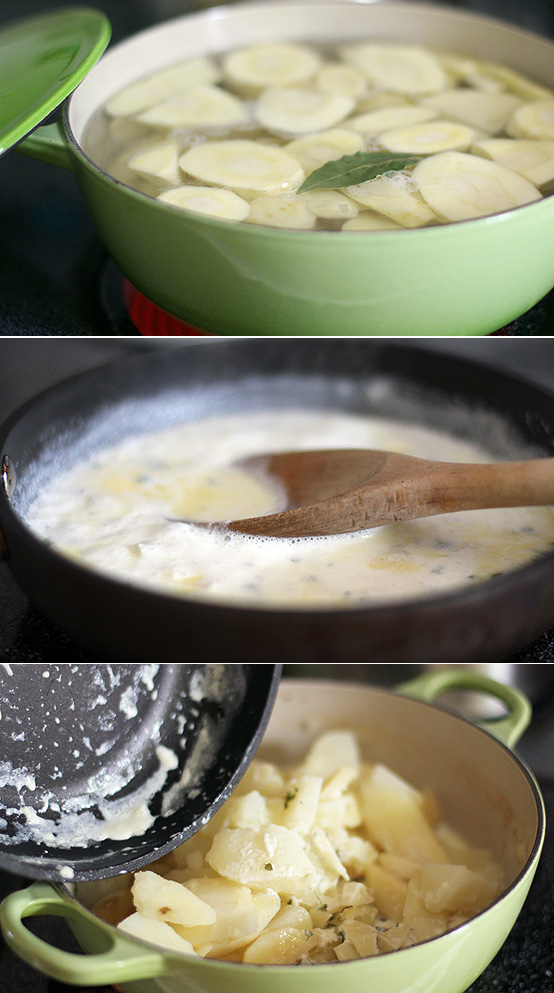 And there you go – something just different enough for your Thanksgiving table to pleasantly surprise all your guests with!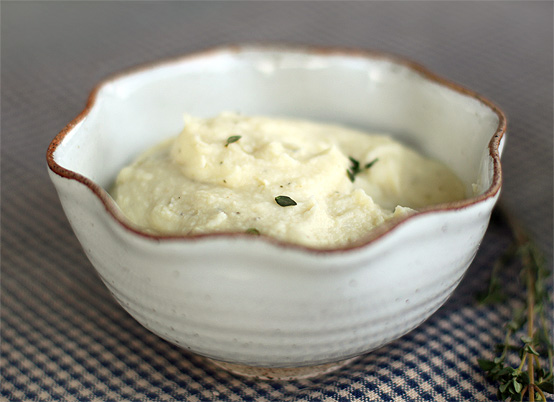 Fun fact: Parsnips were favored in medieval Europe when sugar was rare and honey expensive, and were actually used as a sweetener until the the 19th century. The juices were evaporated, and the brown residue was used as honey. In Italy, pigs bred for the best-quality Parma ham are still fed on parsnips. That was my Alton Brown moment.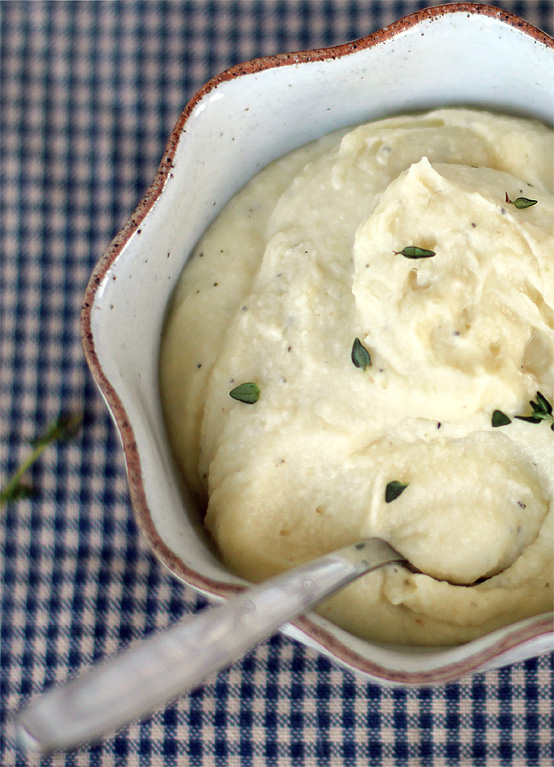 Print Recipe
Back to Top
Recipe
Prep + cook time: 30 mins Serves: 4-6 Note: You can easily increase or decrease this recipe depending on portions needed. Just keep the parsnip to potato ratio at about three to 1. Use milk instead of cream for a lower fat version, but compromise that rich and creaminess a little…
You need:
1lb. parsnips
2 medium-sized potatoes (3/4lb)
couple sprigs fresh thyme
2 bayleaves
6 oz. half and half cream
1 tablespoon butter
1 small garlic clove, minced
Salt and black pepper to taste
Directions
Peel and chop parsnips and potatoes. Bring pot of lightly salted water to a boil. Boil parsnips and potatoes with bay leaves until both potatoes and parsnips are very soft and break apart easily with a fork.
Remove thyme from stems and set aside. In a separate saucepan, simmer half and half cream, garlic, thyme, butter and pinch of salt and pepper until garlic becomes soft.
Strain potatoes and parsnips, leaving a nice amount of moisture on them and even a tad of starchy water in pot. Pour cream mixture over and mash/whip to desired consistency. Add additional salt or pepper to taste and top with some fresh thyme leaves.
HonestFare.com