Usually when I buy parsnips, I'll bake/broil them until they're crispy like French fries. But this time I did something a little different and went for a savory root veggie pasta.
Though they tend to get disregarded as the carrot's albino cousin, parsnips are uniquely delicious. Parsnips resemble carrots in shape and texture, but they have a much stronger flavor. They're great roasted, fried or mashed like potatoes. I've actually never tried eating a raw parsnip, but based on how tough they are to cut through, I'm guessing they'd be terrible.
Roasting them brings out their earthy flavor, which is a beautiful complement to the sweet caramel flavor of the carrots.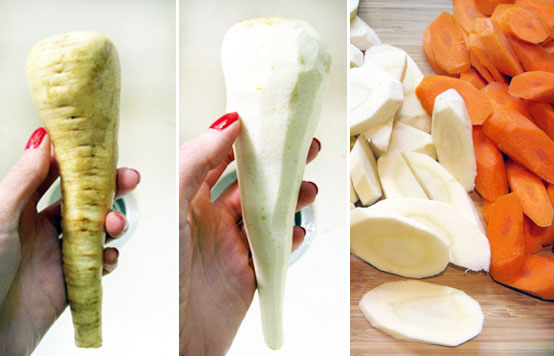 This was easy. I basically just peeled, cut, seasoned and roasted the veggies until the edges were crispy. I also made a little diced herb, mushroom and onion sauté to toss the whole wheat pasta in for extra flavor.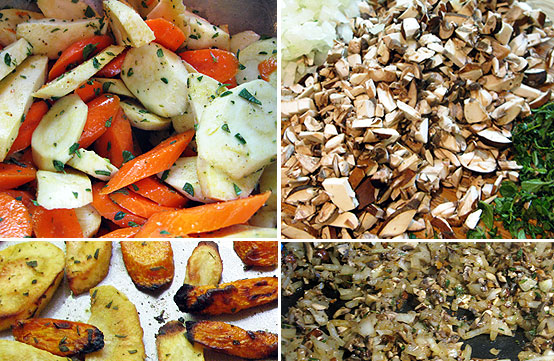 Then I just threw in the roasted veggies and tossed it all together.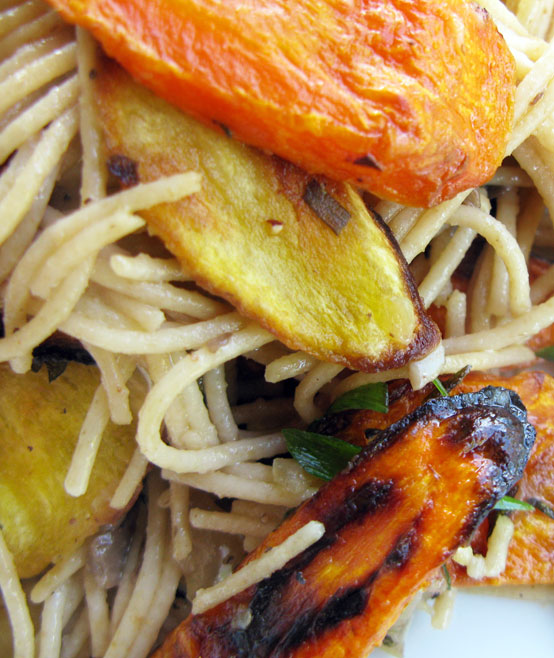 Print Recipe
Back to Top
Recipe
Cook/prep time 40 mins. Serves 2-3. I find that it is best to cut the veggies on the bias (diagonal pieces) so there is maximum surface area in contact with the baking sheet.
You need:
3 parsnips 15-20 Brussels Sprouts
3 carrots
1 cup diced mushrooms
½ cup diced onions
¼ cup of fresh rosemary & oregano
½ box whole wheat angle hair pasta
Salt to taste
Pepper to taste
Olive oil
scallions for topping
Directions
Peel and slice carrots and parsnips. About ½ thick pieces preferably on the bias. Dice herbs. Dice mushrooms and onions.
Peel and slice carrots and parsnips. About ½ thick pieces preferably on the bias. Dice herbs. Dice mushrooms and onions.
Line up the veggies on an oiled baking sheet. Cover with aluminum foil and pop in the oven. Cook covered for about 15 minutes. Uncover and continue cooking. Brush with more olive oil if they start to stick. Flip the veggies when they start to brown to brown other side. Remove from oven when edges are nice and toasty.
Meanwhile, boil your pasta. And, in a large pan, sauté mushrooms, garlic and onions with a healthy amount of olive oil and little salt and pepper. When soft, remove from heat and leave covered.
When pasta is finished boiling, convert it directly from pot of water to the pan of mushrooms and onions (using tongs) a little at a time, incorporating with mushroom mixture. If this isn't possible, you can strain the pasta first, but just don't dump it all in the pan at once (add a little pasta at a time) and drizzle extra olive oil to avoid sticking.
Add carrots and parsnips to the mix and top with some additional fresh herbs.
HonestFare.com