This is one of the easiest ways to make fish. It pretty much takes care of itself by poaching in its own flavorful juices and the seasonings & veggies you add.
It's hard to over cook when you prepare fish this way because it stays so moist in that envelope of parchment paper. You can dress the fillets however you want, but just make sure you choose a firm fish when cooking this way or you run the risk of it flaking apart. I used haddock because it was the freshest and the mildest dense, white fish they had at the market that day. Cod, sea bass, halibut would work nicely as well.
I placed the haddock in a little nest of fennel and onion and seasoned it up with paprika, tarragon, honey, salt, pepper, garlic and some lemon zest and juice.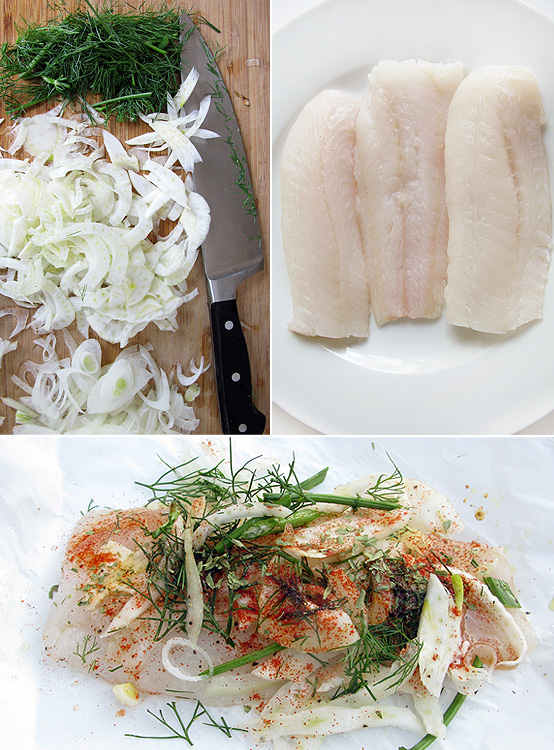 After piling it all in the center, all you have to do is roll the whole deal up into a little package and bake. Some areas of the parchment paper might start to brown, but that's no biggie.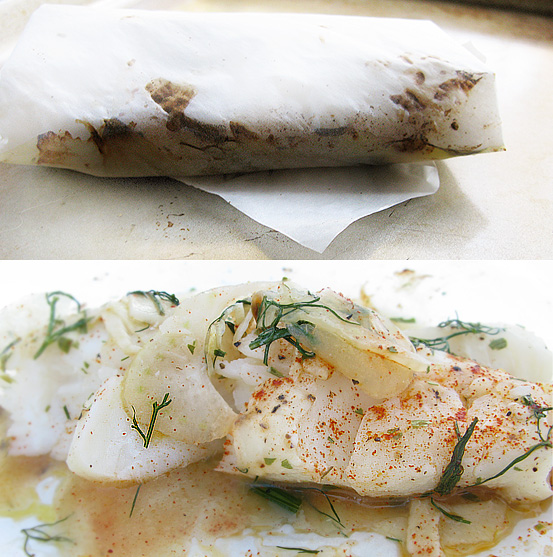 The result is perfectly cooked fish with a buttery texture. I think it's cute to serve it folded up in the parchment paper so you can open it up like a present at the table.
Print Recipe
Back to Top
Recipe
Coop/prep time: 35 mins. Serves 2. This recipe works with any firm white fish (cod, sea bass, halibut). Bake time will vary depending on thickness of fish. Check after 15 minutes for a better idea.
You need:
2 firm white fish filets
Butter
Olive oil
1/4 teaspoon lemon zest
And a little lemon juice
Honey or agave
Dried tarragon
Salt to taste
Pepper to taste
1 clove garlic
Paprika
Fennel bulb and some leaves
White onion
Parchment paper
Directions
Preheat the oven to 375 F.
Thinly chop fennel (including some of the green leaves) and onion. Dice garlic or use garlic press.
Cut two pieces of parchment paper (about 14X14). Place small pile of onion and fennel in center of each and sprinkle with a salt. Place one fish fillet on top of each pile. Salt fish (1/4 teaspoon on each fillet) and pepper to taste. Add garlic, a pinch of lemon zest, a nice dose of paprika, some honey and a pinch of tarragon. Place a very thin slice of butter on each fillet. Place another small pile of onions and fennel on top of each fillet. Lightly salt and drizzle with olive oil, and squeeze a little lemon juice over it all.
Fold parchment paper up like an envelope with fish in center. Place on a baking sheet and bake for about 20-25 minutes, checking for doneness every few minutes after the 15 minute mark.
HonestFare.com