There are a few things my yaya (grandmother in Catalan language) used to make that I intend to recreate for the rest of my life. Pa amb tomaquet is one of them.
Translated, pa amb tomaquet (in Catalan) or pan con tomate (in Spanish) literally means bread with tomato. But it's so much more than that! It's a traditional Spanish recipe (eaten a lot in the Catalan region) that's pretty much a staple with almost every meal. People like to eat it for breakfast or as a snack with cured ham (jamon Serrano) or as an accompaniment to dinner…and sometimes even for dinner.
Growing up, pa amb tomaquet was one of the few things anyone could get me to eat from Spanish/Catalan cuisine. That and rice pudding.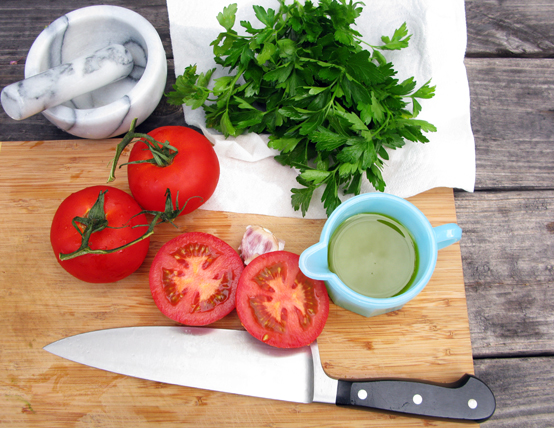 Traditionally, pa amb tomaquet is made by simply rubbing a garlic clove across the surface of some toasted bread and then mashing a tomato half on the bread until the juice and seeds coat it (the skin and meat of the tomato are discarded). Then you drizzle some olive oil and salt over top. It's awesome and it looks like this: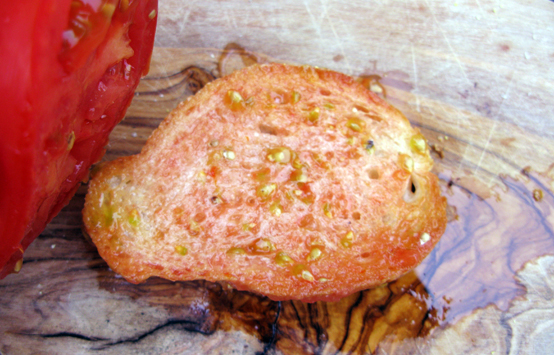 But my yaya had a special way of making it, of course. She'd rub the garlic clove across the toasted bread just the same, but then she'd give the tomatoes the mortar and pestle treatment. She'd mash each tomato (one half at a time) until the skin separated, then she'd pick out the skin and spoon all the mashed tomato meat and juice onto the bread. I'm sure she did it this way so as not to waste ANY of that tomato goodness. Smart lady.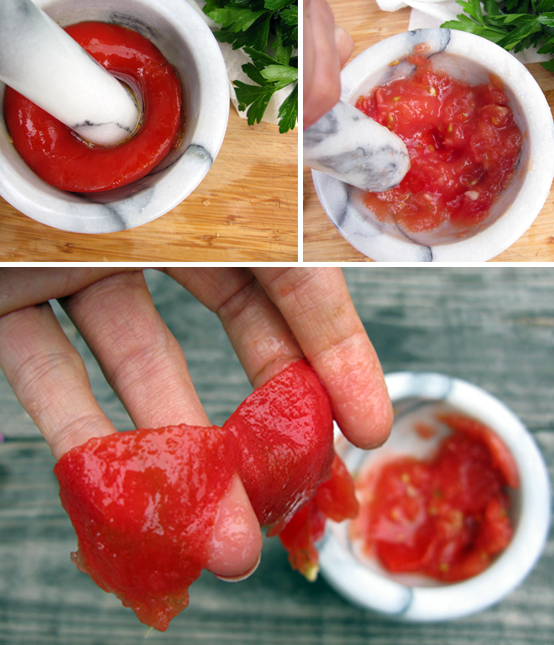 When I moved to Barcelona, pa amb tomaquet was one of the first things I sought out. And when homesick and culturally overwhelmed, it became the ultimate comfort food for me. Like a kinship that made me feel connected to that place. An old friend or something. It's whatever works sometimes…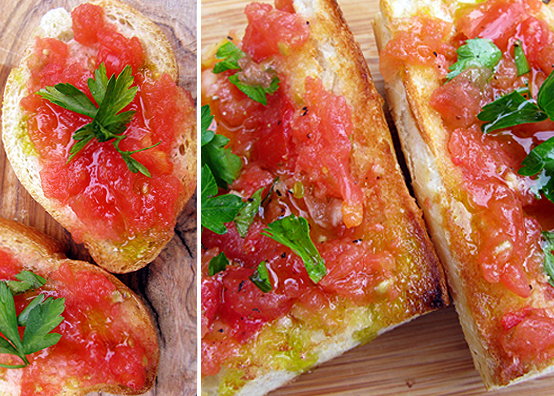 I've recently started topping it with some flat leaf parsley (makes it prettier). And on occasion, I'll use powdered garlic if I don't feel like having stinky garlic fingers. But don't tell yaya.
Print Recipe
Back to Top
Recipe
Coop/prep time: 10 mins. Traditionally, Pa amb tomaquet simply calls for rubbing the tomato half across the toasted bread. The recipe below is a modification on that using a mortal and pestle to get maximum tomato pieces. The parsley is also not part of the traditional recipe.
You need:
Nice ripe tomatoes
1 Garlic clove or powder
Salt and pepper to taste
Sliced baguette
Olive oil
Parsley (optional)
Directions
Cut baguette into thin slices. Or you can do thicker pieces and cut through center. Lightly toast.
Peel a clove of garlic and rub across surface of toasted bread (best to do while still warm). You can use powdered garlic instead if you prefer.
Mash tomato (one half at a time) with mortal and pestle. If you don't have a mortal and pestle, you can squeeze and scoop up the tomato meat with a spoon and mash it up with a fork.
When good and mashed, discard the skin and scoop the juice, meat and seeds onto bread.
Drizzle olive oil over top. Sprinkle with salt and pepper to taste. Top with parsley for extra color.
HonestFare.com