I wake up starving every morning. The growl of a hungry demon in my stomach jars me out of bed on the weekends. If it wasn't for the demon, I might actually sleep in every once in a while. So skipping breakfast is not even a consideration. Problem is: I just took a new full time job (for the first time in 3 years) and it's really getting in the way of my breakfasting ritual. So here I am, among the millions of people scurrying out the door with the sunrise, a to-go cup of coffee in one hand and a burnt piece of toast in the other. What a miserable start to the day. I refuse. Which is why a satisfying breakfast is at the top of my list as I work to restructure my life around this new gig. Oh, and did I mention that I have to drive almost an hour to get there? The hungry demon does NOT do well in morning traffic.
Solution: Overnight oats. They take a quick two minutes to prep the night before. Just combine oats, milk (almond, soy, regular, coconut, etc.), some nuts and fruit or whatever you're into…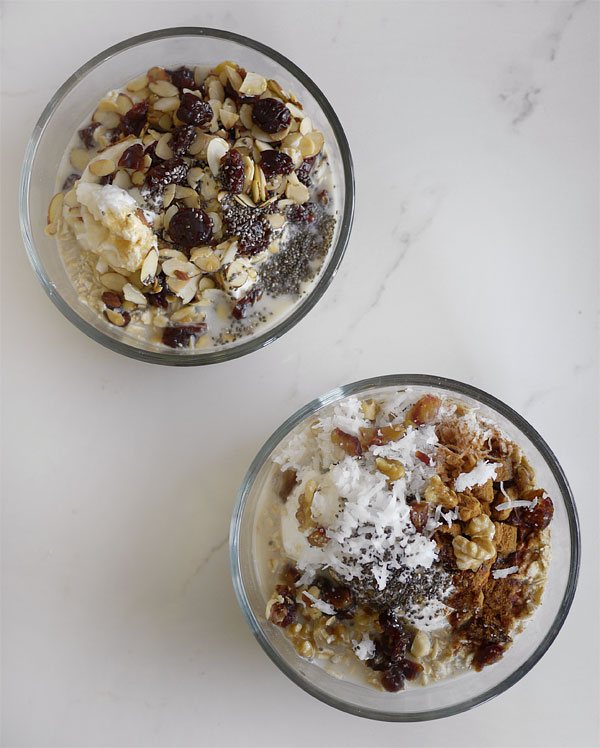 …let them soak and do their thing overnight, and wake up to a ready-made breakfast in the morning. Maybe top it off with some fresh fruit and you're all set. I don't know, it's kind of brilliant.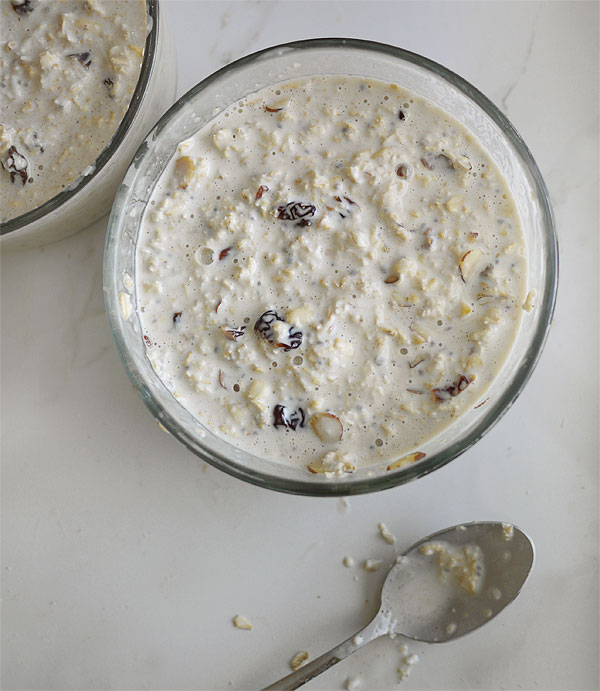 This particular time, I made a couple different varieties to get through the week: Vanilla Almond Cherry. Walnut Coconut Date. Both contained chia seeds, but I happen to also really like the addition flax seed (instead of chia). You just have to be careful not to overdo the chia or it'll get gooey on you.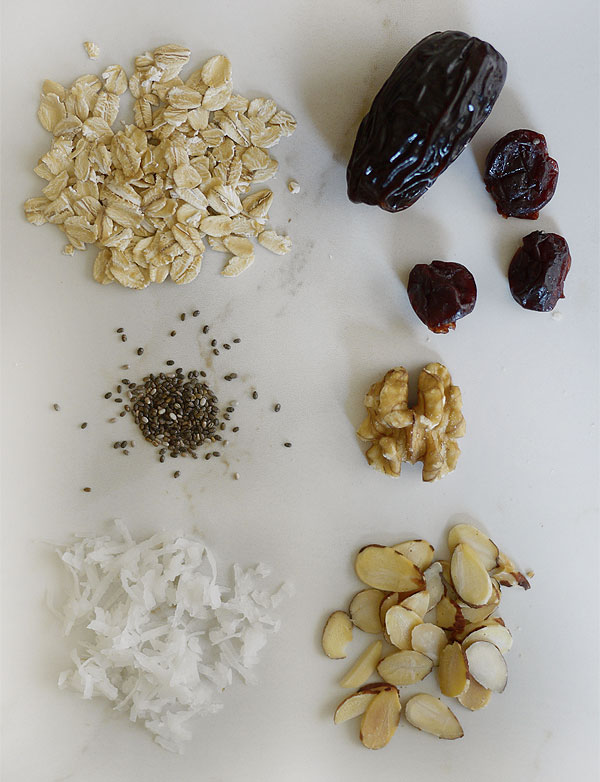 There's no concrete recipe so play jazz! The measurement for milk/oats is basically 1/1, but add more or less milk depending on the consistency you prefer your oats. Less milk = firmer oats. Add yogurt for extra creaminess and protein. Oh, and I definitely recommend adding a pinch of salt and either cinnamon or vanilla, which just makes it a little extra special.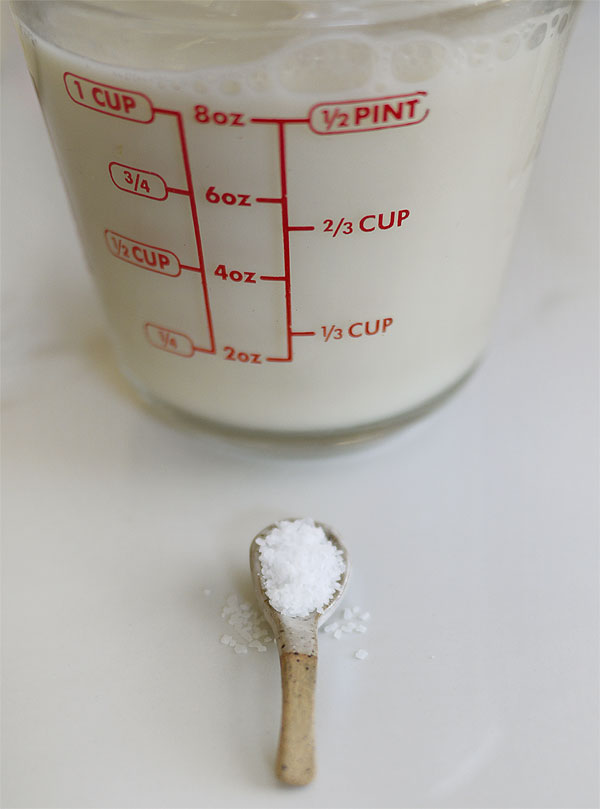 You can use fresh fruit or dried fruit, but keep in mind that the fresh fruit will get weird and mushy after a couple days, whereas the dried fruit is fine for a few days. For this reason, I prefer to just add fresh fruit on top before eating. The possibilities are pretty endless with this and it's a really convenient option if you're the kind of person who tends to have nuts and fruit and stuff in the cupboard anyway. You can individually portion your overnight oats into lidded jars so they're ready to grab and go in the morning if you're rushing out the door.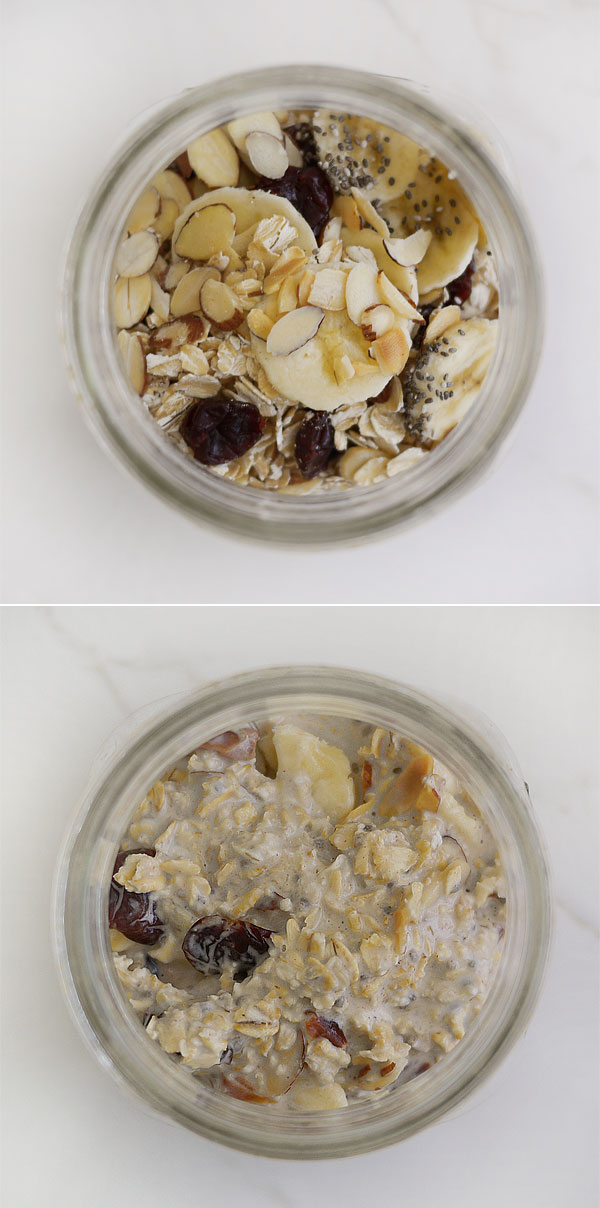 Or you can make a larger container to scoop from if you're sharing or plan to eat at home…like a civilized person.

Give it a try. You deserve a real breakfast!!
Print Recipe
Back to Top
Recipe
Recipe makes about 2 portions. Keeps for up to 4 days in the fridge. There's no concrete recipe so play jazz with your favorite fruits and nuts! Sweeten with honey, agave or maple syrup. Use less milk if you like firmer oats. Here's a recipe for a combo I really like.
You need:
1 cup rolled oats (not quick oats)
1 cup milk of choice (soy, regular, coconut, almond)
1/2 cup Greek yogurt
1-2 Tbs agave or honey
1/2 tsp cinnamon
1/2 tsp chia seeds
tiny pinch of salt
2 Tbs shredded coconut
2 Tbs chopped walnuts
3 medjool dried dates cut into small pieces
Fresh fruit (bananas, or peaches) for topping
Directions
Place everything except the fresh fruit in a lidded container or jar. Mix together and cover. Place in fridge over night or for a few hours at a minimum.
In the morning, check the consistency and add a little more milk if desired and top with fresh fruit and/or nuts.
HonestFare.com