There's a great Middle Eastern market I frequent here in Winter Park called Abu Maher International Grocery (6148 Hanging Moss Road). It's sort of tucked away on this no man's land of a road that leads to a warehouse district. Zero visibility from the road, but I came upon it making an illegal U-Turn one day. They've got a great selection of imported spices & teas, canned & jarred ingredients and trinkets & treats…all kinds of cheeses, giant vats of olives and the freshest, softest, biggest pitas I've been able to find.
It's a little place, but I can spend an hour in there walking the aisles and asking questions about every other thing I pick up. The other day I spotted some packages of what looked like the most delicate cashmire yarn sitting among some other candies and dessert items. Beautiful…but edible?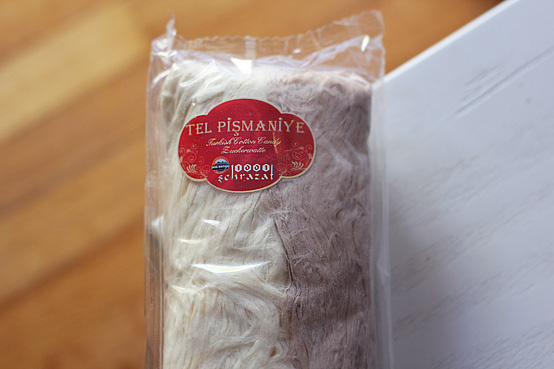 Yes, Turkish cotton candy, or pismantye, is both. Pismantye is combination of flour, butter, sugar and often pistachio or cocoa that's pulled or spun into threads. It's light and fluffy with a slightly sweet and nutty flavor, rather than sugary, fruity and artificial one.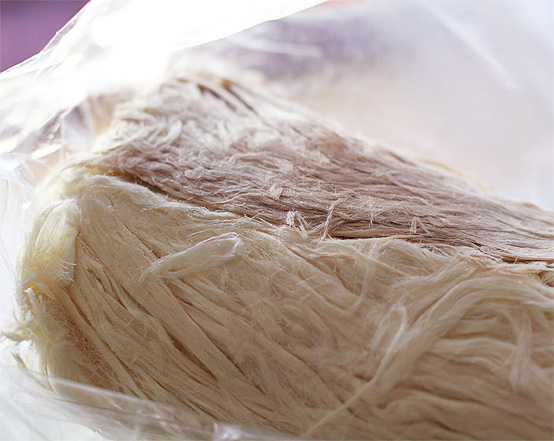 I feel like it's what cotton candy was intended to be before someone decided it should turn your tongue blue. Seriously, heavenly. Like strands of cookie that melt in your mouth.
And by total coincidence, I came across this video on cookingissues.com that shows how the traditional hand-pulled version made. Really cool. You can totally do it at home!